Red holds off White in Nebraska spring game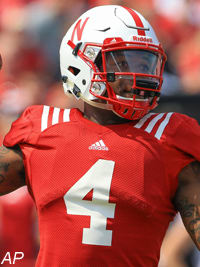 In the Red team's 24-15 victory over the White, neither offense was able to find much of any consistent rhythm in a game that saw eight punts, three interceptions and five turnovers on downs. In fact, the White team - made up primarily of younger, less experienced players - didn't even pick up a first down until 20 seconds remaining in the second quarter.
But the early learning curve certainly wasn't unexpected for Riley and his staff after just four weeks of spring practice. If anything, spring game was maybe the biggest step yet in learning what exactly the Huskers will have to work with once the games start up for real this fall.
"I thought it was, for the way it was set up, fairly clean," Riley said. "They played ball, executed for the most part. There wasn't a lot of self-destructive type situations with penalties and turnovers. There were some, for sure, but for the most part it was pretty good football. I was really excited to get to play kind of a complete game like that… I like the fact that we played a game where all the special teams were playing, and it was offense and defense. I think that has to be good for team's development in getting ready for a season.
"It looked like there were some nerves because of the crowd and playing in a situation like that. I think that was all good for them too. So the combination of all those kinds of factors I thought was a real good day for us."
With spring practice now officially in the books, Riley said the coaching staff would get down to some serious evaluations of their roster and would have a depth chart in place going into the start of fall camp.
For Riley, his coaches and Nebraska's players, Saturday was a nice kickstart to what they hope is the beginning of a new era of success for Husker football.