Read updates special teams competitions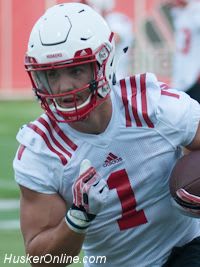 Westerkamp's first go-around as the team's punt returner didn't go so well - he gained just 51 yards on 19 returns (2.7 average) in 2013. But he was often surrounded as soon as he caught the ball that season and wasn't the beneficiary of the blocking Pierson-El got last year. Read figures things will go better this time around.
"I felt like we had two really solid kids and now we have one," Read said. "We're developing and it's really important that we keep him healthy and keep him back there so it can look like football."
"Drew has really come on the last week," Read said. "He's very impressive. It's been nice. He had a really nice scrimmage the other day, hit it clean. I think there's a nice operation between (Jordan) Ober and (Sam) Foltz and him. I like the way it's going. It appears to be improving with consistency."
Brown and Sutcliffe are still battling neck and neck for the kickoff specialist position. Read said Brown is a little more polished right now and travel considerations might come into effect, giving the sophomore the slight edge.
The strong-legged junior has impressed Read, who says Foltz isn't a finished product but simply continues to get better.
"Sam's got his strengths and weaknesses," Read said. "He'll punt it better one way than he does the other way, so we need to work on things that way. But the kid is a fantastic talent. I think we always want to use the boundary as a 12th man and directional kick.
"Sam's got the range and the field just looks small when he's punting. It's like, dang, he punts it 65 yards. If you're going to get the ball that far out, you need placement."