Ranking the Big Ten: Quarterback
As the 2016 season draws nearer by the day, it's time to start taking a look at some of the top players to watch in the Big Ten Conference.
We begin our Ranking the Big Ten series today by taking a look at the quarterbacks, which feature a unique mix of talents running the show under center.
1. J.T Barrett, Ohio State
There's not much debating who the conference's top returning signal caller is going into this season, as Barrett is back as the clear starter after spending the past two years in Ohio State's multi-quarterback system.
An injury sidelined him at the end of a record-setting stint as the starter during the Buckeyes' national title run two years ago, but he still set a league record with 45 touchdowns responsible for and was named the Big Ten's quarterback of the year.
The junior didn't have nearly that level of production in 2015 while splitting time with Cardale Jones, but most expect Barrett to return to his freshman year form this season.
2. C.J. Beathard, Iowa
After leading Iowa to one of its best seasons in decades, the fifth-year senior Beathard returns as the face of the Hawkeyes in 2016.
In helping guide Iowa to Rose Bowl and Big Ten Championship game berths, Beathard etched his name across the school's single-season record books and ended up being a unanimous second-team All-Big Ten selection.
His presence alone makes the Hawkeyes once again one of the top contenders in the Big Ten West Division.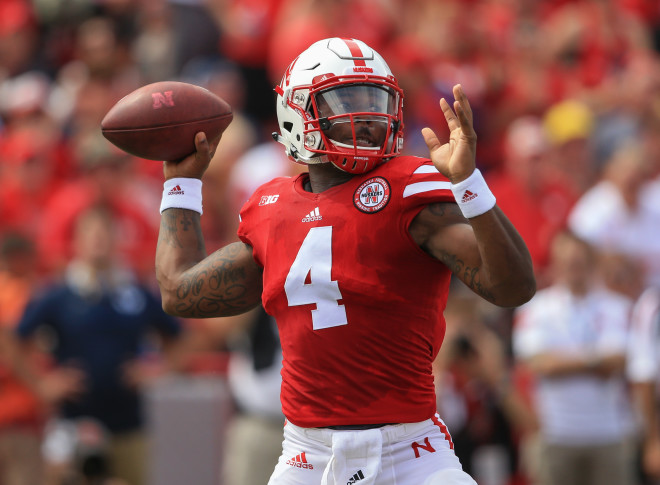 3. Tommy Armstrong, Nebraska
Entering his fourth season as Nebraska's starter, Armstrong stands as one of the most experienced and productive quarterbacks in the Big Ten this year.
Last season was a bit of a transition for Armstrong and the entire Huskers' offense under new head coach Mike Riley and offensive coordinator Danny Langsdorf, but the Cibolo, Texas, native still managed to produce 3,430 yards of total offense, which stand as the third most in NU history.
If he can make a jump with a full year in the new offense now under his belt, Armstrong could be in for one of his best season's yet.
4. Wes Lunt, Illinois
This season will be a big change for Lunt, who will be operating more as a pro-style quarterback under new head coach Lovie Smith as opposed to the shotgun-heavy scheme he ran under the previous staff.
Along with that will be a much bigger emphasis on establishing the run and utilizing the play-action pass game, while also incorporating more higher-percentage timing routes.
If the rest of the offense can step up, Lunt should be able to bolster the 2,761 yards and 14 touchdowns he threw for a year ago.
5. Mitch Leidner, Minnesota
Leidner very well could be the most interesting quarterback this season not only in the Big Ten, but maybe in the entire country.
From a fundamentals and polish standpoint, few would consider the fifth-year senior a finished product by any means. However, at 6-4, 237, and boasting a relatively strong arm, Leidner has already been listed in some NFL mock drafts as a potential first-round prospect as an athlete.
There's no reason to think the Gophers are going to try to rely on Leidner's arm to carry them to a Big Ten title, but his versatility should give them a unique weapon that could cause opposing defenses problems.