QB Purdy down to Nebraska and Oklahoma, decision will come soon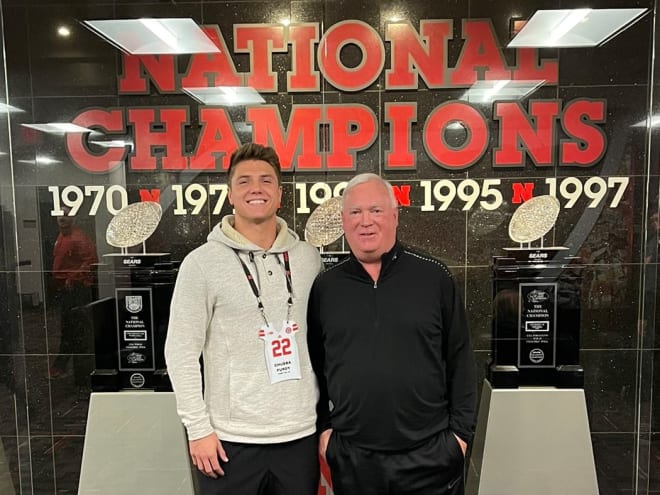 With the departure of four-year starter Adrian Martinez to Kansas State, the quarterback position is wide open heading into the spring for Nebraska.
NU has already added a commitment from University of Texas transfer signal caller Casey Thompson, and incoming freshmen Richard Torres is an early enrollee. They will be joining the two quarterbacks already on scholarship on the roster in competing for the starting job.
There may be another, late addition to the QB room in Lincoln, depending on what weekend visitor Chubba Purdy decides to do sometime over the next couple of days.
HuskerOnline.com caught up with the Florida State transfer as he arrived back home in Arizona after his trip to Nebraska.
"I just got back to Phoenix and my family and I had a great time," Purdy said. "We loved it."
Purdy came to NU with his parents and sister for the weekend to check out the Huskers' program.
"It was just the coaches and the hospitality," Purdy stated. "I really think they're going to turn around that program. They will probably be very good next year."
He spent the majority of his first day in Lincoln with new offensive coordinator Mark Whipple and then he interacted with the rest of the coaching staff throughout the weekend.
"They were telling me I could just come in there and compete with the rest of the quarterbacks and that they've got some good talent coming in," Purdy said. "I've known Coach Whipple for a couple years now.
"He recruited me in high school and once I hit the portal he started recruiting me as well. So, we have a pretty good relationship."
His player host was Ty Robinson and they have a connection from high school competition, according to Purdy.
"Yes sir, we did [know each other] and it went good," Purdy said. "Obviously, he's from Arizona. I don't know if we played football against each other, but we did play baseball against each other. With him being recruited and all that stuff, I knew about him."
Prior to his stop in Lincoln, Purdy visited Norman, Oklahoma to check out the Sooners' program.
"Oklahoma has a good opportunity there and I also have a good relationship with Coach (Jeff) Lebby," Purdy stated. "So, I mean, both of them are good opportunities. No sir, I'm not taking any [more trips]. I'm going to decide within the next couple of days."
Purdy confirmed that he's only considering Nebraska and Oklahoma and he will be enrolling at his college choice shortly after he announces his commitment on twitter.
"It's just Oklahoma and Nebraska," Purdy confirmed. "I'm going to talk to my parents about it and compare both of them. So, we'll see...."