QB Dillman talks about Nebraska commitment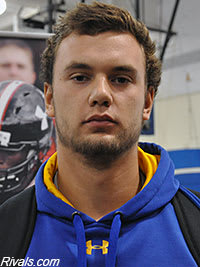 Nebraska added a key piece to their impressive 2015 recruiting class today as Denton (Texas) Guyer quarterback
Kevin Dillman
committed to the Huskers.
The 6-foot-4, 205-pound prospect has been on an unofficial visit to check NU out since last Thursday night and made his future intentions publically known this morning before the Huskers scrimmaged inside of Memorial Stadium.
"It's with great honor to say that I have officially committed to the University of Nebraska," Dillman announced today via Twitter.
Dillman has remained fairly quiet on the recruiting front over the past year so the timing of his decision may come as a surprise to some. However, according to Dillman, there was a lot of work put in by the Husker coaching staff, especially
Tim Beck
and
Rich Fisher
, that led up to today.
"The main thing that really made me want to commit is just the feel and the unity of the coaches," Dillman said. "I had a great relationship with Coach Beck going in to this trip. Nebraska was one of the first schools that offered me and they have done a great job of recruiting me real hard. So I kind of had an idea of how their coaching staff was and that I got along with them pretty good.
"Once I got down here though and was able to be around the coaches I realized that they are a bunch of great, high character coaches - the type of people that I hope to be like one day in the future. Just their philosophy and outlook on things is impressive. Really, all of the coaches are just great and to know that the people I put my trust into in high school are good friends and trust the people at Nebraska definitely gives you some comfort."
The other thing that gave Dillman a lot of comfort was the fact that his parents, who live in Sweden, were able to be on the visit with him and see Nebraska with their own eyes as well. The Nebraska coaches also told Dillman and his family that he'd be the only quarterback they'd be taking in this class.
"My parents still live in Sweden," Dillman said. "They flew over and have been here for two weeks and then we drove up to Nebraska from Dallas. It was great to have them get to see everything with me. It's always been a huge dream of mine and I'm very happy to get to have them be here with me when it actually happened.
"We had a meeting with
Bo Pelini
and Coach Beck this morning and we talked about football for about an hour and half and I asked some questions at the end. One of the questions was what their commitment was to me during the season and through to signing day. They said that they were all-in.
"They said that I'm their guy and that if I committed to them then they're committed to me. Then I said 'with that being said, me, my family and brothers would like to announce that I want to be a Husker' and that was it."
Dillman had a tremendous sophomore season at La Mirada (Calif.) La Mirada high school, his first full season of playing the sport in the U.S. after moving here from Sweden. However, his junior season did not go as planned in large part to a nagging injury to his achillies.
Dillman says that he is nearly 100 percent now and is looking forward to starting a new chapter of his life at Denton Guyer. He's also looking forward to connecting with the his fellow commits and recruiting for the Huskers.
"It's been going really good," Dillman said of his rehab. "I've been cleared to do all of the running and jumping and power lifting stuff. I'm doing everything that everybody else is so I just feel great. It's not a worry at all for me or for the (Nebraska) coaches."
"I won't be there in Lincoln for the spring game next weekend, but I'll be back for my official (visit) and I'd really like to get in touch and talk with the other commitments and other recruits that have interest in Nebraska."
Dillman becomes Nebraska's seventh commit for the 2015 class which is now ranked as the No. 9 class in the nation. He committed to the Huskers over offers from Auburn, Florida State, Tennessee, and UCLA among others. He will also be playing in the Under Armour All-American Game next January.