Purdues rebuilding process continues in 2015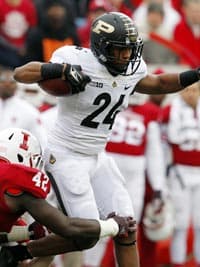 With spring practices finally all wrapping up around the country, HuskerOnline.com continues our look at where each of Nebraska's 12 opponents in 2015 currently stand coming out of spring ball and heading into the summer. Today, we check in on the Purdue Boilermakers, who host NU for a Halloween showdown on Oct. 31 in West Lafayette, Ind.
To get a feel for where the Boilermakers stand heading into their third season under head coach
Darrell Hazell
, we spoke with
Stacy Clardie
of GoldandBlack.com to get her thoughts and perspective on the team and what to expect once the season gets underway in a few months.
Spring overview
The biggest storyline for Purdue over the course of spring practice was the introduction of a new "varying tempo" offense that Hazell and his staff hope will help make the Boilermakers more productive with the ball and keep opposing defenses off balance. The offense used more no-huddle and fast tempo than ever, which Clardie thinks might make up for a group of skill position players that aren't exactly "overwhelming".
The other major storyline was which quarterback would lead the way for the Boilermakers' offensive shift. Junior
Austin Appleby
ended 2014 as the starter and might be the front runner coming out of the spring, but junior
Danny Etling
, redshirt freshman
David Blough
, and freshman
Elijah Sindelar
all remain fully in the mix.
The Boilermakers lost a lot of speed and explosiveness from their offense with the departures of running backs Akeem Hunt and Raheem Mostert, who combined for nearly 1,900 yards of total offense and 11 touchdowns last season, but the hope is some young players can emerge and thrive in Purdue's new skill position friendly scheme.
Returning starters
Both Appleby (seven career starts) and Etling (11) bring solid starting experience to table at quarterback, and whichever wins the job should have a strong offensive line in front of him with starters returning at all five positions up front. That veteran o-line should also help Purdue's running game in a big way as they look to replace Hunt and Mostert. Sophomores
Keyante Green
and
D.J. Knox
look to be the top candidates at running back, but neither have much of any in-game experience.
Purdue lost all of its top tight ends from 2014, and while there isn't much returning experience at wide receiver, senior
Danny Anthrop
is back to lead a promising group with guys like junior
Bilal Marshall
and
DeAngelo Yancey
.
On defense, both starting safeties are gone, but all the starters are back at linebacker led by sophomore middle linebacker
Ja'Whaun Bentley
. The Boilermakers are arguably four-deep at defensive tackle, but defensive end might be the biggest concern on that side of the ball, as it lacks any proven depth on the edge.
Offensive star: WR Danny Anthrop
Though he sat out most of spring ball while recovering from offseason knee surgery, Anthrop still remained arguably Purdue's top offensive playmaker coming out of the spring. The senior is expected to be back to 100 percent by this summer, and he should quickly emerge as the primary target in the Boilermakers' new up-tempo offense.
Anthrop only played in nine games in 2014 before his season ended to injury, but he still managed to rank second on the team with 38 receptions for a team-high 616 yards and four touchdowns. He also gives Purdue a legitimate downfield threat, as he registered the second-longest play from scrimmage last year with an 80-yard touchdown catch.
Defensive star: CB Frankie Williams
A second-team All-Big Ten performer last season, senior cornerback
Frankie Williams
leads the way for a Purdue secondary that should be a formidable group, especially with him and senior
Anthony Brown
manning the perimeter. Williams ranked third on the team with 74 total tackles (51 solo) and led the Boilermakers with three interceptions, seven pass breakups and 10 passes defended.
The 5-foot-9, 190-pound Williams sat out of spring practice while recovering from a minor injury, but he's fully expected to be back in Purdue's secondary when fall camp rolls around in August.
Spring surprise: DT Michael Rouse
When Clardie and her fellow Purdue beat writers watched Purdue's practices last season,
Michael Rouse
had been demoted to the lowest spot on the defensive tackle depth chart by the end of the year. After graduating in December, though, Rouse made the decision to return for his senior year and rededicate himself to football.
That has quickly paid off with him vaulting all the way back up into the two-deep at defensive tackle, and it's likely Rouse will be a key cog in the Boilermakers' rotation this season. At 6-4, 301, Rouse will be a legit run stopper in the middle.
Best spring position battle: Quarterback
Purdue still has several positions needing to be solidified going into the summer, but none will be more important than under center at quarterback. Even if Hazell and his staff have an idea of which player is in the lead for the starting job, they're not telling anyone in the hopes of keeping the competition as high as possible throughout the remainder of the offseason.
It's expected a starter will be announced by the final week of fall camp, and if Clardie were to guess it will likely be Appleby getting the nod for the season opener. But a lot could still change over the next couple months and even on into the start of the season. In Hazell's first two years in West Lafayette, he has yet to have one quarterback start every game of a season.
Biggest question: Who will emerge at defensive end?
Obviously the quarterback race has and will continue to garner the bulk of the attention, but there's another competition on the other side of the ball at defensive end that remains far from finding an answer. Given the fact that Purdue typically doesn't like to blitz very often, it desperately needs a consistent pass rush from its front four, especially from its ends.
Junior
Evan Panfil
and sophomore
Gelen Robinson
appear to be closest to filling those roles, but neither locked up the jobs over the course of spring practice by any means.
Early outlook on Purdue vs. Nebraska
Clardie: "I think Purdue has a lot of stuff that it needs to get done before that. I think a lot of things could be different by the time that matchup comes. Will Purdue have the same quarterback that they started the season with in that game? How comfortable will Purdue's defense be with having some new pieces? Traditionally, Purdue has had to stop the run against conference teams, and they haven't done that very well. They certainly didn't do it out there (at Nebraska) last year very well. I don't know a lot about what Nebraska has coming back on defense, but if Purdue by that point can have the offense kind of rolling with some up-tempo, that maybe will help them. But you just don't know. That far in the year, what's Purdue's record going to be like? If they're really struggling again, that obviously changes things. Purdue has no home field advantage, so it does not matter that that game is at Purdue."
Overall 2015 win-loss expectations
Clardie: "Yeah, obviously they haven't been so good over the last few years. One win in Hazell's first season and only one conference win over the past two years. I think there will be improvement. Last year they picked it up to where they were actually in games. It seems kind of sad that you just want to be in games, but that first season they got smoked. So Year Two was kind of like, OK, we felt like we had a chance. We were in games in the fourth quarter. So I think the coaches were encouraged by that, and they have really been preaching to finish since the season ended and all this spring, that now you have to win those games when you're close and it's not OK just to be in games anymore. So I think just from a coaching perspective, certainly they want to get more wins, so it's taking that next step to finish games. I think the fans obviously really want to see that progress show up in victories. Five wins I think is a possibility this year, but things have to go right and you have to find a quarterback who can make it work."
Click
Here
to view this Link.
[rl]