Pressure is rising for Iowa, Ferentz this season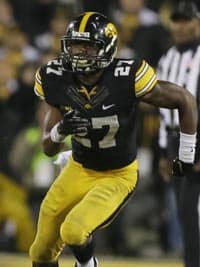 With spring practices finally all wrapping up around the country, HuskerOnline.com continues our look at where each of Nebraska's 12 opponents in 2015 currently stand coming out of spring ball and heading into the summer. Today, we conclude the series by checking in with the Iowa Hawkeyes, who come to Lincoln for the annual Black Friday showdown on Nov. 27 to close out the regular season.
To get a feel for where the Hawkeyes stand heading into their 17th season under head coach
Kirk Ferentz
, we spoke with
Tom Kakert
of HawkeyeReport.com to get his thoughts and perspective on the team and what to expect once the season gets underway in a few months.
Spring overview
Unlike many other teams in the Big Ten Conference, Iowa had the luxury of actually having its quarterback situation figured out going into the start of spring practice. Though 2014 ended with
Jake Rudock
and
C.J. Beathard
expected to battle for the starting job, Rudock opted to move on and transfer to Michigan, leaving Beathard as the clear No. 1 for 2015.
That said, the Hawkeyes still faced a number of questions entering spring ball, particularly in the trenches on the offensive and defensive lines, which saw three players taken in the NFL draft and another sign as an undrafted rookie free agent. Given how vital the lines have been towards Iowa's success over the past decade, replacing those key pieces up front - particularly No. 6 overall NFL draft pick Brandon Scherff - was undoubtedly a top priority for Ferentz and his staff.
Speaking of Ferentz, even though he's entering his 17th season as head coach, his seat is definitely starting to warm up after five straight seasons with eight wins or less and four years without a bowl game victory.
Returning starters
Beathard brings some experience under center, as he saw time in nine games last season, including starting in a win over Purdue and racking up 227 total yards and two touchdowns off the bench in the TaxSlayer Bowl against Tennessee. At running back,
Jordan Canzeri
and
LeShun Daniels
will provide a solid one-two punch, while
Tevaun Smith
and
Matt VandeBerg
will lead the way for an otherwise thin wide receiving corps.
The real focus is on the offensive line, though.
Austin Blythe
will take over at center, and redshirt sophomores
Ike Boettger
and
Boone Myers
will step in as the new starting tackles. At guard,
Sean Welsh
and
Jordan Walsh
are expected to get the nod, but no one of the line looked especially good during spring ball, according to Kakert.
On defense, Iowa must replace both starting defensive tackles from last year in Carl Davis (a third-round pick) and Louis Trinca-Pasat, but defensive end
Drew Ott
returns to anchor the front four. After losing three linebackers to the NFL last year, the position is still in flux with a good deal of inexperienced players expected to play big roles. The good news is both starting cornerbacks return in
Desmond King
and
Greg Mabin
, as does free safety
Jordan Lomax
.
Offensive star: QB C.J. Beathard
While many feel Iowa will only go as far as it's retooled offensive line will take it this season, the same could be said at quarterback with Beathard. Not having to worrying about competition for a starting job this spring, Beathard was the clear leader of the offense and will be counted on to carry the Hawkeyes to the turnaround season fans in Iowa City are clamoring for.
One of Beathard's best weapons last season was his ability as a runner, as he rushed for rushed for 156 yards on just 28 attempts, including 82 yards in the bowl game. However, given that Iowa's quarterback depth behind him is so limited and unproven, he's going to have to be much more careful about putting himself at risk for injury.
Defensive star: DE Drew Ott
Nebraska fans probably won't enjoy this, but the former eight-man football standout from Trumbull, Neb., who didn't earn a scholarship from his home state Huskers has emerged not only as arguably Iowa's best defensive player, but maybe the best overall player on the entire team.
Along with tying for sixth in the Big Ten with 7.5 sacks, Ott benefitted immensely from going up against one of the best offensive tackles in the country in Scherff every day in practice during his junior year. Now a senior, Ott is poised to be the foundation for the Hawkeyes' defense this season.
Spring surprise: TE George Kittle
Limited because of injuries in 2014, tight end
George Kittle
caught just one pass for 25 yards all season. But because incumbent starting tight end
Jake Duzey
is expected to miss at least the first month of the season due to a knee injury, Kittle suddenly vaulted up the depth chart by the end of spring ball.
The junior from Norman, Okla., might be Iowa's fastest tight end, and he was able to bulk up his frame to be more reliable as a run blocker. Kittle had a strong showing all spring and made some big plays in the spring game, and he looks to have a golden opportunity to become a factor for the Hawkeyes in 2015.
Best spring position battle: Strong safety
The one spot in the secondary that still needs to be filled is at strong safety, and that position saw some of the best competition of all during Iowa's spring session. Sophomore
Miles Taylor
appears to be in the driver's seat coming out of the spring, but redshirt freshman
Brandon Snyder
gave Taylor all he could handle every practice.
Taylor has a bit of an edge in terms of experience, but Snyder definitely impressed last year with his play on the scout team and kept it up throughout the spring. That competition should continue to rev up on into fall camp.
Biggest question: How will Iowa stack up in the trenches?
Again, Iowa's brand of football the past 16 seasons under Ferentz has been almost entirely predicated on controlling the line of scrimmage on both sides of the football. After losing some very notable talent on the offensive and defensive lines, will the Hawkeyes be able to match the same physicality in the trenches that it's had in years past?
Kakert was underwhelmed with the play of the offensive line this spring, which wasn't entirely surprising given all the new faces, but some significant strides need to be made before the season opener rolls around. The defensive line also needs to step up both in the pass rush and against the run with such an inexperienced linebacker group behind it.
Early outlook on Iowa vs. Nebraska
Kakert:
"You know, it's hard for me to talk about Nebraska because I haven't seen them under
Mike Riley
yet. It's an unknown. I think obviously Nebraska would be favored in that game if they played it tomorrow because it's at home and because they probably have more talent returning at key positions. But I think it will still be a really competitive game. The last two games in this series have been some of the stranger games I've ever seen. The one in Lincoln two years ago with Iowa coming on strong and playing really well, Nebraska making some crazy plays and (Bo) Pelini having his meltdown on the sideline. It was just wild. Then last year with the punt returns and Iowa being up 24-7 at one point at home and seemingly cruising, and then it all just falls apart in the second half like I had never seen. Iowa walks out of there with an L and Nebraska gets a win and goes home and fires their coach. It's bizarro world. I guess what I'm saying is there's an air of unpredictability with this series now, and I think that's healthy. I think to have a good rivalry you've got to have some unpredictability, and we have that now."
Overall 2015 win-loss expectations
Kakert: "That's a magical question, and one that has been much debated. I think I saw someone last week who set the over/under at 7.5 (wins). Right now, I haven't seen the temperature at Iowa this warm under Kirk Ferentz during his his tenure. I mean, it's pretty messy right now for him, and we're in kind of 'you better win eight' territory, I think. I think he knows that. The A.D. came out and said 7-5 last season was unacceptable, so that kind of lays the groundwork. They have a favorable schedule again. There's no Ohio State, Michigan, Michigan State, or Penn State, so it's not like they're facing the most challenging schedule. But they're going to have to get eight wins. I think based on what all of us saw this spring, just with their struggles on offense, I have a hard time getting them to eight, I really do. The offense is going to have to look a lot better, because right now they just lack playmakers on the outside. It's going to be tough for them to get there."
Click
Here
to view this Link.
[rl]