Press conference notes: NU prepping for mental battle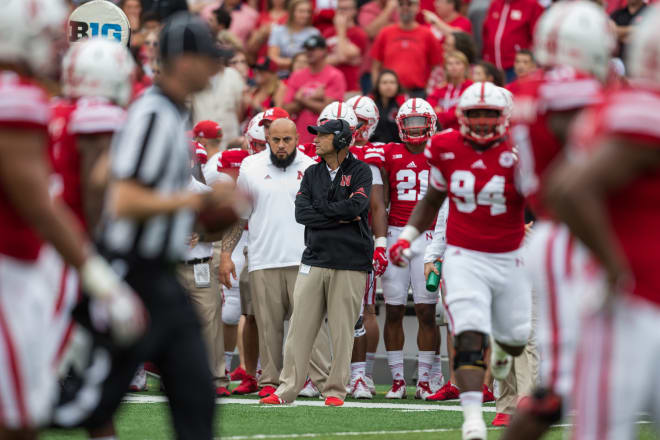 In the wake of one of the program's worst home defeats in recent memory, Nebraska is trying its best to figure what all went wrong in its loss to Northern Illinois and how to prevent an effort like from happening again.
Head coach Mike Riley said that Saturday's game had "all the ingredients of a loss" in every aspect, as really nothing went right for the Huskers' in falling to NIU 21-17 and dropping to 1-2 on the season.
With the schedule only getting more difficult from here, Riley admitted that this was a pivotal week for the Huskers to get back on track and salvage whatever opportunities may still remain for their 2017 season.
"Kind of the bottom line, in summary, is everybody has to obviously be really, really tough here," Riley said. "Mentally tough, physically tough. Our adults (coaches) have to be the teachers and they have to be at their best right now in arming our players with the way to get better.
"The big battle, as everybody knows, is getting the mind in the right place. We've got a great, great group of kids, and they have the best of intentions. We just have to help them in how they're doing and give them concrete stuff to get better."
Riley said he fully expects human nature to set in and for there be some doubt setting within Nebraska's locker room. That's why he said NU's coaching staff would be critical in keeping the players confident and preparing them as best as possible.
However, linebacker Mohamed Barry said it would be just as much on the players to pick themselves up and help solve the problems.
"As a competitor, (that loss) stays with us for a long time," Barry said. "As an individual on the team, what could you have done to prevent the loss? I hope that's what everyone on our team is asking: What as individuals could you have done to have prevented the loss?
"We're not blaming any one individual for the loss. It's a collective team effort, and in that, you just think, 'If I do something better, then maybe we wouldn't have lost.'"
Riley said he and his coaching staff met after the game and discussed potential changes not only with game plans and schematics, but even in the smaller details of how they go about their day-to-day operation during game weeks.
Riley said the staff has already instituted some new wrinkles in an effort to hopefully provide a spark for a team in desperate need of some new energy.
"We have all we need here to win," Riley said. "The resources and help provided by Shawn (Eichorst) and the administration here are awesome, and we understand the expectations, and we embrace that.
"We are here to perform and recruit and compete at the highest level, and we did not perform like that on Saturday. We've got to get back to playing good, solid football."
Injury list continues to grow entering Rutgers week
As if the loss to Northern Illinois wasn't difficult enough, injuries continued to mount across Nebraska's roster after the game.

The Huskers will likely be down another defensive starter this week against Rutgers, as linebacker Marcus Newby suffered a hamstring injury on Saturday and is expected to miss extended time.
"He'll be out for a while," Riley said. "I don't know what that means exactly yet, but he won't play this week."
On the other side of the ball, NU was already down a starting right tackle with senior David Knevel out with an ankle injury. It turned out that his backup, redshirt freshman Matt Farniok, broke a bone in his wrist against NIU and had to have a pin inserted this weekend.
While Farniok hasn't been ruled out against Rutgers just yet, Riley said there was no way he would be able to handle a full workload on the offensive line.
"He may be available for some duty this weekend, but not full-time," Riley said. "He won't practice this week. Matt has been on the punt team as a shield guy. I don't know what he's going to be available for at this time. He's certainly doing everything he can. He wants to get it casted up and play, so we'll see where he is."
The relatively good news is that Riley slightly upgraded Knevel to "a little less questionable" this week after missing the past two games. The staff will monitor Knevel during practice this week, and there's a chance he could return to the lineup on Saturday.
If not, Riley said Nebraska would likely have to turn either true freshman Brenden Jaimes or redshirt freshman Christian Gaylord for a potential starting role against the Scarlett Knights.
The injury report didn't end there, either. Riley said running back Tre Bryant (knee) and safety Joshua Kalu (hamstring) were both still listed as questionable after missing last week's game.
Kalu's backup, Antonio Reed, made his first start of the year despite wearing a cast on his hand due to a thumb injury he suffered vs. Oregon. Riley said Reed didn't have any setbacks on Saturday but would likely continue playing with a cast "for a while."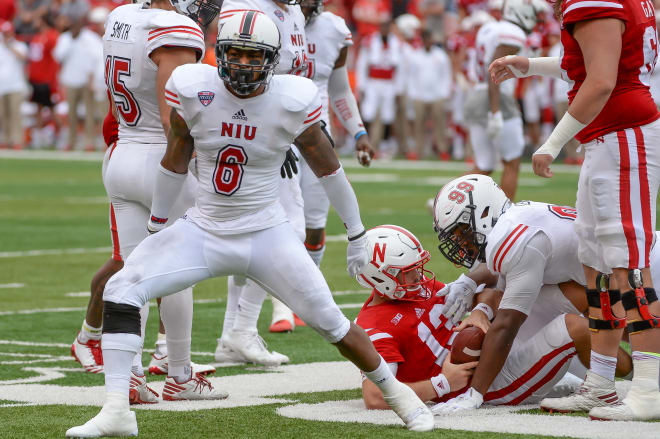 Fixing the offensive line priority No. 1
Nebraska's offensive line was the target of as much criticism as anything following Nebraska's loss to Northern Illinois, and based on the final numbers, it was warranted.
The Huskers rushed for less than 100 yards for the first time this season, gave up three sacks and multiple other big hits on quarterback Tanner Lee, and the o-line committed three costly penalties in an all-around rough outing for the offense.
"A big concern is sacks and hits on the quarterback," Riley said."Our problems were evident. We didn't block for the quarterback, we weren't consistent in the run. We've got to do a better job in all those areas."
Riley said the rest of the offense needed to find ways to help the line going forward, specifically with things like calling more quick passes, screens, and draws to throw off the timing of opposing pass rushes.
Another step would be for NU to further emphasize a handful of "identity runs" that the offense could rely on consistently to maintain balance.
With that all being said, though, Riley admitted he didn't expect to be dealing with these kinds of issues with a veteran offensive line returning five players with significant starting experience.
"Disappointed for sure," Riley said of the offensive line's play thus far. "Surprised, probably. We certainly can do better than that. And again, that's examining our whole process of getting ready. That needed to be done."
Could Riley take over play-calling duties?
As Riley listed things Nebraska's offense could do to get its production back on track, the question had to be asked whether he had any intention of having a bigger hand in the Huskers' play calling?
During his time at Oregon State, Riley called the plays from 2003-08, when the Beavers won five bowl games over those six years.
He temporarily handed those duties over to offensive coordinator Danny Langsdorf, but took over again in 2012 and 2013. Not coincidentally, OSU's offense thrived and quarterback Sean Mannion went on to set the Pac-12 Conference career passing record.
"Well, I don't know if it was me or Sean Mannion that got better," Riley joked.
But the reality is that Nebraska's offense has been inconsistent at best since Riley and his staff took over in 2015, and after Saturday's dismal display, it was a question definitely worth asking if Riley had thought about taking the reigns from Langsdrof again as NU's play caller.
"I've thought about stuff like that," Riley said. "Really, outside of the last game, I've always thought about that part of it. I have to balance all those kinds of thoughts with what I need to do in all parts of the program. I will end up doing what's best to do in that regard, but at this time, no."
That answer certainly didn't rule out the chance of that changing in the future. Riley went on to say it was his job to do whatever was necessary to improve every aspect of the team when things weren't going well. He said he's had detailed meetings with his entire staff about ways the Huskers could perform at a higher level.
While taking over the play-calling duties might not be on the table at this point, Riley has shown in the past he's more than willing to do so if he feels it's necessary.
"When things aren't looking good, it's my responsibility to help in whatever way, step in whatever way that I think is necessary," Riley said. "We have examined as of yesterday and as late as this morning, our process for getting ready…
"Whatever happens, I'm responsible for it. So we have looked at that, examined it with individuals and with the staff, trying to find a better way. I see it as teamwork and everybody has to play their part. This group has been successful, and I have all the confidence that they will be. But we need to re-examine exactly what we're doing and the process of getting our team ready."
Quick hits
***Riley said what Eichorst said after the game "was an honest reaction" to a performance no one in the program was happy about. "Whatever is said, we probably earned, by anybody," Riley said.
***Riley said they've talked about the possibility of moving Cole Conrad back to right tackle with Michael Decker taking over at center, but they're reluctant to change up the starting group too much because guys won those jobs for a reason.
***Riley said freshman Andrew Ward could join the mix at linebacker because of the injuries that have mounted up.
***Riley said Nebraska has practiced "ones vs. ones" with its top offense and defense more than ever during season game weeks this year.
***Barry was asked how he feels he's been playing this season: "We lost, so obviously not good enough... That's the mindset we should all have, and I think we do have."
***Senior kicker Drew Brown said his blocked field goal against Northern Illinois was entirely his fault because he didn't kick the ball high enough.