Press conference notes: Huskers not worried about defense
After giving up 36 points and nearly 500 yards of total offense in the debut of its new 3-4 defense, there was some early concern after Saturday's win over Arkansas State over where Nebraska actually was in its defensive transition.
Having reviewed the game film, head coach Mike Riley said he wasn't worried about the Red Wolves' offensive production, saying it was nothing NU's staff didn't expect going into the game.
"First of all, we anticipated a hard game in the fashion that you saw," Riley said. "This team was a good football team with all those parts that, as you approach them, you might have the idea that they're going to get some yards and we've got to make a play and keep them out of the end zone."
Riley noted that while ASU racked up 497 total yards, 415 of which coming through the air, only 27 of its 36 points came from the offense, and it had just five "explosive plays" - gains of 20 yards or more - on the night.
Had it not been for a punt return for a touchdown and a safety by NU's offense, Riley said the score would have been a bit more lopsided than it was.
Going even further, Riley pointed out that one of the Red Wolves' scores came after Nebraska was flagged for a personal foul that turned what should have been a field goal at best into an eventual touchdown drive.
Another ASU touchdown, a 29-yard wheel route pass in the first quarter, came as a result of the secondary recognizing the play a little too late and not adjusting the coverage in time.
"They're going to get some yardage with a style like that," Riley said. "It doesn't mean that they're going to necessarily get the points they need to win. That is where football, in this era with spread offenses, I think all that is real. It's not going to be necessarily so much about yardage, it's really about points."
Riley said he was confident that the game would be a valuable learning tool for the defense because of the variety of situations it faced and the adversity it had to overcome.
"We have the confidence that we can take that game, look at it, help our players and the next time out get better on how to play," Riley said. "We can tighten some things up, and I feel good about that… I'm very confident that our players will continue to learn."
Senior linebacker Chris Weber echoed Riley's optimism, giving this message to Nebraska fans who might be a bit nervous about the state of the defense:
"I would say (to fans), 'We'll be fine,'" Weber said. "We're going to come back, we'll have a great week of preparation this week. I've got tons of confidence in the guys in our locker room and our coaching staff, and we're going to have a great week and be ready to go on Saturday."
- Robin Washut
Riley explains Diaco's postgame no-show
The topic over defensive coordinator Bob Diaco declining to give a postgame interview on Saturday night definitely became a hot debate over the ensuing 36 hours.
Riley was asked about the situation during Monday's weekly press conference, and he said it was merely a matter of miscommunication with Diaco leading up to the game.
"That part of it actually came a couple weeks ago," Riley said. "Bob and I had talked about that specifically, and it really was a talk about - his thoughts were it'd be great after a ball game for 'One Voice', giving him time to watch the film and then review it with you guys.
"I haven't followed it all and what's come out, but nothing was intentional by him in that regard. It was a discussion we had, and frankly my fault, because I never revisited that conversation with him. It was a conversation about his thoughts about that, but I didn't actually think about it again…
"What I think was a pretty innocent thing turned into a big thing, but that's it. He's been great with the media that I've watched and seen, and he's going to talk to you today."
Riley added that the expectation going forward was that Diaco would speak with reporters after games from here on out.
- Robin Washut
Bryant takes advantage of opportunity as No. 1 back
One of the most pleasant surprises for Nebraska on Saturday night was the emergence of Tre Bryant as the clear No. 1 running back.
Following an offseason full of speculation over what NU's backfield rotation would look like in 2017, the sophomore ended up posting a game-high 194 yards and a touchdown on 31 carries, the most touches ever by a Husker under Riley.
Riley admitted it was a tough decision to stick with Bryant and let him be the workhorse because of how good the running back competition had been all spring and fall. But with how well Bryant handled the duties, Riley quickly knew he made the right call.
"Tre looked good, didn't he?" Riley said. "He's quick-footed, he's hard-nosed, he's smart, and he's versatile," Riley said. "Did I see it coming? I hoped for it. I mean, I would like to say that I had a perfect crystal ball and saw all that."
Riley had always stated his desire to have a clear No. 1 back, but it hadn't exactly worked out that way in his first two seasons in Lincoln.
"I think the running back getting to play - we haven't done it like this, and it's kind of a self-indictment a little bit, since we've been here," Riley said. "The running back getting to play and be in the game, they, like everybody else, learn in the game…
"That was kind of a reminder to me of why we made that kind of decision, even though it was hard and maybe those other guys deserved more with the competition that we had. But that's the way it went."
Bryant said he'd never carried the ball 31 times before in his entire football career, even going back to his high school days at St. Louis (Mo.) Christian Brothers.
Bryant said he could definitely feel himself getting into a better rhythm as the game went on and the more carries he got under his belt.
"The rhythm goes for just like getting a feel for how the defense is going to react to a certain play or how they're going to fill a gap," Bryant said. "So if I know they're going to fill that gap just like they did the last play, I can bounce it this way or maybe if I cut it back it may be even better."
- Robin Washut
Pierson-El, Newby to sit out Monday with injuries
Nebraska was able to get away with a close victory on Saturday night, but it was also hit with two injuries that will certainly be worth monitoring this week leading into the Oregon game.
Riley said senior receiver and return man De'Mornay Pierson-El injured his shoulder against Arkansas State and would not practice on Monday.
The hope was Pierson-El would return to action on Tuesday, but the Huskers plan to be very careful with him this week.
"We're hopeful that he can do some stuff tomorrow," Riley said. "It's going to be one of those things that we do not anticipate him, as the week progresses, missing the game at all, but it'll be a process of him feeling good by the time we get there.
"So we're going to be careful with him today and see what he can do tomorrow and then each day as he goes."
Riley also said starting DOG linebacker Marcus Newby injured his hamstring in the win and would be sidelined as well on Monday. Like Pierson-El, Riley said they expect Newby to be ready to go by Saturday but would monitor his progress through the week.
Also, as he did at times during fall camp, Bryant will also get the day off on Monday to rest a lingering knee injury.
- Robin Washut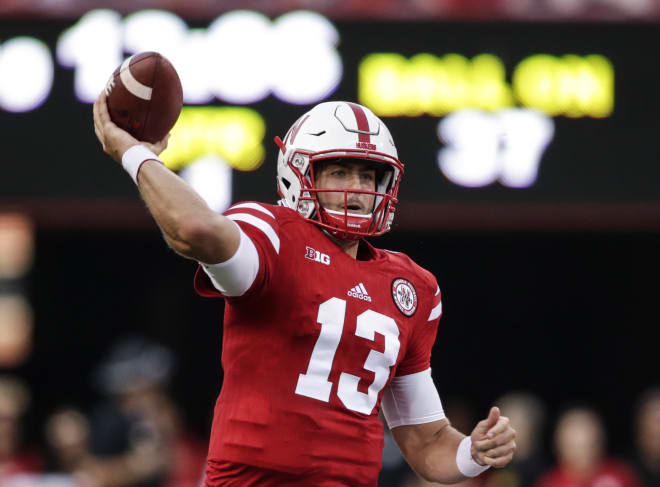 Quick hits
***In reviewing the Arkansas State game, Riley said no turnovers and a good third-down conversion rate (7-14) were two positives. He also liked the offensive balance and the effectiveness of the run game.
***Overall, Riley said it was "a terrific game" for NU's new cornerbacks in their first test. Playing a team that threw 68 passes right out of the gates would be very good for those guys, he said.
***Riley said one of the biggest challenges of playing in Oregon's Autzen Stadium was the noise, calling it one of the loudest venues he's ever coached in. He said they've been preparing for that all fall camp by simulating crowd noise and using silent snap counts, and that communication would be crucial for the offense this week.
***Riley the last two offensive drives at the end of the game were talked about as much as anything between him and offensive coordinator Danny Langsdorf. Not being able to put the game away with first downs and some poor clock management played just as much of a factor in how the game ended as the defense.
***Quarterback Tanner Lee said he felt good this morning after taking his first game hits since 2015. He said he was happy with the plays they made in the game on offense but was looking forward to reviewing the ones they didn't make and improving this week.
***Bryant said one thing he's changed to keep himself healthy was his diet. He said in high school he used to go get McDonald's after games, and now he's taking ice baths and doing extra stretching to help his recovery.
***Receiver J.D. Spielman said his dad, Vikings G.M. Rick Spielman, was obviously proud of his debut. His dad's only advice was maybe next time don't point to the crowd at the 40-yard line like he did during his 99-yard kickoff return for a touchdown.