Postgame notes: Red zone issues plague Huskers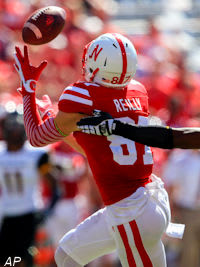 Click
Here
to view this video.
With a 50-yard field goal by
Drew Brown
as time expired in the first half, Nebraska went into the locker at halftime holding a solid 22-0 lead over Southern Miss on Saturday afternoon. But the Huskers couldn't help but think in the back of their minds that the score should have been far more lopsided than it was.
Penalties, mental mistakes and downright poor execution in the red zone left NU settling for field goals rather than scoring touchdowns early on, and those failed opportunities ended up making a 36-28 victory much closer than most thought it should have been. After marching down the field for a touchdown pass on the opening possession, the Huskers moved the ball inside the USM 20-yard line on four other drives in the first half but only managed field goals on all of them.
In the second half, the Huskers scored two touchdowns on three trips inside the red zone, but failed to convert on the most important of those when Brown's seventh field goal attempt of the day was blocked from 29 yards out, leaving it an eight-point game with 29 seconds on the clock.
"We played pretty well early, but we didn't capitalize in the red zone with touchdowns," head coach
Mike Riley
said. "So what might have been difference point-wise was, even with scoring the number of times that we did, the point differential wasn't very big. Those things can, and it just seems sometimes that they're destined to come back and haunt you… That's the way it was. We could've used more points out of those early opportunities."
By settling for three points instead of seven so many times, Riley said Nebraska allowed Southern Miss to linger around far too long, and the Golden Eagles were slowly able to build up confidence as the game went on. Riley said not putting the game away when they had the chance made life much more difficult than it needed to be for the Huskers.
"Well it appeared (it made it) very hard, right?" Riley said. "I think it stems from letting that game remain as close as we did, giving them life. All of a sudden, I think it was 22-0, but one score and it doesn't look that bad for them."
Quarterback
Tommy Armstrong
put much of the blame for the inability to convert touchdowns on his shoulders, saying he needed to make better reads and be smarter with the ball when the offense is that close to the end zone. For an offense that put up 610 total yards in the game, the scoreboard should have reflected how well the group played far more than it did.
"I feel like we could have scored a lot of points in the first half," Armstrong said "I feel like we stopped ourselves here and there. We couldn't capitalize and execute in the red zone in the first half. But we found the end zone in the second half a few times and came out and fixed our mistakes, but overall I think we could have put a lot more points on the board offensive-wise.
"We did a great job, but we could've done better. We can't deny the fact that we had so many yards but we could've had that many points as well. We put our defense in certain situations where they shouldn't have been."
The ironic part about Nebraska letting its opponent hang around by settling for field goals is that just a week ago the Huskers were the ones who took advantage of Miami's inability to score touchdowns in a 23-point comeback to send the game into overtime.
"When you're on the other side of the coin you celebrate that," Riley said. "That's a job well done, and it's kind of a victory for the defense when that happens. That's really what kept us motivated and getting stronger in the Miami game, and we were victim of that today."
- Robin Washut
Brown has record day to boost Huskers
While Nebraska had trouble finding the end zone on Saturday, at least Brown was there to give the Huskers some points to show for their efforts, and he did so in record fashion.
By knocking in his first five field goal attempts of the day, Brown tied the NCAA record for made field goals in one half, joining former Husker Dale Klein (1985 at Missouri) and New Mexico State's Dat Ly (1988 at Kansas) as the only other FBS kickers to accomplish the feat.
"You've got to be ready for it when it does happen," Brown said. "There's games where we're going to kick a lot. There's games where we're not going to kick a lot. You've just got to be ready for whatever opportunity comes in front of you."
Brown had a chance to equal Klein's other NCAA record for most field goals in a game (which was also set in 1985 vs. Missouri), but he missed a 51-yard attempt in the third quarter and then had a 29-yarder blocked late in the fourth quarter. Still, his five makes were the most ever by an NU kicker inside Memorial Stadium and the most by a Husker since Alex Henery drilled five at Virginia Tech in 2009.
On top of all that, Brown's 50-yard field goal at the end of the first half set a new career high.
"It is kind of cool," Brown said. "It's something that I can reflect on whenever I'm done playing and say I had a really good game that day. I could've put more points on the board, and it didn't work out. But yeah, it's something cool that I can reflect on in the future whenever I'm done playing."
- Robin Washut
Penalties continue to be a thorn in NU's side
The numbers themselves are ugly - Nebraska has committed a staggering 43 penalties through four games, mistakes that are costing the Huskers an average of 91.6 yards per contest. 
Langsdorf said he can deal with some of the holding penalties and errors of the physical nature - those kinds of things are more open to the officials' interpretation and are simply going to happen from time to time. It's the mental errors that keep the offensive coordinator up at night.
"It's one of those things where you talk about it, practice it, harp on it… there are some focus lapses with the false start stuff," offensive coordinator
Danny Langsdorf
said. "Some of the (holding penalties), you don't want them but they are going to happen. The cheap stuff, the shift and the false start stuff, we just have to be better focused."
According to the staff, the Huskers aren't a penalty-laden team in practice. They play relatively clean, according to Langsdorf, but the results on Saturdays are the ones that matter. And if Nebraska can't brush up on some of the simple stuff, it's going to continue to shoot itself in the foot.
"I can't say we're 100 percent in practice, but we're pretty good," Langsdorf said. "There are all kinds of different factors and excuses if you will, but we just have to keep focus on it, making sure we emphasize it and clean it up."
- Dan Hoppen
Lack of turnovers a concern for defense
With Nebraska's defense struggling to get opponents off the field the way it is, a few easy turnovers would figure to provide a major help.
But the Huskers have struggled to do that this year. After forcing and recovering one fumble against Southern Miss, NU has just six turnovers forced in four games, and opposing offenses are taking advantage.
That number is hurt somewhat by a dubious pass interference call late in the game on
Joshua Kalu
, but Nebraska still has a turnover margin of negative-one.
"People are throwing the ball on us, so takeaways will come with quarterback strips and interceptions," defensive coordinator
Mark Banker
said. "First of all, you have to defend the pass in order to get the turnover… They're not there. You've got to be in position to put your hands on balls to be able to get those turnovers."
- Dan Hoppen
Quick hits
***Riley said penalties obviously remain a big issue for this team, as the Huskers were flagged 12 times for 98 yards on Saturday. However, Riley said there were a few "surprisingly interesting" penalties called against NU, particularly the pass interference call against
Joshua Kalu
near the goal line in the fourth quarter. He called that "a bang-bang play" that could have been called either way.
***Riley called fullback
Andy Janovich
a "really good football player" who can do a lot of different things well as a runner, blocker, receiver and special teams player. Riley said he wasn't sure if other games would allow for Janovich to rush for 68 yards like he did USM, but his play definitely was a big help for the Huskers.
***Riley said they weren't surprised by the onside kick Southern Miss pulled off, saying they were actually ready for that going into the game and had been reminding the players to be ready all game. Riley said NU even had six guys up closer to the ball where most teams only have five. He said it was just a good kick that took a favorable bounce for USM.
***Riley said linebacker
Marcus Newby
suffered a pulled a groin during the game.
***Riley said running backs
Terrell Newby
and
Imani Cross
are seeing running lanes well, but admitted that "they could have used the cutback lanes mare than we did."
***Riley said Nebraska has been in about every situation a team could be in during its first four games this season, which should serve as learning experiences that will help them as the year goes along.
***Defensive end
Freedom Akinmoladun
admitted he was pretty tired on that final drive of the game, but that wasn't going to keep him from finishing the game strong. He said his only goal was getting to the quarterback on the final sack. Akinmoladun had two sacks vs. Southern miss and now has four in his first four games as a defensive end.
***Banker said defensive tackle
Kevin Williams
sprained his thumb and spent most of the game with his hand in a cast.
***Banker said
Chris Weber
played on a bad ankle for much of the game. Weber still managed to record a team-high 12 tackles.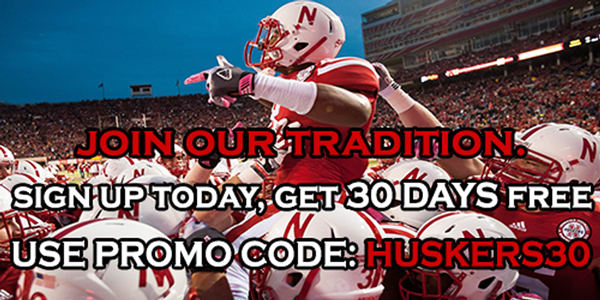 Click
Here
to view this Link.
[rl]