Post-title era team: Kicker
Football season is closing in, but there's still some time before fall camp begins. To pass the time, HuskerOnline examined the top five players at each position in the post-title era starting in 2002. Any player who played from that point on is eligible for these lists except for current players because their careers are still ongoing.
Each member of HuskerOnline was asked to rank their top five at each position and points were given in reverse order. For example, if someone rated Zac Taylor as the best quarterback of the era, he received five points, the second-place quarterback received four and so on. The votes were all totaled at the end to form our lists.
Today we take a look at the kickers. Here's the voting breakdown:
http-equiv="content-type">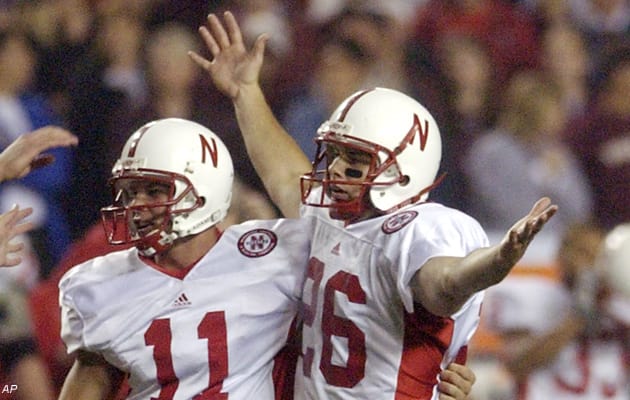 The skinny: Brown is fourth on Nebraska's all-time scoring list with 315 points and connected on 43 of his 62 career field goals. His strong senior season (88 points, 14-18 on field goals) earned him a spot on the All-Big 12 first team. A four-year starter, Brown was drafted by the Seahawks in the seventh round and is currently a member of the Giants. He's made 82.7 percent of his 336 kicks in the pros.
3
K
Brett Maher (2008-12)
18 points (6 third-place)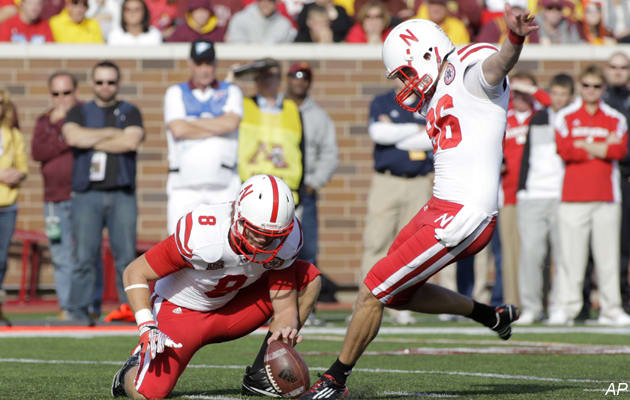 The skinny: Maher had the unenviable job of following Henery's career, but the Kearney native proved right away that he could handle the spotlight, banging home all four of his kicks (including boots of 48 and 50 yards) in his first start. Maher made 39 of 50 (78 percent) kicks in his two years as the starter and made first-team All-Big Ten in each season. Yahoo.com granted him first-team All-American status in 2010.
4
K
Sandro DeAngelis (2000-04)
8 points (2 fourth-place, 4 fifth-place)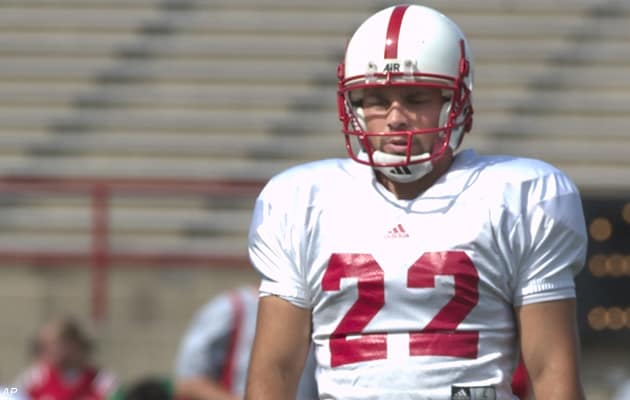 The skinny: DeAngelis split kicking duties for most of his three healthy seasons, making seven of his 15 career tries with a career-long of 41 yards. He was dependable on extra points, sending home all but three of his 54 attempts. DeAngelis went on to play nine years in the Canadian Football League, winning the 2008 Grey Cup and becoming the most accurate kicker in league history.
5
K
Pat Smith (2013)
7 points (3 fourth-place, 1 fifth-place)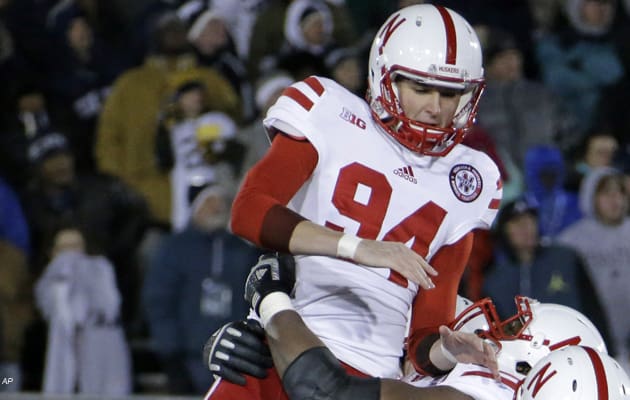 The skinny: A transfer from Western Illinois, Smith played just one year at Nebraska, but he made it count. He beat out incumbent Mauro Bondi in fall camp and proceeded to make 12 of his 13 kicks in 2013, earning honorable mention All-Big Ten honors. His most memorable moment came against Penn State - with snow falling, Smith connected on a 42-yard field goal in overtime to give the Huskers the victory.
Click
Here
to view this Link.
[rl]