Post-game nuggets from Nebraska's loss at Iowa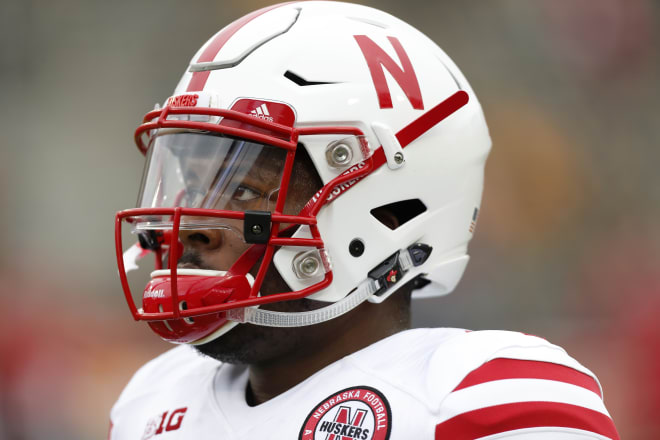 Here are some quick notes to pass along from Nebraska's post-game press conference following Nebraska's 40-10 loss at Iowa on Friday night…
***Head coach Mike Riley said the loss was "very disappointing" in every facet. He said the defense gave up too many big plays, the offense couldn't sustain any consistency and the special teams lost in every area.
***Riley said the injury situation at quarterback was only part of the issue for Nebraska, as Iowa's defense had just as much to do with how poorly the Huskers played. While Tommy Armstrong and Ryker Fyfe obviously weren't 100 percent, Riley said you can't point to that as the sole excuse.
***Riley said one of the most frustrating parts of the loss was how much NU was "lousy" at things it had generally been pretty good at all season. "I'm really disappointed all the way around in all of us, all the parts," Riley said.
***Riley said you can only look at the "tangible" evidence of how prepared a team was in a game, and the results on Friday night suggests Nebraska wasn't ready.
***Riley said Iowa's first long touchdown run was due to the at least two defenders completely losing their leverage on the play. Senior linebacker Josh Banderas took full responsibility for that run, as he missed a one-on-one tackle that allowed Akrum Wadley to break free.
***Riley said the special teams was no better than a mixed bag in the loss, and was in fact less than that. "None of it was real good today," Riley said.
***Riley said the offense "fell in the proverbial trap" of relying too much on the deep pass instead of sticking with the running game and higher percentage throws. Offensive coordinator Danny Langsdorf said they knew they would have opportunities to stretch the field through the air, and came so close to capitalizing on a few of them.
***Riley and Langsdorf said Armstrong was obviously not healthy, but he was the best option today. Riley said Fyfe was "a little further behind (Armstrong) as far as being ready" in his preparation this week in practice, but that didn't stop Riley from wondering if he should have tried Fyfe earlier in retrospect.
***Armstrong said he knew his hamstring was going to bother him the whole game after he took his first hit on the first drive. Armstrong said he did his best to fight through the injury and do whatever he could to move the ball, but he admitted he was definitely hampered.
Additional game notes courtesy of NU Media Relations
***Nebraska senior quarterback Tommy Armstrong Jr. made his 44th career start in today's game, the most ever by a Nebraska quarterback. Armstrong was previously tied with Taylor Martinez at 43 career starts.
***Armstrong accounted for 138 total yards in today's game, including 125 passing yards and 13 rushing yards. With his 138 yards, Armstrong increased his career total offensive yardage to 10,690 moving him up two spots to seventh on the Big Ten career total offense list. Armstrong passed Illinois Juice Williams (10,594) and Illinois Nathan Scheelhaase (10,634) in today's game.
***Armstrong had one touchdown in today's game, increasing his career total to 91, the most in Nebraska history. Armstrong was previously tied with Eric Crouch who had 90 total touchdowns in his NU career.
***Armstrong set the record on a 13-yard touchdown pass to Stanley Morgan Jr. in the third quarter.

***Senior receiver Jordan Westerkamp caught four passes for 50 yards, marking his 36th straight game with at least one reception. Westerkamp's 36-game streak is one shy of the Nebraska school record of 37 straight games by Johnny Rodgers.
***Westerkamp increased his career receptions total to 167, moving him into second place on the Nebraska career receptions list. He passed Nate Swift's 166 career receptions in today's game. Westerkamp is 14 receptions from Kenny Bell's school record of 181 career receptions.
***Westerkamp increased his career receiving yardage total to 2,474. Westerkamp is two yards shy of Nate Swift (2,476) for third on the Nebraska career yardage list and five yards shy of tying Johnny Rodgers (2,479) for second on the list.
***Nebraska did not commit a turnover in today's game, marking the third straight game without a turnover. This marks the first time Nebraska has had three consecutive games without a turnover since going four straight games without a turnover in 1995 (Missouri, Kansas State, Colorado, Iowa State).
***Senior safety Nathan Gerry had six tackles, giving him 273 career tackles and moving him within three tackles of the top five on the NU career list. Gerry is also 14 tackles from the school record for defensive backs held by Mike Brown, who had 287 tackles from 1996 to 1999. In today's game Gerry passed Steve Damkroger (269) and tied Clete Pillen (273).
***Junior Joshua Kalu blocked an extra point in the first quarter, marking Nebraska's first blocked kick of any kind since Kalu blocked an extra point last season at Purdue (Oct. 31).
***Senior I-back Terrell Newby rushed for 39 yards, increasing his career rushing total to 2,224 moving him up two spots to 23rd on the Nebraska career rushing list. Newby passed Bobby Reynolds (2,196) and Doug DuBose (2,205) on the career list in today's game.
***Senior linebacker Josh Banderas collected nine tackles in today's game, marking his seventh straight game with at least eight tackles. Banderas increased his team-leading season total to 89 tackles. He also increased his career tackles total to 228, moving him into the top 20 on the Nebraska career tackles list.
***Senior defensive end Ross Dzuris had 10 tackles, including six before halftime. The 10 tackles were a career high, bettering his previous high of five at Purdue in 2015, and against Oregon earlier this season.
***Senior linebacker Michael Rose-Ivey had a season-high 10 tackles in today's game, bettering his eight tackles against both Wisconsin and Ohio State.
***Junior fullback Luke McNitt had two carries for four yards, marking the first carries of his Nebraska career.