Post-game notebook: UGAs playmakers decided game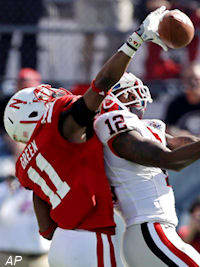 ORLANDO - There were times during Tuesday's Capital One Bowl when Nebraska looked just as good if not better than Georgia, the seventh-ranked team in the country. There were others where it looked completely overmatched.
While the Huskers were in the game up until late in the fourth quarter, the Bulldogs simply had too many playmakers that came up with game-changing plays in critical junctures.
In particular, it was Georgia's offensive skill players that ended up making the biggest swing plays of the day.
All five of quarterback
Aaron Murray
's touchdown passes came on throws of 24 yards or more, including scores of 49, 75 and 87 yards. Receiver
Chris Conley
had two receptions for 136 yards and two touchdowns, and was one of six UGA wide outs to catch a pass of 19 yards or longer.
In all four of Nebraska's losses, teams were able to strike big time and time again, constantly keeping the Huskers on their heels and playing catch up. Head coach
Bo Pelini
said fixing the problems that lead to those plays moving forward would come down to both finding more playmakers of their own and doing a better job of coaching them to execute in those situations.
"It's a combination of the two," Pelini said. "It's playing technique and it's playing the football, too. Obviously that's a concern, but heck, we've played good receivers during the year and led the country in pass defense, you know? It's one of those days. I've been there before. I've seen this happen in the NFL where we've had days like that. And it's not something you want to have happen, but it's part of the game.
"I've been around football long enough to know that you're going to have days like that. I kept waiting for us to make a play; to turn it over, turn it around, and we didn't. We didn't do it."
Another noticeable instance when Georgia got it done in situations Nebraska didn't was on third downs. The Bulldogs were 12-of-17 on third down conversions, while the Huskers were just 8-of-16. Not only that, two of UGA's six touchdowns came on third-and-long situations.
"They did a couple of different things, but all in all they did what we prepared for," senior linebacker
Will Compton
said. "Like we said earlier, a lot came down to third down and their guys made plays on stuff. Our guys was there, but yeah, I mean, they made more plays than we did at the end of the day."
Defensive backs coach
Terry Joseph
, who knows the skill position talent in the Southeastern Conference as well as anyone from his days as an assistant at Tennessee, said the only way to compensate for a lack of playmakers was to have nearly flawless fundamentals and technique on defense.
That was obviously not the case for the Huskers on Tuesday.
"We've got a ways to go as a program," Joseph said. "When you play against a team like that to win at a real high level, you've got to have depth and you've got to have guys that can finish. We didn't do a good job of finishing and obviously I need to work on it a little more in practice. When you're going against great players, the margin of error is not that big. You get exposed when you're not perfect and we were not perfect today."
- Robin Washut
UGA's 87-yard dagger was final blow for Huskers
It was a call that Pelini has made several times over the course of his career, and when it works, it can swing the momentum in his team's favor entirely. When it doesn't, however, you get what happened to Nebraska with 11 minutes left in the fourth quarter.
The Huskers had just backed Georgia's offense into a third-and-12 from their own 13-yard line, and it looked as if they were going to get the ball back in prime field position to try and tie the game if they were to come up with a stop.
Rather than sit back in coverage to defend a long pass, Pelini dialed up one of his patented full-house blitzes to put the heat on Murray and hopefully create a rushed throw or maybe even a sack or turnover.
Instead, Murray quickly got the ball out to Conley before the pass rush could get to him, and Conley broke it up field and scampered 87 yards untouched into the end zone. The score put the Bulldogs up by 14, and it would prove to be the blow that finally knocked the Huskers out for good.
"We got aggressive," Pelini said. "Turns out, it was a bad call by me. I wanted to take out shot right there, and I thought we had it backed up. I took a shot and it didn't work."
Along with sending both linebackers blitzing up the middle, the Huskers also brought nickel back
Justin Blatchford
in around the edge. That left safety
Daimion Stafford
responsible for a good portion of the middle of the field in coverage.
Pelini said Stafford tried to jump the quick out-screen route Conley ran on the play, but took a bad angle, got blocked and missed the tackle. Once Conley got by him, he was home free.
Joseph said the call was intended to try and get pressure on Murray and not let him sit back in the pocket and let routes develop, which had a lot to do with the front four not being able to get any consistent pressure on its own. The Huskers had just two sacks in the game.
"All day, I don't know how many sacks we got," Joseph said. "(Murray) was getting rid of the ball and buying himself some time, so we wanted to bring a total pressure. We were blitzing everybody and playing zero coverage. They ran a quick screen and the guy was able to block us on the pick route. We had nobody home in the middle of the field. In a zero coverage, in the middle of the field you're vulnerable. It was the perfect call against the call we had."
- Robin Washut
Questionable fumble call switched game's momentum
On its second drive of the third quarter, the NU offense appeared to have Georgia on its heels. The Huskers were following up a 13-play drive to start the half with a six-play attack that had several Bulldogs defenders bent over and grabbing their hips.
On a third and one,
Rex Burkhead
moved under center and quickly pitched the ball to
Ameer Abdullah
, a play that has given Nebraska great success this year.
Abdullah appeared to have the first down, but a few seconds after the play's conclusion, several Georgia players began waving in the opposite direction, indicating a fumble. The officials awarded UGA the ball and Nebraska couldn't find its groove offensively as Georgia scored the game's final 14 points.
"The fumble changed the momentum of the game," offensive coordinator
Tim Beck
said. "We lost some composure offensively and we weren't able to recover from that. They went down and scored (a few drives later) and we didn't respond very well to that offensively."
The play left several Huskers baffled, including Abdullah himself. At the play's conclusion, the sophomore simply got up and started jogging back to the huddle. He had no idea there was any question of a fumble and still believes his knee was easily down before the ball came out.
"I was getting up and I was like, 'Cool, we got the first (down),'" he said. "Then the guy came running in from the sideline talking about how it was white ball. That's how it happened and I can't do anything about it now."
But the confusion continued when the officials declined to review the play, drawing the ire of both Abdullah and Pelini, who questioned the decision-making of the crew.
"He made the first down; I thought he was down, but didn't see it," Pelini said. "There were a number of things that we were questioning on that play. Why that didn't get reviewed? That's beyond me. But that was par for the course for how that game was called."
The play call itself was a bit questionable, based on how well Burkhead was running and Abdullah's fumbling problems. But Beck defended the call and said he would run the same thing given the opportunity.
"It's a play that we've run five times for five touchdowns," Beck said. "It's a good call. We had the first down and I love Ameer. You know what? I don't care. Ameer ran hard the whole game and I'd call it again. It hasn't been stopped this year for us."
- Dan Hoppen
Third-down struggles devastate Blackshirts
One of the defense's biggest problems Tuesday was its inability to get off the field on third down. It's been a struggle for the Huskers in several games this season, but the issue was never as pronounced as it was against Georgia.
The Bulldogs converted 12 of their 17 third-down chances, wearing the defense down and exposing it for a few of the deep pass plays.
"Some of it was self-inflicted on third down," Joseph said. "That's the money down, and we had a pass interference early in the game and then we were in some situations where we could have made the tackle and we didn't. When you play great players, that's what happens."
The Bulldogs converted all four of their third-down opportunities in the first quarter, starting with a 21-yard screen pass on third and 10. Murray completed a pair of 20-plus yard passes on third and eights on the next drive.
The Huskers improved slightly in the second quarter, stopping Georgia on three of six third downs. But the struggles returned in the second half, when the Bulldogs converted five of their seven chances and put the game on ice.
"Third down killed us for a variety of reasons," defensive coordinator
John Papuchis
said. "On the first third down of the game, we miss a tackle in the open field. You've got to give credit where credit is due. Their wideouts got open and we couldn't cover. They got behind us and they made big plays. We couldn't cover. They beat us on the perimeter."
- Dan Hoppen
Fourth-quarter lead strengthened UGA's pass rush
The threat of the Bulldogs' pass rush caused some long nights for Beck this week. The offensive coordinator said he stayed up late trying to devise a way to keep
Jarvis Jones
and company away from Martinez, and he thought his unit succeeded for three quarters.
But the wheels fell off in the fourth as the Bulldogs harassed Martinez into three sacks, several pressures and an interception that essentially ended any hopes Nebraska had of coming back.
"We've got to do it for four quarters and we've got to be able to hold on when we have to hold the football," Beck said. "We just weren't real good in that fourth quarter. Taylor was running around for his life back there. We just didn't finish very well."
One of the problems in the fourth was Georgia knew that Nebraska would have to pass. Once the Bulldogs gained a 14-point lead with 11 minutes left, they knew Nebraska would have to take to the air to remain in the contest. Beck said the defensive linemen started pinning their ears back and UGA sent more blitzes, which made Martinez uncomfortable and forced several off-balance throws.
"We just missed on some things," he said. "They're a great pass-rush team and we knew it. They're like sharks smelling blood in the water when they know they can rush the passer. In the fourth quarter when we're down 14, they can play like that and they did."
- Dan Hoppen
Quick hits
***Pelini said he thought his team was able block out the Big Ten title loss going into the bowl game and thought it didn't have any impact on his players once the game kicked off.
"We played a good football team, but we didn't win the football game," Pelini said. "At the end of the day, that's what we're about around here. I thought our guys responded well (from the Big Ten title loss), and they played their butts off. They didn't hang their heads and they didn't sit there and dwell about what happened in the Big Ten title game.
"At the end of the day, we didn't get it done, and that's what we're about in this football program, is winning games. But I thought that as far as how they responded to what happened in the that game, I thought they did that. I knew they would. There's tremendous character on this team."
***Joseph said Nebraska was at a disadvantage in the fourth quarter because of its lack of depth compared to Georgia. While the Huskers were able to wear down the Bulldogs' starters through the first three quarters, UGA was able to put more fresh bodies on the field in the fourth quarter than NU could.
"Earlier in the week, I kind of talked about the difference between their conference (The SEC) and a lot of other conferences," Joseph said. "Up until the fourth quarter, it felt like we were sparring a little bit. Then in the fourth quarter, bigger bodies and depth starts to take over and I thought we just didn't have enough gas in the tank."
***Joseph said that a change in coverage gave safety
P.J. Smith
more freedom to roam the middle of the field and resulted in his first-quarter interception.
***Senior running back
Rex Burkhead
said his knee felt very good and that the month off between the Big Ten title game certainly helped it heal.
[rl]