Post-game notebook: Seniors get fond farewell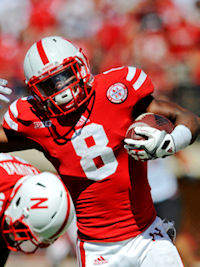 For the past week leading up to Saturday's final home game of the 2012 season, senior safety
P.J. Smith
tried to block out the emotions he'd be going through when he took the Memorial Stadium field for the last time as a player.
As soon as the Senior Day ceremonies came to a close and the game against Minnesota kicked off, though, Smith and the 28 other seniors on Nebraska's roster were focused on one thing and one thing only - getting a crucial victory.
"It's our Senior Day, but at the end of the day, it's about getting the win," Smith said. "We'll have time later on to hug each other and cry and all that, but our focus was on just coming in and getting the win. That was the seniors' focus. Everybody was saying, 'We've got to do this for the seniors.' And we were saying, 'We've got to do this for the team and do it for Coach Bo.' That's exactly what we did."
With the 38-14 victory over the Gophers, Nebraska is now just one win (or Michigan loss) away from clinching the Legends Division title and moving on to face Wisconsin in the Big Ten Championship.
The win also will provide a fond memory for the 2012 senior class that it will cherish forever, especially now that they're so close to accomplishing their career goals of winning Nebraska its first conference championship since 1999 and taking the program to the next step.
"We all just wanted to leave on a positive note," senior defensive end
Eric Martin
said. "We just wanted to accomplish the goals we set every year. This year we were trying to accomplish all of them and make sure we get to where we need to get to, which is Indianapolis (for the Big Ten title game). Once we get there our next goal is to win. We just want to win for this program, and be the first (NU) team to do it since 1999."
For head coach
Bo Pelini
, this group of seniors was the foundation for the program he's been building the past five years. To have them go out with such a solid all-around performance in a game of this magnitude was just another example of his seniors' character, he said.
"Special group of guys," Pelini said. "They mean a lot to me; each and every one of them."
Maybe one of the biggest contributions of the senior class has been establishing a new attitude amongst the team and changing the culture to where the Huskers expect success.
"The seniors have been the heart of the team this year," sophomore receiver
Kenny Bell
said. "They called us in (for a players' meeting) in January and told us, 'We're done being average. We're sick of 9-4 and losses in bowl games. We want a championship. We want a conference championship and we want a bowl victory.' So for us to win this game and finish how we did was awesome. It really speaks volumes to how much the team cares about the seniors."
As much as the seniors tried to block out the emotions of playing their final home game and seeing their college careers draw closer to an end, it was almost impossible for them to not get a little choked up when they shook Pelini's hand and took the field to cheers of the Husker faithful one last time.
"It was different seeing Coach Bo smile," Martin joked. "It was fun. It kind of got to me a little bit. It was fun to come out of the tunnel for the last time, and I'm going to miss it. Giving Bo the last handshake got to me a little bit."
- Robin Washut
Young receivers continue to shine
Maybe more so on Saturday than ever, the potential of Nebraska's young and talented wide receivers was on full display in the win over Minnesota.
Led by Bell's career-high nine catches and 136 yards with two touchdowns, the Huskers' passing game revolved around a trio of wide outs who only seem to be getting started in their development. There was also sophomore
Jamal Turner
, who caught six passes for 83 yards, and junior
Quincy Enunwa
, who had four catches for 65 yards.
In all, Bell, Turner and Enunwa accounted for 19 of quarterback
Taylor Martinez
's 21 completions in the game.
"They're good players," Pelini said. "Quincy and Kenny have been doing it now for a couple years. Jamal, I think it's been obvious that he's really developed and is starting to grow into the position. The beautiful thing is there's still a lot more out there."
Asked about how well the receiving corps has played over the past few weeks, Bell took a humble approach and said their success was only a result of a full team effort. However, even he couldn't deny that he and the other wide outs have been playing at a very high level.
"Have (the receivers) had a good year? I'd say so," Bell said. "The things we worked for all through the offseason are really starting to show up in games - the catches, the blocking. It's a good feeling to see that stuff pay off. The hard work is really coming to light."
Saturday marked the third 100-yard game for Bell this season, as he has been the leader of the unit all year long. He now has a team-high eight touchdown catches - all of which coming from 25 yards or more - which moves him into a tie for fourth place on the NU single-season list.
Coming into the year, Bell was very up front with his personal goal of becoming the first ever Nebraska receiver to catch for 1,000 yards in a season. His 789 yards so far are the sixth-most in a season by a Husker and are the most by a sophomore in school history, passing the great Johnny Rodgers in 1970.
With potentially three more games left on the schedule, Bell would only need to average 70.4 yards per game to achieve his lofty preseason goal. Of course, Bell would rather keep the focus off himself and on the team.
"Honestly I haven't really thought about it," Bell said. "Really the only goal I set for myself this year or for my career is to be the first 1,000-yard receiver here. That would be cool, but honestly I'd rather have 100 yards receiving if I got to go to the Big Ten Championship and the Rose Bowl. All those records are cool, but I think what this team is doing historically is the big picture. I don't speak just for myself, I speak for the entire receiving corps, or the entire team, I'm sure. That's what matters. We want to win football games."
- Robin Washut
Burkhead has made an impact from the sidelines
Rex Burkhead
practiced all week as if he would play in Nebraska's final home game this weekend. When he was announced before the game in NU's senior day processions, he received a cheer that dwarfed that given to any other player.
But once the game began, it was just like any other for Burkhead lately. Though fully dressed, he never saw the field. Pelini said that Burkhead could have played, but the Huskers chose not to put him out there.
"We think another week's going to help," Pelini said. "Every day is going to help him. We'll see how it is come Friday. I know you guys are probably sick of getting that answer from me, but when the time's right, you'll see him. When he isn't feeling a thing."
Running backs coach
Ron Brown
was disappointed that Burkhead didn't get to make an impact on senior day, but said that it was impossible to sense any disappointment from his attitude.
"I'm sure he's had his moments where he's teared up or that's been frustrating," Brown said. "But that's below the sea level. We haven't seen all that. What we have seen is him extending his arms and his love to the players."
Brown said Burkhead has attended every film session this year, something that can be uncommon for an injured player. Wounded players have a tendency to feel alone and back off a bit according to Brown, but that isn't Burkhead's style.
"He shows up as if he's going to play every week," Brown said. "It's tough. We always said that this place would never be a soft place, but it would be a safe place. It's not always going to be easy. You're going to have injuries. You're going to have tough things happen to you. It's a safe place for a kid to cry. It's a safe place for a kid to say this stinks. It's a safe place for that kid to say, 'Through this, I'm going to learn resiliency. I'm going to learn how to reach out in the midst of my own pain.' That's what that kid has done."
- Dan Hoppen
Secondary shuts down Nelson after early success
One of the Huskers' goals coming into Saturday's game was to get into Minnesota quarterback
Philip Nelson
's head early on. If Nebraska could rattle the freshman, the secondary's job would be much easier.
Instead, the opposite happened. Nelson connected on his first four passes. Although the Gophers weren't moving the ball, Nelson seemed to be in rhythm.
"With a young quarterback, we figured that they would come out with a quick passing game," secondary coach
Terry Joseph
said. "They hit a few on us early, but I thought we were matching them pretty good.
Joseph wanted his players to get a bit more aggressive and once they did, the flow of Minnesota's offense completely shifted. After completing those first four, Nelson missed on 15 of his next 19 passes and tossed a pair of interceptions, including one that
Stanley Jean-Baptiste
returned for a touchdown.
"I think the guy knew what was coming, but we were a half step slow on it," Joseph said. "We just kind of settled down a bit and got into the flow of the game. We were able to get a little more aggressive and confident with the game plan and make some plays. They kind of stayed true to form, so we were able to jump some routes and get ourselves in position."
- Dan Hoppen
Abdullah spoke on seniors' importance
On Friday night,
Ameer Abdullah
did something that surprised Brown. Unsolicited, the sophomore got up in front of the team and spoke on the importance of the senior class and how important it was that the team send them off in the right fashion Saturday afternoon.
"Someone had to step up and be a leader and I don't mind doing that," Abdullah said. "I just wanted to say how special the seniors have been for me. Back in January, they made up in their mind they didn't want to be mediocre anymore. They didn't want to be an average team. They changed that for the future for us young guys. They changed the culture here. That's the reason we're in this position to control our own destiny. They really just put their foot down and said that we have to change the accountability and the focus of this team. It just trickled down."
Brown said that while he's seen Abdullah's leadership grow this season, he was still surprised to see a younger player take that kind of initiative.
"That took some courage to stand up there and do that. He's an inspirational kid," Brown said. "That's the thing that has gone a little farther than I thought it would go. I didn't know he was that kind of a leader, but he stepped up and showed it as a sophomore."
- Dan Hoppen
Huskers showing uncommon improvement in senior years
Generally by the time a player reaches his senior season, the coaching staff has a pretty good handle on how good the player will be. But that hasn't been the case with several seniors this season. Smith,
Alonzo Whaley
and
Sean Fisher
have all had breakout campaigns, while
Justin Blatchford
has come on strong in the past month and
Daimion Stafford
has intercepted three passes in the past five games.
"It's special for those guys," Joseph said. "You try to get them to play the best that they can. What happens is that as they mature, they understand it's the little details in the play that allows them to have success. I think before I got here, some of those guys just played. I think now you're seeing guys understanding why we want them to play a certain way and that's why they're achieving success."
Joseph credited that attitude to the goals Pelini laid out after last year's season-ending loss to South Carolina. Joseph himself wasn't present, but the rest of the coaches told him of how Pelini set a high standard for this team and the seniors responded.
"Bo wasn't going to compromise those goals from the start," Joseph said. "We had a great offseason and a great learning process for everybody. Now they're reaping the benefits of that. To the young kids, it really shows that if you put your mind to it and you dedicate yourself to a goal, you can overcome anything and achieve it."
- Dan Hoppen
Quick hits
***Martinez talked about breaking Nebraska's career passing record on Saturday, and he gave much of the credit to one of the guys he passed on the list on his way to the top - former Husker quarterback and current graduate assistant Joe Ganz.
"It's awesome," Martinez said. "There were so many great quarterbacks that have gone through here, especially Joe Ganz, how much he's helped me. I couldn't have done it without Joe Ganz and Tim Beck."
***
Brett Maher
he had the same mindset he always does when Pelini originally sent him out to attempt a 62-yard field goal. The Huskers ended up calling a timeout and punting, but Maher said he's hit kicks that long in practice and wasn't worried.
***Martinez was able to connect on a number of swing passes, especially early on. Enunwa said that was by design. The Huskers would come to the line with the play called and had the ability to check to something else if the defense wasn't lined up like they wanted.
***
Imani Cross
blamed himself for the Huskers' failure to score at the end of the first half. Nebraska handed off the Cross from a yard out, but the freshman was stonewalled for no gain. He said instead of trying to jump over the pile, he should have lowered his shoulders and powered it in.
***Like many of the fans who decided to head out a little early as the fourth quarter continued to drag along, Pelini said he also would have liked for the tail end of the game to have gone a little quicker.
"It seemed like that second half lasted about three years," Pelini said. "That might have been the longest fourth quarter I've ever been a part of. Maybe it was just me because of the situation, but that clock… I don't know. If there would have been one more TV timeout I think I might have just taken it to the house."
[rl]