Post-game notebook: NU gets back on track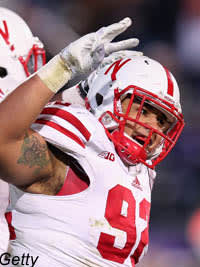 EVANSTON, Ill. - For six quarters, Nebraska was out of sorts in nearly every aspect of the game.
Dating back to their loss at Michigan State two weeks ago and then another disappointing first half against Northwestern on Saturday night, the Huskers looked like a completely different team from the one that had jumped out to a 5-0 start.
Then, trailing 17-14 to the Wildcats after two quarters, something changed for NU when it went into the locker room at halftime. Suddenly, the defense was able to completely shut down Northwestern, and the offense finally broke loose with a pivotal drive midway through the third quarter in which quarterback
Tommy Armstrong
converted three third-and-long passes on the go-ahead touchdown drive.
When all was said and done, Nebraska had held the Wildcats to just 28 yards of total offense in the second and rushed for 155 of its 234 yards on the ground in the third and fourth quarters. The Huskers were also 7-of-9 on third down in the second half after converting just one of their six third-down attempts in the first half. All of that resulted in 24 unanswered points after halftime to turn a potential loss into a blowout 38-17 blowout.
"We knew that we were a more talented bunch than those guys," said senior running back
Ameer Abdullah
, who gained 110 of his 146 total rushing yards in the second half. "They play hard every time they play us, but we felt like we had the game in control, we just were shooting ourselves in the foot with penalties and stuff. We nipped that in the bud, and the results were nice."
Head coach
Bo Pelini
said there were no drastic adjustments made to the game plan at halftime, and that the turnaround was more just about his players settling in and executing the way they knew they could.
"We played better," Pelini said. "We didn't really make a big adjustment. We covered better. I don't know, we did some things that weren't bad in the first half. I thought we were sloppy early on in our tackling and let some guys leak out, and we had one or two miscommunications and really had some opportunities where we were right on guys on third down and they made some catches.
"I just thought we cleaned ourselves up and played a little bit better and a little more consistent in the second half."
Armstrong's play improved as much as anyone after halftime, as he completed 10-of-16 passes for 89 yards in the second half with many of those throws resulting in crucial plays for the Huskers. He said offensive coordinator
Tim Beck
challenged him during halftime to "be harder" on himself, which despite how it sounds was exactly what Armstrong said he needed to hear.
"When I'm hard on myself, that's when I play my best," Armstrong said.
- Robin Washut
Another record night for Abdullah
Even though his pace was slowed down during Nebraska's sluggish six-quarter stretch, Abdullah took yet another major step in his ascent up the school record books on Saturday night.
With 23 carries for 123 yards and a career-high four touchdowns, Abdullah increased his career rushing total to 4,001 yards, passing the legendary Ahman Green (3,880) for second place NU's all-time rushing list and joining Mike Rozier (4,780) as the only two Huskers ever to surpass the 4,000-yard mark.
He also eclipsed 1,000 yards for the year, making him the first player in school history to post three 1,000-yard seasons in his career, and his 42 total career touchdowns tied Calvin Jones for fifth-place on NU's all-time list.
But just like he always has, Abdullah downplayed his individual achievements after the game, saying all of his stats and records wouldn't carry any weight if the Huskers didn't achieve equal success as a team.
"It doesn't mean anything if we don't win the rest of these games," Abdullah said. "It's awesome. I'm in close contact with Ahman Green. But it doesn't mean anything. We've got to finish off the season the right way."
After posting just 45 yards on 24 carries against Michigan State and then 39 yards on nine attempts in the first half against Northwestern, it was definitely a relief for Abdullah and Nebraska as a whole to see him get back on track after halftime.
"We just stayed the course," Abdullah said. "We didn't really think about it as tough sledding. We just think about it as not focusing on what we need to do and that everybody was doing what they needed to do on each play, and we would be fine."
- Robin Washut
Pierson-El emerging as more than just return man
Northwestern was well aware of the type of explosive player
De'Mornay Pierson-El
was as a return man going into Saturday night's game, as the way the Wildcats did all they could to kick away from the freshman early on definitely showed.
But what Northwestern may not have been counting on was for Pierson-El to have the kind of impact he had as a wide receiver.
The Alexandria, Va., native ended up hauling in three passes for 66 yards, including a 46-yard gain and a 17-yard catch grab that was nearly a touchdown, both of which coming on key third downs.
Pierson-El, who played some quarterback in high school, also had a 16-yard touchdown pass to
Tommy Armstrong
on a reverse pass and racked up 55 more return yards on kickoff and punt returns.
"I think he's growing into it," head coach
Bo Pelini
said of Pierson-El's increased role. "He's able to handle a lot more. We continue to move him around. We have him playing A and Z and trying some different things, obviously, and use him in some speed things.
"He's not just a returner. He's a really good returner, but he's a guy who's also an excellent receiver."
Armstrong said he's already starting to develop a strong chemistry with Pierson-El, who had just three catches for six yards on six total targets through the first six games.
"After seeing those punt returns, we knew we had to get that guy on the field somehow," Armstrong said. "He's doing a great job. He runs his routes the right way, and he catches everything I throw to him. He's doing a great job of contributing and becoming a big part of this offense."
- Robin Washut
Healthy again, Williams makes snaps count
To this point,
Kevin Williams
career has been more defined by adversity than production.
The redshirt junior has had two ACL surgeries and missed most of fall camp this year with an ankle injury, limiting his playing time and submarining his chances of making a significant dent in the rotation.
But, healthy once more, Williams made his mark against Northwestern. He made the first 2.5 sacks of his career, routinely pressuring
Trevor Siemian
and keeping the quarterback uncomfortable.
"I couldn't imagine what he's been through with the two knee injures and getting hurt with his ankle in fall camp, the frustration he's felt," defensive coordinator
John Papuchis
said. "And he hasn't played a lot, so having the opportunity to go out and make big plays… it was a great job and I was happy for him."
Through all his struggles, Williams remained a strong leader for the younger tackles that he knew were working to take his job.
To finally contribute on the field instead of just in the locker room was special not just for Williams, but for the entire defensive line.
"It's really exciting," fellow tackle
Maliek Collins
said. "He's battling injuries. He's been struggling this season, and to see it all pay off, that's hard work."
- Dan Hoppen
MIKE job up in the air
Trevor Roach
appeared to have solidified the MIKE linebacker role with his stellar performance against Michigan Stat two weeks ago, in which he racked up a career-high 18 tackles.
But despite a strong first half against Northwestern, the job again appears to be up in the air.
Though Roach finished the game with 10 tackles and a sack, he missed a few tackles late in the first half and was replaced by
Josh Banderas
, the man he displaced a few weeks ago.
Papuchis liked the play of Banderas, who had four tackles against the Wildcats.
"If you do it with two guys and play the hot hand, that's one way to go about it," Papuchis said. "I would like to have one guy that you can say, 'That's our guy,' but right now neither one of them has grabbed the job. I think Josh came in and did some good things. I don't think Trevor played poorly, but in a big passing game, that's not really Trevor's strength, and he missed a couple tackles early so we decided to give Banderas a try.
"I think it's going to be another week where they split reps all week long. We could play them both or not depending on how the week goes."
- Dan Hoppen
Quick hits
***Pelini said Nebraska's second half turnaround was due just in part to his team settling down and playing their style of football. He said NU didn't make any real drastic adjustments at halftime, and that it was just a matter of executing better in all facets.
***Pelini said defensive tackle
Vincent Valentine
injured his elbow, but felt like Valentine would be OK going forward.
***On the reverse pass for a touchdown from Pierson-El to Armstrong, Pierson-El said he was just worried about making a good throw and not screwing it up. Armstrong said he didn't expect to be so wide-open on the play, and that he was only thinking about making the catch and not slipping and falling.
***Pierson-El said he didn't know about the historical significance reverse passes to quarterbacks has at Nebraska (i.e. Eric Crouch vs. Oklahoma in 2001), but he'll probably be made aware of it soon.
***Pierson-El also said Nebraska first put in the play during Tuesday's practice and ran it about 4-5 times during the week. He said the players kind of laughed about the play when it was first added and then even more so after they ran it in the game. Why? "Because it actually worked."