Post-game notebook: Controversial play aids Huskers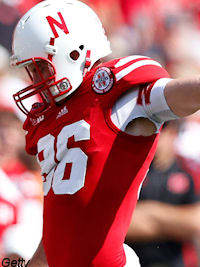 In 1982, No. 8 Penn State upset second-ranked Nebraska with the help of a seriously questionable call that ruled tight end Mike McCloskey in bounds on a key sideline catch on the game-winning drive.
On Saturday, the Huskers were the ones who got a little help this time around.
Midway through the fourth quarter, Penn State had the ball at the NU 2-yardline and quarterback
Matt McGloin
hit tight end
Matt Lehman
on a quick swing pass to the right side. As Lehman stretched the ball out towards the goal line, linebacker
David Santos
jarred the ball loose and safety
Daimion Stafford
jumped on it in the end zone for a touchback.
Upon further review, however, many would argue that Lehman got the ball over the plain of the goal line before losing control, and that the play should have been ruled a touchdown. The referees looked at video replay of the play, and decided the ruling would stand because there wasn't indisputable evidence to overturn the call on the field.
Instead of Penn State taking a 30-27 lead in the game's final minutes, the Huskers took over at their own 20 and eventually held on for the victory.
Head coach
Bo Pelini
was asked about the play after the game, and he said he didn't get a clear look at it on the field. Having been on the wrong side of several questionable calls in his five seasons at Nebraska, Pelini added that it was nice to finally catch a break.
"I have not seen it, but I know one thing that helps you in that situation is how they called it on the field," Pelini said. "You've got to have indisputable evidence to overrule it, and something that's that bang-bang, usually it ends up going however they ruled it on the field. We were kind of fortunate there that they called it that way out there on the field."
The feeling about the play was obviously much different on the Nittany Lions' end, though.
"We felt like it was over the goal line, they (the referees) did not think they could reverse it though," Penn State head coach
Bill O'Brien
said. "There wasn't enough evidence to reverse the call. I think he tried to reach it out. I will have to see the tape. We can't do that, but he was just trying to make a play. Good kid trying to make a play."
In the minds of some Penn State fans, the call was apparently just the latest example supporting a conspiracy theory against the Nittany Lions. In fact, O'Brien was asked about that directly in his post-game press conference.
O'Brien handled the question well, deflecting it by praising the character his team has shown all year under very difficult circumstances. His players were understandably frustrated about the call as well, but most agreed they shouldn't have been in that situation to begin with.
"We're not going to get that call here," McGloin said. "We're not going to get that call ever, against any team. It doesn't matter who the referees are, we'll never get that call."
"The referees did the best they could, but we put ourselves in that situation. We could have gotten some more third-down stops, we could have stopped (Taylor) Martinez, and we could have stopped the run. You can't leave the game in the referees' hands. We know that. They're not perfect. Nobody's perfect. That's just on us."
- Robin Washut
Huskers notch yet another second-half comeback
Shortly after Nebraska concluded its fourth double-digit second-half comeback of the season on Saturday, Pelini was asked if he could explain why it takes being in such dire circumstances for his team to finally turn it on.
Pelini, like all of the Huskers following their 32-23 win over Penn State, couldn't really pinpoint a reason. All he knew was as long as NU keeps winning, he'll take them in whatever fashion he could get.
"I'm going to call the Big Ten Conference and spot (our opponents) 14, and then we're good to go," Pelini joked. "That's about what we have to do."
Trailing 20-6 going into halftime, Pelini said there was hardly any sense of concern amongst his players in the locker room.
Because of the way the Huskers had rallied back from so many other large deficits already this season - down 17 points to Wisconsin, 12 to Northwestern and 10 to Michigan State - they said they're to the point now where no lead seems insurmountable.
"I wouldn't call it fun, because some people get scared, but we're kind of used to it," cornerback
Ciante Evans
said. "It's almost a habit since we do it week in and week out. We all believe in each other so we go out and do it again."
- Robin Washut
NU struggled with Penn State's tempo in first half
Late in the first half, Penn State quickly lined up at Nebraska's 10-yard line. The Huskers appeared out of sorts and many were looking to the sidelines when the Nittany Lions snapped the ball. McGloin ended up hitting tight end
Jesse James
on a drag route over the middle that resulted in a touchdown and gave PSU a 17-6 edge.
After the play, several players were seen arguing with each other on the sidelines and the cameras caught an altercation between Stafford and Pelini.
Defensive coordinator
John Papuchis
said the breakdown and the ensuing confusion was caused by Penn State's offensive tempo. The Huskers had seen PSU use some up-tempo offense on film, but didn't expect the Nittany Lions to run it nearly as much as they did.
"With the tempo, we were trying to get a call in," Papuchis said of the play. "We didn't get the call in in time for them to execute the defense we wanted to run, so half of them were playing one defense and half were playing the other. That's obviously the issue that tempo forces you to have.
"In the second half, we said if they're going fast and you don't feel comfortable with what we're calling, you go to your auto-check and play from there. Maybe we should have done it earlier, but we didn't want to let Penn State dictate what kind of defense we were playing just because they were going fast."
Once the Huskers got their checks down more quickly, the PSU attack slowed considerably and the Huskers were able to get back into the game. Pelini took responsibility for some of the mistakes in the first half because he didn't get the calls in quickly enough, something that forced him to use all three of his first-half timeouts on defense.
"I didn't handle the tempo good enough in a few aspects in (the second) quarter," Pelini said. "That one time where they threw the ball in the flat for a touchdown, I saw what they were going to come out in and I made a bad call, and that put our guys in a bad situation. So I take responsibility for a couple of those."
- Dan Hoppen
Conditioning playing a big role in comeback wins
After the Huskers rattled off their fourth victory in which they were down by double digits, the focus in post-game interviews was the NU's resolve, fight and spirit that kept them going despite the deficit.
But after the most recent comeback, Papuchis offered a different explanation - he thinks the Huskers are simply in better shape than their opponents.
"I think it's a credit to how (strength coach) James Dobson and how his staff do it," Papuchis said. "Part of the reason we play so good in the fourth quarter is because we're in better shape than some of the people we play against. Maybe he deserves more credit than he receives. Let's give him some love… and maybe a raise."
Whatever the Huskers are doing, it's working. Nebraska has outscored its opponents 178-97 in the second half this season. Tight end
Ben Cotton
said the players took it up on themselves this offseason to improve their conditioning and they made a pact that they would always be the team with more energy in the fourth quarter.
"It was a decision we made and committed to last January when we decided that we wanted to go earn a championship," Cotton said. "We said, 'We're going to pay the price in the offseason. Every day in the offseason, we're going to make sure we're the best-conditioned team that's going to be on the field.' It's something that we continue to work on and Coach Dobson and the strength staff have done a great job of designing a great plan that keeps our body adapting at all times."
- Dan Hoppen
Huskers find success with toss play
Offensive coordinator
Tim Beck
found a play early on against Penn State that worked well and he wasn't afraid to go back to it time and time again.
He doesn't know exactly how many times the Huskers ran the toss Saturday, but said he would keep running it as long as it worked.
Ameer Abdullah
and
Braylon Heard
were the recipients of double-digit pitch plays and combined to rush for 141 yards.
Beck said he thought the play worked because teams are unfamiliar with it. Not many teams run the toss anymore due to spread formations and the lack of a fullback on the field, but he felt Nebraska could have success with it against the Nittany Lions.
"We were able to get some yards (on that play)," Beck said. "Later on, they were really blitzing it and we were trying to be a little more conservative, trying to run the clock and not take chances. I felt like we would be able to control the line of scrimmage like we did in the second half."
- Dan Hoppen
NU turned up the pressure on McGloin in second half
On most first-half passing attempts, McGloin had time to survey the field several times over while the Nebraska defenders were stonewalled by the PSU line. As a result, the quarterback completed 10 of his 18 passes for 160 yards and a score.
But the Huskers were able to turn up the heat on McGloin after halftime and his numbers shriveled up. He was 8 for 19 for 80 yards and an interception in the second half as Nebraska sacked him three times and forced a safety on an intentional grounding call.
"We knew we could pressure him and that was the plan in the first half," Papuchis said. "The problem was we never go into those longer yardage down and distances. They were just dinking and dunking us for four yards a run, three yards a run. We didn't get into enough third and long scenarios where I thought we could pressure.
"I thought we executed our pressures pretty well and our front four wore down their offensive line as the game went on."
Pelini took the blame for not unleashing the pass rush more in the first half. Once he unleashed the defense line and sent a few blitzes, McGloin struggled to handle the pressure.
"We felt like our guys were getting open in the second half up front. We were picking and choosing, they were going fast. We wanted, No. 1, for our guys to feel really comfortable in what we were in. I probably should have gone to that earlier in the game. Fortunately, it didn't cost us, but I won't make that mistake again."
- Dan Hoppen
After rough start, Maher comes through in the clutch
Just as it's been for him all season, senior kicker/punter
Brett Maher
saw his share of ups and downs on Saturday.
While he made all three of his field goal attempts in the game, the same uncharacteristic mistakes that have plagued him seemingly each week came back once again, including a 16-yard punt that led to a Penn State field goal at the end of the first half.
In the end though, Maher came up big when his team needed him the most. On the drive after Nebraska recovered the controversial fumble in the end zone, Maher boomed an incredible 69-yard punt that sailed out of bounds at the PSU 2.
McGloin ended up being flagged for intentional grounding in the end zone on the Nittany Lions' ensuing drive, resulting in a safety that increased the Huskers' lead to 29-23.
"That was a big punt," Pelini said. "He needed to make that punt considering he put us in a couple bad situations in the first half. He'd be the first one to tell you that. But that's when you talk about having the mindset of an athlete; you've got to forget about it and do your job, and he did that. He responded well."
A few minutes later, Maher drilled a 33-yard field goal that put NU up 32-23 and essentially iced the win with 2:16 left on the clock. Maher is now No. 19 on the school career scoring list (190 points) and needs just 10 more points to become the 15th Husker in history with 200 career points.
"I just try to worry about the next kick," Maher said. "That is the only one you can control. You can't dwell on what happened in the past. This was probably the toughest conditions I have ever kicked in, so it was just a time when you had to control what you could control."
- Robin Washut
Quick hits
***Abdullah rushed a career-high 31 times for 116 yards in the win, pushing his season total up to 942 yards. He also became the 60th player in school history to break 1,000 career rushing yards (1,092).
***Pelini said one of the biggest concerns he had coming out of the game was Nebraska's inconsistency with its redzone offense. The Huskers scored on six of their seven trips inside the 20, but three of those were field goals and one ended with a fumble at the 5-yard line.
"Where we didn't play very well was in the red area," Pelini said. "We have to clean that up. We didn't really have a rhythm for whatever reason in the red zone. The touchdowns that ended up being threes, and obviously the turnover down there inside the five, that's an area of concern. But I thought we did some good things. That's a pretty good defense, good physical defense that we played today."
***With wind gusts blowing as high as 40 mpg towards the end of the game, Pelini said there were several times when plays were impacted by the wind.
"There was one pass in particular, it was on the sideline to
Kenny Bell
where he was pretty open," Pelini said. "It was going right to him and you could just see the wind take it right out of the way. You go from probably having a seven or eight yard gain, break a tackle and a little bit more, to third and long. It's hard to get a rhythm in that situation, and that also plays into the play call a little big."
***Nebraska's is now 6-0 at home for the first time since 2003.
[rl]