Post-game notebook: Burkheads emotional return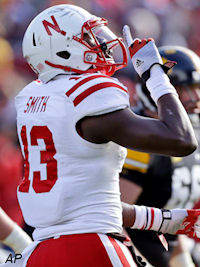 As soon as he touched the ball, it was as if he had never missed a beat. Burkhead's first carry was a four-yard run over the left end, and that would be the first of one of the most important halves of the season for the Husker offense.
When all was said and done, Burkhead rushed 16 times for a team-high 69 yards - all of which coming in the second half - and scored the eventual game-winning touchdown with a three-yard scoring run late in the third quarter.
"They came up and asked me if I was ready to go (at halftime), and I said, 'Absolutely. Let's do this,'" Burkhead said. "I was excited to get a chance to go in… I was just glad to be out there with the guys again. I missed being out there. Just getting out there, having fun with the guys, and most importantly putting a W on the board."
The touchdown was his first since scoring two against Idaho State back on Sept. 22, and while he only ended up with four rushing touchdowns in the regular season, the Plano, Texas, native couldn't have picked a better time to get back to his rightful place as the feature of Nebraska's offense.
As important as his touchdown run obviously was, Burkhead's play down the stretch in the fourth quarter was equally as impressive.
As for how Burkhead's knee was holding up after the game, he said he was feeling as good as he - or every Husker fan, for that matter - could have hoped.
"It's good, it's good," he said. "No problems whatsoever."
Looking ahead to next week's Big Ten Championship game and eventual bowl game, the Huskers are hoping to see Burkhead back to his old self from here on out.
"Just to see all the love and support from the fans is huge," Burkhead said. "I was just glad to be out there. A good amount of Husker fans made it out here, so I definitely heard them. I just appreciate everyone for staying with me."
While the celebration ensued and Legends division champion hats were passed out in the locker room, the first two players emerged from the madness.
Pelini said that while there are further evaluations to made, it would seem both will likely miss next Saturday's Big Ten championship.
"But after it's all said and done, the thing I feel the worst for is him," Papuchis said. "He's been such a hard worker for us. He's been everything you could ever ask out of a player and you want players' careers to end on their terms. I don't know what the long-term significance of this is, but I felt bad for him that he wasn't able to finish his last regular season game."
Nebraska has had a few dominant pass rushers over the past couple of seasons in Ndamukong Suh and Jared Crick. But they were both defensive tackles and Papuchis longed for a pass-rushing presence from the outside.
"One of the things that I think we've been looking for over the past couple of years is that dynamic pass rusher off the edge," Papuchis said. "When we initially moved Eric to that role, we thought he could do it. Obviously, there was a learning curve that came along with it and it took some time for him to adjust to the position. Really from about the second or third game of the season he's continued to get better."
"Our big concern when we first moved Eric to that position was if he could be an every-down player physically, because he had the mental toughness. That's where I think he's really progressed through his time here. He can play sixty snaps a game. He can make a mistake or make an error and keep his emotions under control."
Everyone knew it was going to be a little breezy in Kinnick Stadium when the initial forecasts came out for Friday's weather in Iowa City. Few could have expected just how blustery it would get by the time kickoff rolled around, however.
Wind gusts of up to around 40 mph made and a wind chill in the single digits made it miserable for everyone both playing and watching the game. Cheerleaders could barely make their way down the field with their school flags, and the soldiers holding the American flag during the national anthem had to hold on for dear life not to lose their grip or get blown over.
On the field, whichever team was working their way towards the north end zone had to basically put their offense into a shell, as throwing the football much more than a few yards downfield was nearly impossible.
In fact, the only two touchdowns in the game came when the offenses had the wind at their backs, and only three points were scored going north all day - a 26-yard field goal by Maher on the game's opening possession.
Iowa had a difficult time getting anything going with the win in its face, especially in the second half.
"You want to talk about not ideal conditions - cold wind, swirling both ways, you name it," Maher said. "It was just a tough day out there. I was just glad that I could make the most of it."
The senior did just that in his final regular-season game. Maher connected on a 26-yard field goal directly into the wind in the first quarter, then nailed a 52-yarder with the wind at his back in the third. Though Maher's final campaign hasn't been quite as consistent as his 2011 season, he believes talk of his struggles are overblown.
"I think if you look at all of conference play, we've been really solid," he said. "We haven't missed many field goals at all and we certainly haven't missed any important ones. It felt like special teams-wise, we did a good job controlling the field position and putting points on the board when we needed to."
Maher also got the job done in the punting game, twice pinning Iowa inside its own 20-yard line despite consistently battling the elements. His 61-yard punt that pinned the Hawkeye's at their own four-yard line was a particular work of art.
"(The wind) was going different directions, sideways, in your back and in your face," Maher said. "We thought we could have little more control over it and cover a little better."
"We take everything we can get," Long said. "It helps more than you think, even one good night's sleep. It helps your body and stops you from banging around."
"The first series they marched on us, so we had to make some adjustments," Evans said. "We had to come out, play better, play faster and stop acting so lazy out there. That's what we did."
***The second-half comeback marked the fifth time in seven Big Ten victories that Nebraska has rallied from a second-half deficit to win.
***Martinez also rushed for 41 yards on 16 carries to push his season total up to 833, which is good enough for 10th on the school single-season list for quarterbacks. Martinez now holds three spots in the top 10.
***Lastly, Martinez moved up to 3,216 yards of total offense on the season. He now only trails Joe Ganz's school record (3,826 yards in 2008) by 610 yards with two games remaining.
***Along with his game-saving interception, Whaley finished with a career-high 11 tackles.
***Nebraska not only shut out Iowa out over the final three quarters of the game, it also limited the Hawkeyes to just 70 total yards on 27 plays in the second half and only 13 yards in the fourth quarter.