Post-game notebook: All thoughts with Pelini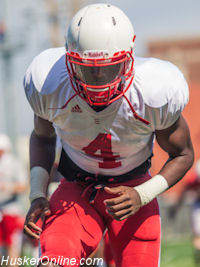 As much good as there was for Nebraska to take away from its win over Arkansas State, the primary focus and concern for all involved after the game was the health status of head coach
Bo Pelini
.
After being looked at on the sideline by the team's medical staff during the second quarter of the Huskers' 42-13 victory on Saturday, Pelini was taken to the hospital via ambulance at halftime and did not return to the game.
While no official diagnosis has been released of what caused Pelini to be hospitalized, all reports after the game were that the fifth-year coach was doing well and expected to make a full and quick recovery.
The latest reports Saturday evening were that Pelini had been released from the hospital.
"Everything is fine," Pelini said in a statement. "They ran some precautionary tests and everything checked out just fine. I plan to be back at work tomorrow. I'm proud of our team and coaching staff for the way they responded this afternoon."
Athletic director Tom Osborne was the first to address the media after the game at the post-game press conference.
"As far as I know, all news on Bo is good," Osborne said. "Precautionary tests. Word we've gotten back from the hospital is that he's doing fine. I guess you can never say anything absolutely conclusively, but it looks as though he's in good shape. I think that's what he'd want you guys to know. We expect him to be probably back at it pretty soon… That's about all I can tell you right now. It was strictly precautionary and, so far, everything has been just fine."
Osborne wouldn't comment on what Pelini's symptoms were, but said they were significant enough that all involved felt it best that he go to the hospital for treatment.
Pelini's sudden departure from the game left Nebraska in an unusual circumstance of having to replace its head coach midway through a game. Defensive coordinator
John Papuchis
took over as the acting head coach for the second half, but he and offensive coordinator
Tim Beck
shared the duties of running the team.
Papuchis said he could tell something was wrong with Pelini early in the second quarter, when Pelini was getting his pulse checked on the sideline.
"Not that I knew there was anything wrong with him, he was just a little bit less vocal than he normally is," Papuchis said. "I wasn't too concerned at that point. I kind of received more definitive word at halftime that they were going to take him (to the hospital) for precautionary reasons."
Papuchis and Beck spoke with Pelini briefly before he left for the hospital, and they informed the team of what was happening in the locker room at halftime. Both coaches said the players responded to the news as well as could be expected, but obviously Pelini's health was in the back of everyone's minds.
"They love Bo," Papuchis said. "There was no question in our locker room who the leader of this football team is. I think there was a sense of concern initially, but more than anything, Bo would have wanted them to go out and play their tails off in the second half, and I think that became the focus of the football team."
In fact, Beck said his players handled things even better than he did.
"I thought our players actually handled the situation really well," Beck said. "Probably I didn't handle it as well as I should have, but they were better."
Both coaches were obviously rattled by Saturday's developments, but Beck was visibly more emotional. He and Pelini had essentially grown up together back in Youngstown, Ohio, and their relationship goes well beyond the football field.
"I've known Bo my whole life," Beck said. "I really believe whole heartedly he'll be fine. It's just a very emotional game. Obviously as coaches, after the trying game last week and going out there and performing and playing and then getting the kind of news like that, it's all just very difficult. Like J.P. said, he's a fighter, and one of the toughest guys I've ever met. It won't surprise me if he'll be up watching film tonight."
Papuchis and Beck said they didn't notice any warning signs of any health problems from Pelini during the week, and didn't even notice him being in any pain on the sideline during the first half. Papuchis said he was getting regular updates on Pelini's condition during the game, and admitted it was difficult to try and focus on football in that type of situation.
"Bo is as close to me as anybody," Papuchis said. "So my initial reaction was more as a friend than it was as a business colleague. So I kind of had to compose myself for a second just because of concern for his well-being. But then at the end of the day, he would want nothing other than us to go out and perform the best that we possibly could. So you've to pull it together and go to work."
The coaching staff wasn't quite sure what the next step would be should Pelini be unable to return to work by Sunday, Monday or even longer.
"I honestly have no idea, but he's one of the toughest people I know, so if he's able to come back by tomorrow, then he'll be back tomorrow," Papuchis said. "If it's Monday, it's Monday. There's not much quitting in Bo, I know that."
From what his players know about their head coach, though, there's little doubt Pelini will be right back at it in no time.
"Yeah, Coach Bo, he's a soldier," senior safety
P.J. Smith
said. "I don't even know what's going on right now, but they said he's fine. So if he's fine, he's fine. We'll just pray and ask God that he'll be here."
- Robin Washut
Defense rises to occasion on key third quarter stand
For a brief moment, it almost looked like Nebraska was on its way to blowing a three-touchdown lead after a flurry of turnovers in the third quarter.
Arkansas State had just recovered a fumble in the end zone for a touchdown to make it 28-10, and then got the ball back at the NU 15-yard line after it was ruled a punt had bounced off returner
Ameer Abdullah
's heel.
With their fiery head coach no longer on the sideline, the Huskers' defense knew they had to pull together and come up with a crucial stop. That's exactly what they did.
Nebraska didn't allow a single yard on three plays, forcing the Red Wolves to settle for a 32-yard field goal that made it 28-13 with 4:19 left to go in the third quarter. That would end up being the final points ASU would score in the game.
"I thought that was a huge play in the game," Papuchis said. "At the time, the score was 28-10, and it become a two-score game with a touchdown. The momentum, for a second, felt like it was swinging against us, and I thought that response of forcing a field goal, that was pretty significant."
Even though the Huskers were upset about the ruling that the ball had actually touched Abdullah on the previous punt, Smith said the defense knew it had to put an end to the momentum swing that had been going on leading up to that drive.
"We just wanted to get a stop," Smith said. "I mean, we want to be the best defense in the country, the best defense that we possibly can, so when that happened, (Papuchis) just said 'Go ahead and let them have the ball. Let's just go out there and kick their ass. Bottom line.' We got fired up."
After Nebraska forced an incomplete pass on a third-and-10 play, Papuchis was out on the field as pumped up as anyone in Memorial Stadium. While he's always been a fairly high-energy coach, he said he felt he needed to make up for the intensity left behind after Pelini's departure.
"I think the truth is, Bo is in so many ways the emotional leader of this football team," Papuchis said. "The players feed off his energy and his determination, and I do believe players reflect the leadership of their coaches. When you're excited and confident, they're excited and confident. That was the time to show that, and I think our guys responded well."
- Robin Washut
Abdullah carries the load on offense
Any questions about how Nebraska would get by without the durable and dependable
Rex Burkhead
in its backfield were answered loud and clear with the way Ameer Abdullah played on Saturday.
Behind a career-high 30 carries for 167 yards and two touchdowns, the sophomore from Homewood, Ala., looked like a smaller version of Burkhead against Arkansas State. His previous single-game high for rushing attempts was 16, which he just set last week against UCLA.
Abdullah said he hadn't carried the ball 30 times in a game since he was in high school, but felt like he could've taken a few more handoffs had the team needed him.
"In high school I had a couple 30-carry games," Abdullah said. "I didn't realize I had 30, but I was called to action, and I had to respond… I felt like I could've carried the ball more. I didn't even realize I had 30 carries until someone told me after the game. It was just good to get my feet wet for things like this."
Beck said he wasn't surprised at all that Abdullah was up for that kind of workload. Despite his 5-foot-9, 185-pound frame, Beck said Abdullah has always been capable of grinding the football.
"Honestly, that's him," Beck said. "I got a chance to see him when I recruited him, and that was one of the things I saw in his ability, was what kind of a powerful runner he is for a guy who doesn't have great stature. He's not surprised me one bit with how he's playing. I've been very pleased with how he's doing it. I'm happy for him. He's worked extremely hard to put himself this position to have the success he's had."
Running backs coach
Ron Brown
said Abdullah's hard work during offseason conditioning paid off on Saturday, as he was able to hold up for such a physically demanding day.
"He had moments where he got a little tired, but he's extremely explosive and he's in great condition," Brown said. "That's one thing I really admire about the backs. They worked so hard in the offseason. All those guys are in phenomenal shape. They can run all day long.
"I didn't realize Ameer had carried the ball 30 times, but that's good for him. He'll rest good tonight. He said he's had some trouble sleeping lately. That's what he needed. That'll help him sleep tonight."
- Robin Washut
Linebackers make impressive debuts
After last week's performance against UCLA that included several communication issues and missed assignments, linebackers coach
Ross Els
sat down with middle linebacker and team leader
Will Compton
.
He told the senior he was doing too much. To be better and help the defense as a whole, sometimes he needed to stop being a director and trust his teammates.
"I need to take care of myself first before I start making adjustments," Compton said. "There were times where motions caught me off guard because I was trying to talk and communicate too much. We got the call and I trusted that they knew it. If not, we would have been exposed."
That task was especially difficult for Compton Saturday, as one of the players alongside him was usually one with almost no playing experience.
David Santos
and
Zaire Anderson
both received extended playing time for the first time against Arkansas State and Compton and Els thought they both did their part.
"With this offense, we were lined up correctly most of the time, but these (Arkansas State) coaches have some crazy things they do offensively that cause a lot of problems," Els said. "I thought those young guys handled it fairly well. We needed to put more speed on the field."
Both Santos and Anderson recorded three tackles and appeared to be in position most of the time. They also displayed the lateral speed that has been missing the past few weeks.
"Going into the game, we didn't know who was going to start or who was going to get the most reps," Santos said. "The pace was something we prepared for and we knew we wouldn't be able to rotate as much.
"It wasn't really nerves. It was more anxiety. Here's my chance and here's what I've been waiting for. It felt good. It's been a whole year and I finally got out there."
Though both had impressive debuts, neither is sure of the playing time they'll receive in the coming weeks. They are still competing with
Alonzo Whaley
, who started the first two games as NU's WILL linebacker. Santos said he expects to receive more playing time, but he'll just have to see how things turn out.
"It depends on who has better practices that week," Santos said. "It's always a competition between me, Alonzo and Zaire. It's who competes the hardest. There's no bad blood, but we all came here to play and we're all competitors."
- Dan Hoppen
Seisay finally makes anticipated debut
Going into last week's game against UCLA,
Mohammed Seisay
thought his wait to take the field as a Husker was finally over. His high ankle sprain that had limited him during fall practice was feeling much better and the coaching staff thought we would play.
Seisay felt fine during warm-ups in Los Angeles, but the ankle became sore as game time approached. The coaches wanted to work him in slowly and the UCLA game was close all the way through, so Seisay's wait continued.
But his opportunity finally came against Arkansas State.
Josh Mitchell
got the start at cornerback, but Seisay rotated in with him and said he felt good about his performance.
"I was really nervous getting the play call out there, but football is football and I've been doing this for a long time now," he said.
Seisay said the nerves truly disappeared at the end of the first quarter when he made his first tackle. He and Santos combined to take down Josh Jarboe and any nervousness faded away from there.
The junior college transfer now says his ankle is 100 percent and isn't worried about it in the future. But he won't forget the pain he experienced these past few weeks as he watched his teammates compete from the sideline,
"It hurt," Seisay said. "I was trying to rush things and get out there and play. Just sitting out the last couple of games, I just couldn't take it anymore. I made sure I got myself right throughout the whole week and let the coaches see my improvement. I wasn't limping out there."
- Dan Hoppen
Maher, special teams back on track
Though
Brett Maher
looked better against UCLA last week after a disastrous week one, he still didn't resemble the player that took home first-team All-Big Ten honors at both kicker and punter last year. He was missing short field goals and shanking punts, something the Huskers weren't accustomed to seeing him do.
But Maher looked like his old self again Saturday. Though he didn't get any field goal attempts, his punts were again booming (he averaged 57.5 yards per punt) and planted four of his seven kickoffs in the end zone for touchbacks.
"I felt good this week," Maher said. "I felt pretty good last week too. I feel like I'm in a good rhythm and I'm just going to keep doing what I'm doing and stay in that rhythm."
Els, who also serves as the special teams coach, said Maher has typically started games slow this year but has picked up as the game has gone on. The coaches made a few adjustments to Maher's routine and it appeared to pay off.
"He's kicked well after the first couple of kicks, but the starts have been horrible," Els said. "He changed a little bit of his pre-game routine and now he's back on, and that's good to see."
The Huskers' special teams overall looked better than it had in recent weeks. Other than a muffed punt that the officials ruled hit Abdullah's foot, there were no glaring errors in any aspect of the NU special teams. Abdullah busted off a 28-yard punt return and
Kenny Bell
racked up 51 yards on two kick returns.
"Special teams in general is really important," Bell said. "You look at the yards during the game and special teams yards can be a game-changer. Special teams is something that's under-appreciated and not looked at enough."
- Dan Hoppen
[rl]