Persistence could pay off for versatile Whitaker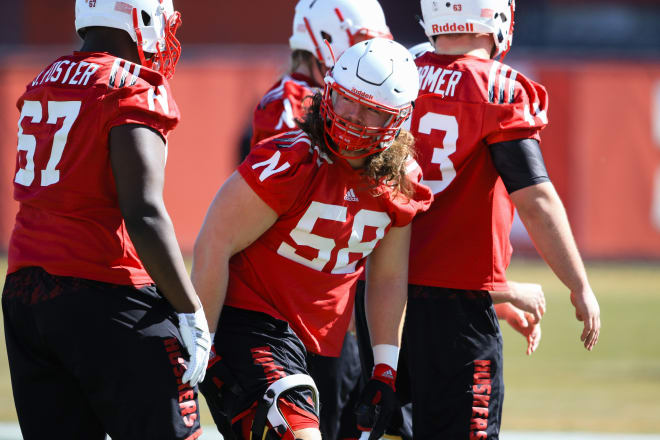 Nebraska is in a bit of a rare situation this fall in that it has, for the most part, its entire starting offensive line for the 2016 season already in place.
But that doesn't mean there won't be plenty of opportunity for that group to change by the time the season opener rolls around on Sept. 3.
One player who will certainly keep things interesting over the course of fall camp is senior Corey Whitaker.
One of only two scholarship seniors on the entire offensive line unit, Whitaker brings an element of versatility that has him pushing for playing time at both guard and tackle.
In fact, the 6-foot-5, 295-pound native of Murrieta, Calif., entered fall camp as the biggest competition for sophomore Tanner Farmer as the starting right guard and junior David Knevel as the starting right tackle.
"A veteran guy like Corey Whitaker, we have a set group probably on the offensive line right now," head coach Mike Riley said. "But Corey is one of those guys that had a good spring, competed well, and is on the edge of stepping in."
After arriving at Nebraska as a three-star prospect in the 2012 class, Whitaker's career has been plagued by injuries.
A knee injury forced him to redshirt his first year, and after not seeing a single game snap in 2013, he suffered another knee injury during fall camp before the 2014 season.
He finally found his way onto the field as a junior last year, seeing time in three games against South Alabama, Michigan State, and Rutgers.
Rather than be deterred by so many setbacks, Whitaker stayed focused and now looks in line to be rewarded as the top backup at two different positions on the line - if not more.
"He can move around and he's a good, strong guy, and I think he'll definitely help us out this year," sophomore tackle Nick Gates said. "He always puts his head down and works.
"He's had a couple chances but always kinda got hurt and fell short of it. I always kinda felt bad for him. But he's ready to buckle up this year and get down and try to earn that starting spot."