Penn State runs wild in 56-44 win over Huskers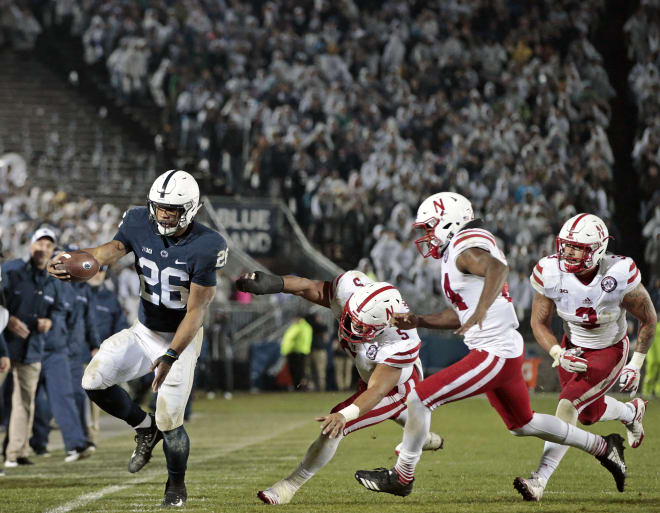 UNIVERSITY PARK, Penn. - The nightmare scenario Nebraska fans had spent all week mentally preparing for played out exactly as many had feared on Saturday night.
Behind 224 all-purpose yards and three touchdowns from running back Saquon Barkley and 324 passing yards and four total scores from quarterback Trace McSorely, No. 10 Penn State ran over the Huskers in what ended up a 56-44 shootout that wasn't nearly as close as the final score would indicate.
With the loss NU drops to 4-7 on the season, eliminating its hopes of a bowl berth for just the third time since 1969. It also puts the Huskers heading into next week's regular-season finale vs. Iowa trying to avoid their worst record since 1961.
The game was "Senior Night" for Penn State's 22 seniors, but it was Barkley - a junior possibly playing in his final PSU home game before jumping to the NFL after this season - who did the bulk of the damage right off the bat.
The potential Heisman Trophy finalist broke loose on just the third play of the night for a 65-yard touchdown run down the left sideline to make it 7-0 only 57 seconds into the game.
After a quick three-and-out by the offense, Nebraska got a big break when the ensuing punt bounced off a Penn State player and Marquel Dismuke recovered at the PSU 34-yard line. That led to a 27-yard field goal by senior kicker Drew Brown that brought it to 7-3 with 9:18 left in the first quarter.
Special teams gave NU another big play following a rare three-and-out stop by the Blackshirts, as Penn State punter Blake Gillikin shanked an 18-yard punt that gave Nebraska the ball at the Nittany Lion 36-yard line.
Two completions to receivers J.D. Spielman and Stanley Morgan set up first-and-goal from the one, and junior running back Devine Ozigbo took it from there for a touchdown to give the Huskers their first lead since the fourth quarter of the Northwestern game two weeks ago.
Penn State quickly took the momentum right back, however, as McSorely connected with Juwan Johnson for 43-yard pass to the NU 11. Barkley finished it from there, powering his way in for a one-yard touchdown run and putting the Nittany Lions back up 14-10. When the first quarter came to a close, Barkley had already racked up 111 yards and two touchdowns on just seven carries.
The Nittany Lions opened the second quarter with an eight-play, 85-yard drive and pushed their lead to 21-10 on a nine-yard touchdown run by McSorely.

One drive later McSorley hit tight end Mike Gesicki for a nine-yard touchdown pass with to make it 28-10 with 9:23 still to go in the half. Barkley made it three rushing touchdowns on PSU's following possession with an eight-yard run that made it 35-10 and finished a 10-play, 65-yard scoring march.
McSorely put the final touches on the first half with a 15-yard touchdown pass to DeAndre Tompkins that bumped the lead up to 42-10, marking the second time this season (also at Oregon) that Nebraska's defense has given up at least 42 points in a half.
The Nittany Lions racked up 439 yards of total offense in the first half alone, more yards than they had in four of their previous six games. The Huskers managed just 77 yards and a mere five yards on the ground.
Barkley (11 rushes for 142 yards, five catches for 66 yards) had 208 all-purpose yards in the first half, while PSU averaged a staggering 9.0 yards on 49 plays in the first half. He ended up with 17 carries for 158 before his night came to an end midway through the second half.
Finally, after six straight drives without even gaining a first down, Nebraska was able to drive 90 yards on eight plays and reached the end zone on a 24-yard touchdown run by junior Mikale Wilbon, cutting the deficit to 42-17 with 6:40 left in the third quarter.
Wilbon's score was the longest rush by an NU running back since a 28-yarder by Ozigbo against Wisconsin on Oct. 7.
Nebraska then got it down to 18 points after quarterback Tanner Lee connected with senior wideout De'Mornay Pierson-El for a 22-yard touchdown pass with 2:34 left in the third. But that would be as far as the rally would get.
Penn State immediately answered with a 10-play scoring drive that ended with a 17-yard touchdown pass to Gesicki. One drive later, backup quarterback Tommy Stevens connected with tight end Nick Bowers for a 15-yard touchdown pass that made it 56-24 with 10:13 still to play.
Morgan would add to his impressive night by hauling in a one-handed touchdown grab with 6:32 remaining to bring the score to 56-31.
Nebraska added two more touchdowns - a Wilbon run and a pass to tight end Jack Stoll, with a converted onside kick in between - to turn a once lopsided score into a 12-point final.