Outland notebook: Osborne happy to see Solich honored in Omaha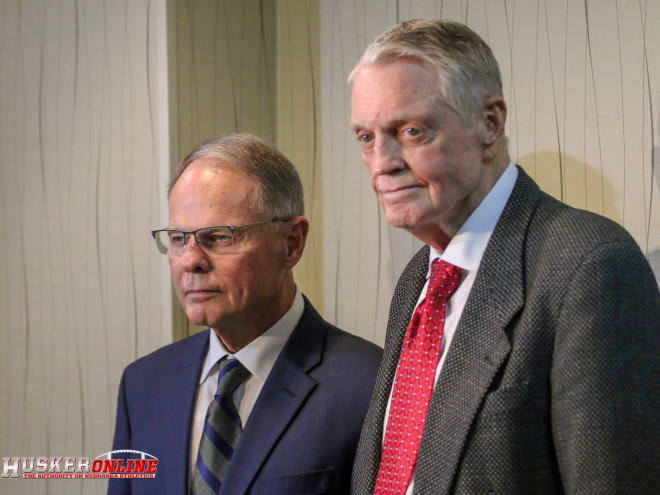 OMAHA – For former Nebraska head coach Tom Osborne, Wednesday night in Omaha was special.
The Outland Trophy Dinner at the Downtown DoubleTree was a long overdo night for Osborne, to see his successor Frank Solich properly recognized in the state of Nebraska after being forced out in 2003.
This week marked the first time Solich had ever been recognized since being fired in November of 2003. Solich joins legendary coaches Barry Switzer and Bobby Bowden as the other winners of the Tom Osborne Legacy Award.
"For me, tonight is probably the most important," Osborne said. "There's very few people who have accomplished as much in the world of football as Frank (Solich). A lot of people don't realize that. He was a great player at Nebraska, he was a great assistant that recruited Mike Rozier, Irving Fryer, (Jason and Christian) Peter, Eric Crouch – so two of the three Heisman Trophy winners. He's just a solid guy as an assistant, so I felt very comfortable with him taking over, because he understood what buttons to push and what was unique about Nebraska and what had to happen.
"If you look at it, his winning percentage was better than Joe Paterno and Bobby Bowden, and about the same as Woody Hayes and Bear Bryant while he was at Nebraska. That's pretty good company. He won a Big 12 Championship and three Big 12 North titles.
"Then I think what he's accomplished at Ohio has been remarkable. Because when you look at their program before he came in 40 or 50 years, they went to one bowl game, and now they've gone to 10 out of the last 14 years. If you win 8 or 9 games at Ohio, that's probably like winning 10 or 11 or even 12 games in a Power Five Conference, because you always have to play those two or three money games."
Solich spoke to reporters again on Wednesday as well, and once again reiterated how honored he is to receive the Osborne Legacy Award.
"It's been special," Solich said. "I spent 19 years underneath Tom, and obviously got so attached to what he was all about and how he treated people. So, when it comes to continuing to visit with Tom, sometimes it's about football, sometimes it's not. Sometimes it's about other things. We've continued to have I think a great relationship and enjoy my moments when we do get a chance to visit.
- Sean Callahan
Solich expects big things from Frost at Nebraska 
Solich not only shared the stage with his friend and former head coach Osborne, but also with the quarterback who helped guide his Nebraska team to a national championship.
Scott Frost, who played for Osborne and Solich's staff from 1995-97, is now heading the position Solich held for six seasons as the Huskers' coach.
Solich said he and Frost had only spoken a few times since his former player took over in Lincoln, but based on what he knew of Frost as a coach and a person, Solich had no doubt that NU was in very good hands.
"I think Scott is a bright coach," Solich said. "He's got a very good staff, and so he'll be able to recruit the kind of guys Nebraska will be able to battle for championships. He'll get that done at a good pace, and I think he'll be very successful here…
"I know he'll do a great job. I'm convinced of that. So they've got the right guy there. Nothing comes easy, so it might take a little time. But I think he'll get it done fairly quickly. To see him again and to see Tom again, those are special times for me."
- Robin Washut
Stoltenberg retires from football
One of the senior award winners at Wednesday's Outland Dinner in Omaha was defensive tackle, Mick Stoltenberg.
The Gretna native took home the Cletus Fischer Native Son award given out by the NU coaches to an in-state graduating senior.
Before Wednesday's dinner, Stoltenberg announced he is walking away from the game of football after undergoing five major surgeries over his career. He plans to pursue a career in coaching.
"After kind of sitting down trainers and doctors, I kind of decided to hang it up," Stoltenberg said. "That was kind of the best decision for me. Dating back all the way to the last spring ball, I had a surgery that was done a week through on my left knee, and it was kind one of those things that at that point it had been my fifth surgery.
"My plan was to rehab it, come back and finish spring ball. I ended up not being able to finish summer workouts and made it through fall camp. I sort of reinjured the knee and made it through the first few games with it. The way it was, we decided we weren't going to operate and try to finish out the season. I guess that Michigan was kind of the tipping point when we realized we had to do something about it."
Stoltenberg was able to return for the final few games of the season in late October and was able to be a part of NU's 4-2 finish.
"I was happy to be a part of that, especially the way things finished," Stoltenberg said.
-Sean Callahan
Morgan preparing for next step in NFL
Since the final whistle blew in Nebraska's loss to Iowa to end his time as a Husker, Stanley Morgan Jr. immediately turned the page to the next step in his football career.
The standout wide receiver left as the school's all-time leader in receptions and receiving yards, setting an NU season record with 1,004 yards and earning second-team All-Big Ten accolades for the second straight year.
In addition to capturing the Chamberlin Trophy, Morgan was also named the Offensive MVP for the 2018 Huskers, as chosen by the coaching staff.
But now Morgan is fully dialed into preparing himself to make the jump to the next level, as he's spent the past month and a half training at the Sports Academy in Thousand Oaks, Calif.
The 6-foot-1, 195-pounder has been working out alongside fellow NFL Draft hopefuls like LSU cornerback Greedy Williams and North Carolina State linebacker Calvin "C.J." Hart.
Morgan said the shift from practicing as a team to individual training for the NFL Combine, which begins Feb. 26 in Indianapolis, has been an adjustment. He had never run a timed 40-yard dash in his life, and now his professional future will heavily depend on it.
"It's way different," Morgan said. "You're basically training on your own and trying to get more into your own self; trying to figure out your own body, trying to figure out your own movements. So it's completely different. Rather than coming into a season with your team that you already gel with, it's like going back to the bottom of the barrel. You've got to work your way up."
Morgan said he'd received emails and questionnaires expressing interest from NFL teams like the Seattle Seahawks, New Orleans Saints, and "a couple other teams."
Given that he's a life-long Saints fan and New Orleans native, Morgan admitted going back home would be a dream come true.
"Something like that," Morgan said with a laugh.
- Robin Washut