Oregon keys to victory and HOL score predictions
EUGENE, Ore. – The Nebraska (1-0) football team will face their first true test of this 2017 season when they travel to Oregon (1-0) and take on a Ducks team they got the best of a year ago in Lincoln.
However, when you look at these two teams going into Saturday a lot as changed over the last year. Oregon will have a new head coach and a different quarterback, while the Huskers have a new quarterback and defensive coordinator.
As things get closer to kickoff, here are today's keys to a Husker victory over the Ducks. NU enters today's match-up as a 14 point underdog to Oregon.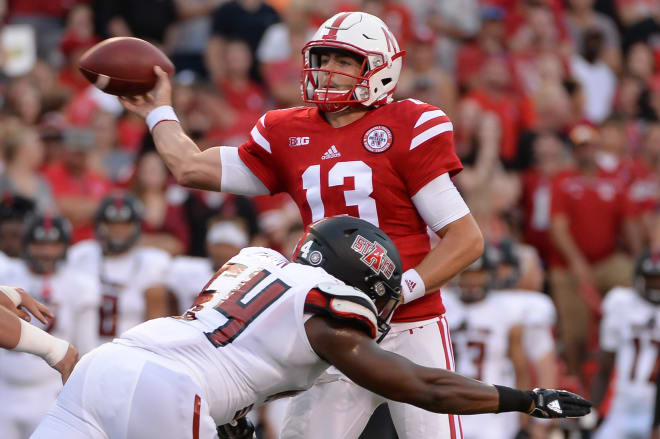 KEYS TO VICTORY: Nebraska at Oregon 
KEY 1: Handling the noise
For a lot of players on Nebraska's team this will be their first true road game experience. It will be important they keep their composure and do not let the crowd noise affect them in key situations. The offense also needs to have a high level of execution to keep the crowd out of the game.
KEY 2: Tackling on the perimeter
Last week Arkansas State really exposed the Huskers on the perimeter with a lot of quick passes. NU's young corners struggled to get off blocks and make tackles in space. Hopefully they can use that experience from a week ago to grow and do a much better job in space.
KEY 3: Seize opportunities on offense
The last two season Oregon has statistically been one of the worst defenses in the country in both points and yards allowed. Last week they were not tested against Southern Utah. The Huskers need to go at the Ducks defense early and take advantage of coverage busts and scoring opportunities they are given.
KEY 4: Front seven physicality
Really the key to this Oregon offense is running back Royce Freeman. Nebraska needs do a good job up front with their front seven of playing physical and not allowing Freeman to get yards after contact like he did a year ago in Lincoln.
KEY 5: Memorial Stadium Northwest
There will be a very large contingent of Nebraska fans in attendance today in Eugene. These fans have spent a lot of money to make this trip to cheer on the Huskers. It will be important for the Huskers to stay in this game and give the potential 15,000 fans in attendance something to cheer about.
Sean Callahan - HuskerOnline Publisher
This is a game Nebraska should be able to score points and put up yards, but in the end, I think the home field advantage will be too much. I think this game will come down to the final possession, but the Ducks will come out on top.
Oregon 37, Nebraska 31
##############################
Robin Washut - HuskerOnline Senior Writer
If Nebraska can effectively and consistently run the ball between the tackles and take care of the football, the Huskers will have a real shot at pulling out a win today. However, there are just too many questions surrounding the defense for me to think NU can keep pace if it turns into a shootout.
Oregon 35, Nebraska 31
##############################
Nate Clouse - HuskerOnline Lead Recruiting Analyst
I see this game coming down to which offense can control the clock, limit turnovers and most likely have the last shot at putting points on the board. I think Nebraska plays very well on the road in a hard-fought battle, but the Ducks pull out some late magic at home to seal up the win.
Oregon 38, Nebraska 33
##############################
Mike'l Severe - Omaha World Herald Bottom Line
I think the depth at running back for the Ducks will help Oregon hold on to the ball and score a bunch. NU's offense should be able to take advantage of the Oregon secondary. I think the home field and kicking extra points will be the difference this year for the Ducks.
Oregon 41, Nebraska 34
##############################
Andy Kendeigh - KETV Channel 7 Sports Director
Big test for Bob Diaco's defense, my gut says the Huskers played it close to the vest last Saturday and they will play much better in week 2 than they did in week 1. That being said, Oregon is --obviously-- a much better offensive team than Arkansas State. I predict another 4 hour game and the Huskers surprise the Ducks on the road thanks to a late Tanner Lee to DPE touchdown.
Nebraska 37, Oregon 34
HuskerOnline Week 2 Expert Score Predictions
Week 2
Sean Callahan
Robin Washut
Nate Clouse
Mike'l Severe
Andy Kendeigh

Nebraska @ Oregon

37-31 Oregon

35-31 Oregon

38-33 Oregon

41-34 Oregon

37-34 Nebraska

NW @ Duke

34-28

NW

24-20

NW

31-21

NW

27-23

Duke

27-20

NW

Iowa at Iowa State

27-17 Iowa

38-14

Iowa

28-24

Iowa

23-20

Iowa State

24-21

Iowa State

Oklahoma @ OSU

41-31

Ohio State

41-28

Ohio State

42-38

Ohio State

28-24

Ohio State

34-31

Ohio State

Stanford @ USC

34-31

USC

26-20

USC

35-28

USC

31-24

USC

31-30 Stanford

Auburn @ Clemson

38-27 Clemson

38-35

Clemson

33-30

Clemson

30-27

Clemson

27-20 Clemson
HuskerOnline Score Prediction Standings
Expert Picker
Straight Up
vs. the Spread 
Cumulative Total

Mike'l Severe

OWH Bottom Line

6-0

5-1

11

Andy Kendeigh

KETV-ABC Omaha

5-1

5-1

10

Sean Callahan

HuskerOnline

6-0

3-3

9

Robin Washut

HuskerOnline

5-1

4-2

9

Nate Clouse

HuskerOnline

6-0

3-3

9