Opponent spring review: Northwestern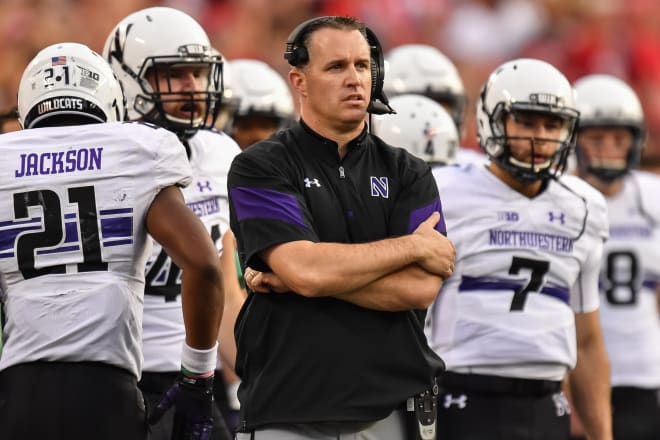 With spring practices now wrapped up around the country, HuskerOnline.com will take a look at where each of Nebraska's 12 opponents in 2018 currently stands coming out of spring ball and heading into the summer.

We continue today by taking a look at Nebraska's annual showdown with Northwestern, host the Huskers on Oct. 13.
The Wildcats are coming off an impressive 10-win campaign in 2017, but some key losses to graduation and injury concerns have Pat Fitzgerald's squad facing an important offseason.
We caught up with WildcatReport.com publisher Louie Vaccher to learn more about what the Huskers can expect in their trip to Evanston this fall…
Spring overview
While there was a lot to watch this spring as Northwestern entered its 13th season under Fitzgerald, maybe the most talked about storyline for the program was the soon-to-be-completed Ryan Fieldhouse - a $270 million sports complex and football practice facility overlooking Lake Michigan.

The Wildcats were able to hold their first practice at the new facility this spring and will officially move into the complex full-time in June.
As for the actual football, the next biggest issue was the quarterback position, as returning starter Clayton Thorson was out all spring while recovering from a torn ACL he suffered in the Music City Bowl.
Thorson is expected to be ready to return to action by late September, but in the meantime, Northwestern is still looking for a quarterback to hold his place as the starter for the first month of the schedule - including its Big Ten opener in Week One vs. Purdue.
As if that weren't enough, the Wildcats will also have to replace All-Everything running back Justin Jackson, who ended his career last year as the most productive back in program history.
There are some holes to fill on defense as well, particularly at safety and defensive tackle, but Vaccher said the feeling overall is that side of the ball should be OK while the offense works through some early kinks.
Returning starters 
Whoever is at quarterback, he'll have the benefit of four starters returning on an offensive line that improved significantly over the course of last season.

On defense, Northwestern must replace its two starting safeties, including All-Big Ten selection Godwin Idwebuike. Senior Jared McGee has solid experience and will be counted on to help take over the back end of the secondary.
The Wildcats bring back standout linebacker Paddy Smith but need some younger players to step up at that position, and the search continues as to who is going to replace defensive tackle Tyler Lancaster.
Defensive end could end up being the strength of the defense with a deep and veteran group.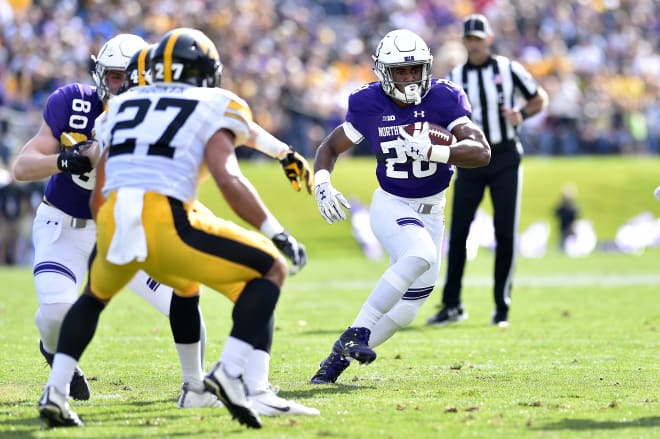 Offensive star: RB Jeremy Larkin
When he's on the field, Thorson is without a doubt Northwestern's most talented player.

But the Wildcats also have a pretty good running back coming up the ranks in sophomore Jeremy Larkin, to the point where filling Jackson's shoes ended up not even seeming like that big of an issue.
The primary backup to Jackson last season, Larkin finished second on the team with 503 rushing yards on a team-high 6.0 yards per carry along with five touchdowns.
The 5-foot-10, 194-pound native of Cincinnati, Ohio, had his best game as a Wildcat vs. Kentucky in the Music City Bowl with nine carries for 112 yards.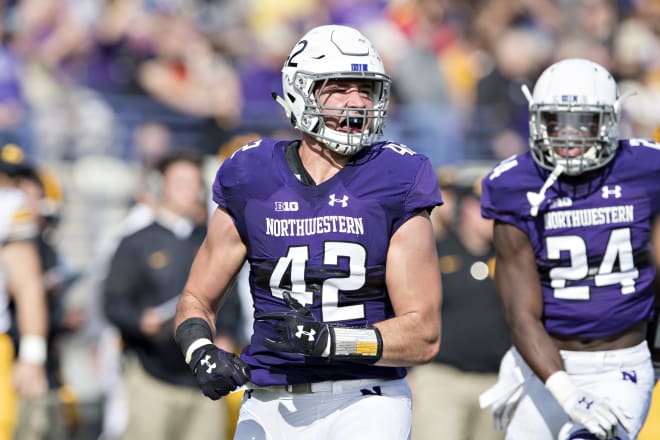 Defensive star: LB Paddy Fisher
Last season was the definition of a breakout year for Fisher, as he ended up leading Northwestern - and all first-year FBS players, for that matter - with 113 tackles as a true freshman.

He also led the Big Ten and ranked seventh nationally with four forced fumbles, and his 19 total tackles vs. Michigan State helped him earn the Walter Camp National Defensive Player of the Week.
Fisher was named second-team All-Big Ten and the conference's Freshman Defensive Player of the Year for his efforts.
The 6-4, 245, native of Katy, Texas, is now viewed as the heart and soul of Northwestern's defense entering his sophomore campaign.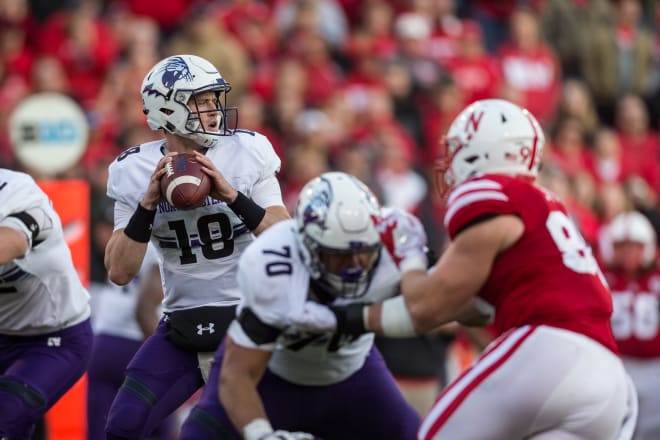 Biggest question: How quickly can Thorson recover?
Assuming Thorson is not ready to play to open the season, Northwestern will be relying on a very inexperienced quarterback in its conference opener, non-conference tilts with Duke and Akron, and potentially even its home game vs. Michigan.

The three players competing to replace Thorson entered the spring with a combined one career pass attempt, and as it stands right now, it could be a walk-on who has played in one collegiate game that ends up getting the nod.
Junior T.J. Green, the son of former NFL quarterback Trent Green, emerged as the frontrunner going into the summer. While he's not the biggest QB (6-2, 202) and doesn't have the most impressive arm, Vaccher said Green was the guy who seemed the least likely to make mistakes with the football.
Redshirt freshman Andrew Marty and sophomore Aidan Smith will continue to battle with Green during fall camp, but neither has ever taken a game snap at Northwestern.
Whoever wins the job, there's little doubt that the Wildcats will try to rely heavily on their running game and defense to get by until Thorson returns.
Early outlook on Northwestern vs. Nebraska
Vaccher: "At that point in the season you would hope that Clayton Thorson is back. I've been hearing late-September timeframe possibly, so by then hopefully he's back and fully healthy. As usual, those match-ups have been a lot of fun over the years. They've been some great games, and I know Nebraska will bring a ton of fans to Evanston as usual and it'll be an electric atmosphere there.

"I expect another close game, another hard-fought game. It's been a funny series because Northwestern is 3-1 in Lincoln and 0-3 in Evanston, so they still have to post a win at home. It would be nice for them to get it this year, that's for sure."
Overall 2018 win-loss expectation
Vaccher: "I think they'll probably end up around 8-4. I mean, they won 10 games last year, and I think that will be awfully tough to duplicate. The schedule's a lot tougher this year. They added Notre Dame in the non-conference (Nov. 3), and Michigan is one of their crossovers this year. So it'll be a tougher season, but I expect them to win eight games. They're Northwestern, so they'll probably win one you don't think they should win and lose one you don't think they should."