Opponent spring review: Maryland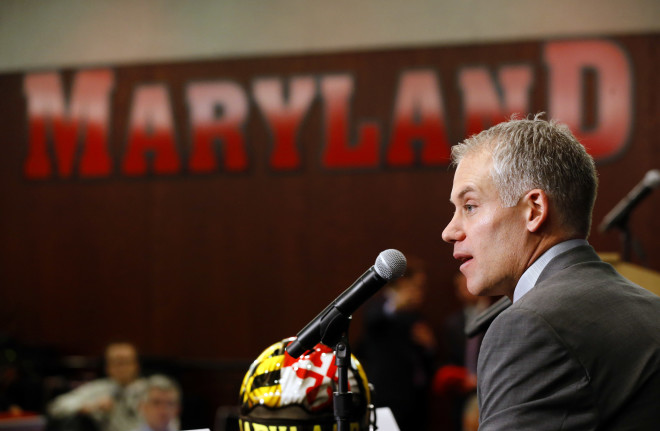 With spring practices finally all wrapping up around the country, HuskerOnline.com continues our look at where each of Nebraska's 12 opponents in 2016 currently stand coming out of spring ball and heading into the summer.
Today, we check in on the Maryland Terrapins, who travel to Lincoln on Nov. 19 for the Huskers' final home game of the season.
To get a feel for where the Terps stand heading into their first season under head coach D.J. Durkin, we spoke with Scott Greene of the Maryland Rivals.com site TerrapinSportsReport.com to get his thoughts and perspective on the team and what to expect once the season gets underway in a few months.
Spring overview
Maryland officially kicked off a new era this spring with Durkin's official debut, and it didn't take long to realize that an entirely new culture was starting to be built within the program.
Greene said the attitude around the team under the pervious staff was at times "bored and mundane and just seeming completely out of it" during practice, but now Maryland's players couldn't stop raving about the energy and excitement of Durkin and his staff.
As far as the players themselves go, the biggest storyline of the spring was the competition at quarterback. Seniors Caleb Rowe and Perry Hills - who both started games last season - traded reps with the first-team offense throughout the spring. In Greene's opinion, Hills had the upper-hand coming out of the spring game, but the competition remains far from settled.
In fact, Durkin made it clear that incoming true freshmen Ty Pigrome - the 2016 Alabama Gatorade Player of the Year - and Max Bortenschlager would both be given every opportunity to win the job in the fall.
On defense, the transition to a new scheme under new defensive coordinator Mike London is still definitely a work in progress. That was particularly true because the Terrapins had such thin secondary depth this spring, including star senior cornerback William Likely sitting out all 15 practices while recovering from an injury.
Returning starters
Whichever quarterback ends up winning the job, he will have some weapons to work with in Maryland's other skill positions. D.J. Moore is back after an impressive freshman season in 2015 to lead the way for the wide receivers, and a senior Wes Brown will front an expected committee approach at running back.
The bad news for the Terps is that the offensive line and tight ends might be the weaknesses of the offense, which is why Maryland is expected to gravitate to more of a quick-pass air raid style as the competition level increases.
The defense will once again be anchored by Likely, but the defensive line and linebackers left much to be desired coming out of the spring.
On top of that, the secondary outside of Likely still has a lot to prove in order to make anyone feel good about the Terps stopping the pass. Maryland lost both of its starting safeties, including Sean Davis, who was a second-round draft pick by the Pittsburgh Steelers.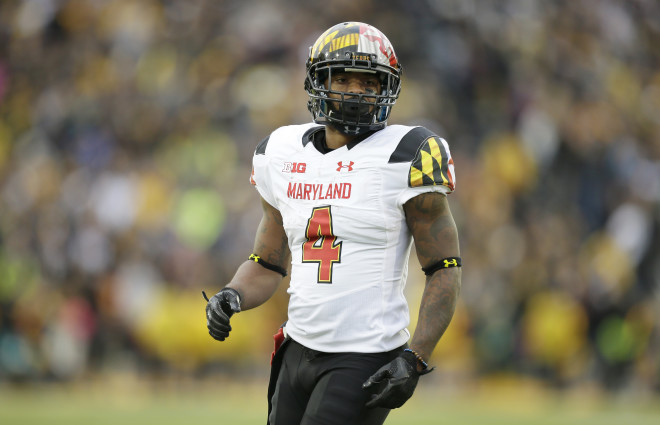 Offensive star: WR D.J. Moore
As Maryland transitions to potentially a much more pass-oriented offense under new coordinator Walt Bell, the player who could benefit the most might be Moore.
Though he's not the biggest wide out around at 5-11, 205, he's strong and athletic enough to more than hold his own against Big Ten cornerbacks.
Coming off a solid freshman campaign where he tied for team lead with three TD receptions and ranked second in catches (25) and yards (357), Greene said Moore looked like a completely different player this spring with how much he had improved.
Defensive star: CB William Likely
There are few players in all of college football that are as versatile and productive as Maryland's Likely.
Having just been named to the Lott IMPACT Trophy watch list, Likely is coming off a 2015 season that saw him earn first-team All-Big Ten honor at cornerback and first-team All-American at punt returner.
On top of that, he even moved over to the other side of the ball to play receiver, catching five passes and get the start at wide out vs. Wisconsin.
Durkin hinted strongly this spring that he plans to continue to use Likely in all three phases again this season in an effort to keep him on the field as much as possible.
With a more attacking defense this year under London, it could lend itself to Likely putting up one of his most productive seasons yet.
Spring surprise: RB Jake Funk
Brown is the most experienced running back returning in 2016, but don't be surprised if Funk finds a way to work his way into the mix by the time the season rolls around.
Though he's only a true freshman who was only rated as a two star coming out of high school, Funk was was named the Maryland Gatorade Player of the Year last season and more than held his own this spring.
Greene said he wouldn't be surprised one bit if Funk ended up working his way into the rotation if he continues at his current pace, especially with the Terps seemingly being open to a running back by committee approach.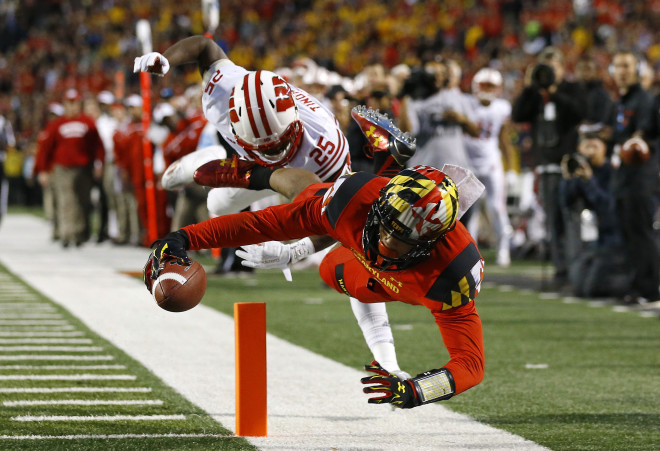 Best position battle: Running back
As mentioned, Brown is the most veteran member of Maryland's backfield, but not only did he not do much this spring to secure his status as the clear feature back, he's also struggled with off-the-field issues throughout his career and has missed multiple games due to suspensions.
The good news is that Brown appears to have cleaned up his act, but with Funk and Tre Edmonds, a transfer from Virginia Tech, pushing him for reps every practice in the spring, there's no guarantee he will be the guy by the end of fall camp.
Edmonds had a breakout redshirt freshman season at Virginia Tech in 2013, as he led the team with 675 yards on 166 carries with 10 rushing touchdowns. But saw his role drop significantly after that, which eventually led to his transfer.
Biggest question: Who will make up the secondary?
It's not just a matter of not knowing how a secondary that lost three of four starters will bounce back in 2016, it's the fact that even after a full spring session Maryland appears to be no closer to figuring out who will even be in the conversation for those starting roles along with Likely.
There was no spring depth chart released, and with the amount of mixing and matching the Terps did in their secondary during practices, Greene said he literally had no clue which players are legitimately in contention to win the jobs.
As a result, Greene said he wouldn't be surprised if one or more of true freshmen end up earning starting roles when they arrive for fall camp.
Early outlook on Maryland vs. Nebraska
Greene: "Just kind of looking at how the season is going to play out, I think there's a good chance that by the time Nebraska rolls around Maryland could be playing for a possible bowl bid. I wouldn't say they're likely to get it in a game at Lincoln, but it's a new era, new coach, and I think this team is going to have a new attitude going into a place like that on the road.
"I wouldn't be surprised if they're at five wins with a chance to get to six heading into Nebraska, and if they don't get the sixth one there I wouldn't be surprised to see them become bowl eligible against Rutgers the following week."
Overall 2016 win-loss expectations
Greene: "Durkin kind of lucked out for his first year where he's got some very winnable games early on in Howard, FIU, UCF and then Purdue. So it's possible, even though Maryland is kind of in a bit of a rebuilding mode, they could still go 4-0 to start the season.
"After that they'll have some tough games. They have go to Penn State, Michigan State, at Michigan, at Ohio State, and at Nebraska, but I think six wins is doable for this team next year, and I think just becoming bowl eligible would be a big win for a first-year head coach."