Opponent spring review: Iowa
With spring practices finally all wrapping up around the country, HuskerOnline.com continues our look at where each of Nebraska's 12 opponents in 2016 currently stand coming out of spring ball and heading into the summer.
Today, we wrap up the series by checking in on the Iowa Hawkeyes, who host NU in the annual Black Friday regular-season finale in Iowa City on Nov. 25.
To get a feel for where the Hawkeyes stand heading into their 18th season under head coach Kirk Ferentz, we spoke with Tom Kakert of the Iowa Rivals.com site HawkeyeReport.com to get his thoughts and perspective on the team and what to expect once the season gets underway in a few months.
Spring overview
With a good portion of its roster returning from last season's Big Ten West championship squad, the main focus around Iowa's program this spring was on the one position and player still in limbo for 2016.
Defensive end Drew Ott, a native of Trumbull, Neb., was limited to parts of just six games last year after suffering a dislocated left elbow in the second game and then a torn ACL in his right knee in the sixth game.
He had surgery for both injuries in November, and many thought he would be a shoe-in to earn a medical hardship waiver for a sixth season of eligibility.
However, the NCAA did not grant him another year, leaving the Hawkeyes with some big shoes to fill on its defensive line.
Offensively, quarterback C.J. Beathard is back as the starter, but Iowa must replace two starters on its offensive line after losing center Austin Blythe and guard Jordan Walsh. There are also some questions at wide receiver, as the depth behind senior Matt VandeBerg is full of inexperience.
Returning starters
While Iowa couldn't get Ott back for another season, Kakert said maybe the biggest "recruit" the Hawkeyes did get this offseason was 2015 Thorpe Award winner Desmond King returning for his senior season at cornerback.
With King leading the way in the secondary, senior Josey Jewel also returns at middle linebacker and is already being regarded as one of the top linebacker prospects in the 2016 NFL Draft pool.
On the defensive line, starting tackles Nathan Bazata (from Howells, Neb.) and Jaleel Johnson are both back. Replacing Ott will be tough, but there appears to be more than enough pieces for Iowa to once again be a top-flight defense in the Big Ten.
The Hawkeyes are also looking to fill the void left at center by Blythe, who was a four-year starter and a seventh round pick by the Indianapolis Colts.
James Daniels looked to be the most likely candidate, but he missed all of spring ball while recovering from knee surgery. Sean Welsh, who has starting experience at guard and tackle, took over as the No. 1 center this spring and was already named to the Rimington Award watch list.
Of course, Beathard returns at quarterback as a fifth-year senior who is coming off second-team All-Big Ten honors last season. There is experience at running back with LeShun Daniels and Akrum Wadley. Also, tight end George Kittle could be in line for a big season with a skill set Kakert lightly compared to Dallas Clark.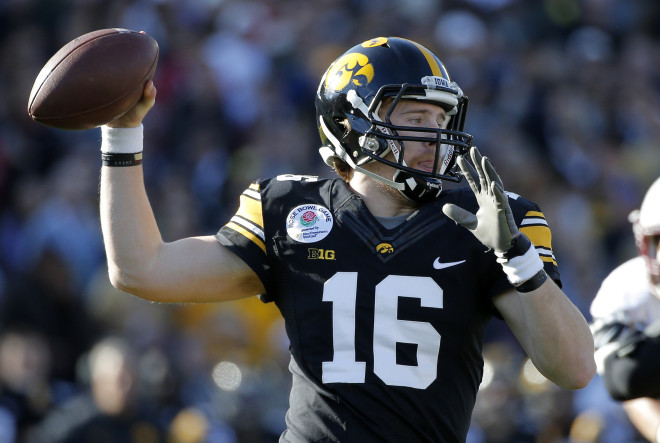 Offensive star: QB C.J. Beathard
If there was one way Kakert could best describe what Beathard means to Iowa's offense, it would be the old adage that he's "the straw that stirs the drink."
Beathard is the player who without question makes the Hawkeyes' offense go, and Kakert said Iowa would be a completely different team without him on the field.
A unanimous second-team All-Big Ten selection last year, Beathard etched his name across the board in the Iowa single-season record books.
His 3,046 yards of total offense rank fourth on the school's all-time list, and he also tied for fifth in completions (223), was seventh in attempts (362), eighth in passing yards (2,809), and tied for 11th in touchdowns (17).
Kakert said Beathard's presence alone gives the Hawkeyes a chance to win in every game.
Defensive star: CB Desmond King
As valuable as Beathard is to the offense, the same could be said about King's importance to Iowa's defense.
Though he could have easily foregone his senior season and made the jump to the NFL, the unanimous consensus All-American returns to the Hawkeyes as one of the best cornerbacks in all of college football.
King, who tied the school record and ranked second nationally with eight interceptions in 2015, will once again be matched up against every opposing No. 1 wide receiver, and in most cases he'll likely be able to take away an entire half of the field.
On top of that, he's expected to continue his role as Iowa's primary return man. King averaged 14.2 yards on 17 punt returns and 24.4 yards on 29 kickoff returns last year to earn honorable mention all-conference honors at return specialist.
Spring surprise: WR Jay Scheel
After being forced to redshirt his first season due to knee injuries which then carried over into a quiet 2015 campaign, this could finally be the year where Scheel emerges as a fixture in Iowa's wide receiver rotation.
Though he has yet to catch a pass at the college level, the 6-foot-1, 195-pound Scheel showed the type of playmaking ability this spring that could potentially vault him all the way up to the Hawkeyes' No. 2 wide out behind VandeBerg.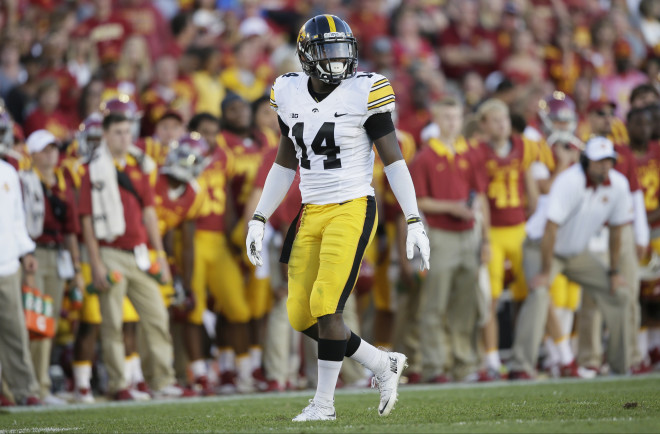 Best position battle: Running back
Iowa lost its leading rusher from last season in Jordan Canzeri, but there is still plenty of experience in the backfield with Daniels and Wadley.
The competition this spring for which of those players would end up winning the starting job was one to watch, and that should only continue on into the fall.
The key for both backs is being able to stay healthy for a full season, but if Daniels and Wadley can stay on the field the Hawkeyes like what they have with their 1-2 punch at running back.
Biggest question: Can the kicking game keep up?
As good as Iowa feels about the talent coming back on both offense and defense this year, the same definitely cannot be said for situations at place kicker and punter.
Gone are punter Dillon Kidd and kicker Marshall Koehn, so the search was on to find their replacements this spring and to make sure there wasn't a severe drop-off in production from the third element of the game.
Miguel Recinos appears to be the front runner to win the kicker job, and Colton Rastetter seems to have the edge at punter.
However, both Recinos and Rastetter are walk-ons, meaning there is still concern over how they'll fare in their first notable college football action. Considering how many close games Iowa won because of its special teams last year, the situation becomes even more important.
Early outlook on Iowa vs. Nebraska
Kakert: "I think it's going to be another good game. This is just turning out to be a really good end of the season battle between Iowa and Nebraska, and I think this one could be once again - and I think I say this every year - but it could be for the West Division title. With the way the schedules shake out for both teams, I think they'll be within one game of each other.
"I think you give the home field advantage to Iowa with it being in Iowa City this year, and even though Iowa won last year, I still think there's some bitterness over the way the game two years ago went where Iowa had that big lead and let it get away and lost in overtime.
"So I think it's going to be a heck of a game. I like Iowa's chances just because they're at home and it'll be senior day for guys like King and Beathard, and obviously the crowd will be fired up. So I'd give Iowa a slight advantage right now."
Overall 2016 win-loss expectations
Kakert: "I think the expectations are very different from what they were last year, that's certainly the case. I think the way the schedule shakes out, 10 wins is probably a benchmark.
"I haven't seen the Las Vegas line, but I'm guessing its around 9.5 (wins) for Iowa this year. But based on the home games and the expectations that are set in the odds today, I'd say probably 10-2 is within the realm of expectation for Iowa in 2016."