Opponent spring review: Fresno St.
With spring practices finally all wrapping up around the country, HuskerOnline.com will take a look at where each of Nebraska's 12 opponents in 2016 currently stand coming out of spring ball and heading into the summer. Today, we start things off by checking in on the Huskers' first matchup of the season in the Fresno State Bulldogs, who come to Lincoln on Sept. 3.
To get a feel for where the Bulldogs stand heading into their fifth season under head coach Tim DeRuyter, we spoke with Marek Warszawski of The Fresno Bee to get his thoughts and perspective on the team and what to expect once the season gets underway in a few months.
Spring overview
Considering that Fresno State is coming off a 3-9 campaign last season - it's worst record since 1978 - the program knew it had to make some changes going into 2016.
The Bulldogs replaced both offensive and defensive coordinators and five other assistant coaches in an effort to help get the program back on track.
With the addition of offensive coordinator Eric Kiesau, who served as an analyst under Nick Saban last year for Alabama's national championship run, FSU started incorporating a new look offensively.
On top of that, it is doing so with a quarterback position that saw four different players start at least one game in 2015 due to injury, suspension, and general ineffectiveness.
The quarterback with the most experience last season, Zack Greenlee, ended up transferring to UTEP in January.
On defense, new coordinator Lorenzo Ward, who served in the same role at South Carolina for seven years, also has his hands full taking over a group that ranked 101st in total defense last season.
Returning starters
Along with returning three quarterbacks with starting experience, Fresno State's only returning running back who carried the ball once last season is Dejonte O'Neal (16 carries for 56 yards and no touchdowns).
Receiver is by far the deepest position on the offense, five of their top seven pass catches from a year ago.
The Bulldogs lose three starters on the offensive line, with left guard Aaron Mitchell the only returning full-time starter and Jacob Vasquez and Micah St. Andrew both splitting starts at right guard coming back.
It also looks like junior college transfer Shane Gama will be getting the nod as the starting left tackle.
Fresno State ended up starting 20 different players on the defensive side of the ball last season, but lost a ton of depth in the front seven on the defensive line and linebacker.
The strength of the unit is the secondary, which brings back the top two cornerbacks in Tyquwan Glass and Jamal Ellis as well as four safeties who saw playing time last year.
Offensive star: QB Chason Virgil
Virgil was on track to have a potentially breakout true freshman season last year, as he saw action in the first three games and made his first career start in Week 3 against No. 21 Utah.
That would be the end of the road for 2015, however, as Virgil suffered a broken clavicle against the Utes and missed the remainder of the season.
The good news is that Virgil looks to have bounced back from the injury as well as FSU could have hoped, putting together a solid spring and jumping to the front of the quarterback race going into the summer.
Assuming he can keep it up on through fall camp, the starting job will be Virgil's to lose.
Defensive star: CB Tyquwan Glass
Glass might not only be Fresno State's best defensive player this season, he could be the best overall player on the entire team.
The senior returns after a strong 2015 campaign where he racked up 55 tackles and posted team highs with four interceptions and six pass breakups.
The 5-foot-11, 185-pound Glass did miss the final week of spring ball due to a minor injury, but there's no question that he will be the face of the Bulldogs' defense when they get back to work this fall.
Spring surprise: RB Dejonte O'Neal
O'Neal came to Fresno State as a walk-on last spring, and though he only saw action in four games in 2015, he entered this spring as the Bulldogs' top returning rusher.
The Fresno native emerged as one of the team's most effective runners during the spring scrimmages, and he was also used as a slot receiver at times in an effort to find more ways to get him the football.
It's unclear how much of a workload he'll get with some younger running backs coming up the ranks, but Warszawski thinks O'Neal will definitely have a role in Fresno State's offense in one way or another.
Punt returner could very well end up being another role for O'Neal.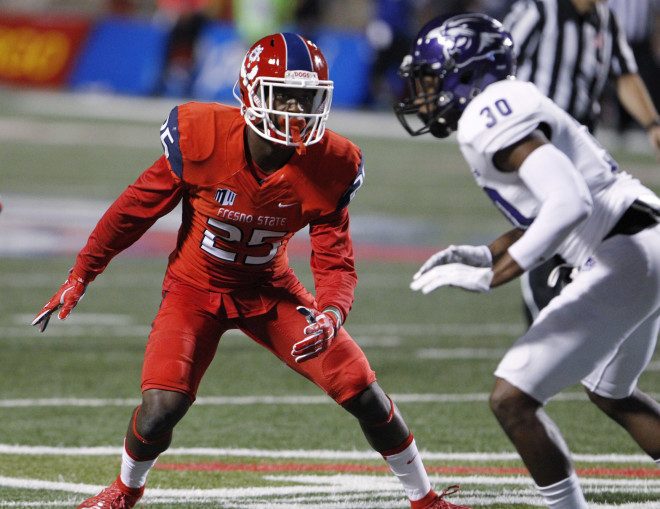 Best spring position battle: Wide receiver
With so many questions surrounding the rest of the offense, the group DeRuyter and his staff felt the best about coming out of the spring was easily the wide receivers.
Not only do the Bulldogs return their top two wide outs from last season in sophomores Jamire Jordan and KeeSean Johnson, who combined for 83 catches for 877 yards, they also get back senior Aaron Peck, who miss all of 2015 with a foot injury and might be their best receiver when healthy.
The blend of talented young guys and proven veterans made for some quality competition this spring, and as a result gives some hope for FSU's passing game regardless of who ends up throwing the ball at quarterback.
Biggest question: Is there enough talent?
With so many questions across the board still lingering around this team, it's hard to say at this point whether Fresno State is going to have enough horses to make the jump back up from last season's 3-9 debacle.
The quarterback remains completely unproven, the running game returns zero experience, and the offensive line will have a totally different look this year.
The depth on the defensive line and linebacker remain major concerns and will also be relying on juco transfers to make an immediate impact.
Early outlook on Fresno State vs. Nebraska
Warszawski: "I haven't really studied Nebraska yet, but I know they're not coming off the greatest season. But Fresno State, if you look back at how they've done that past couple seasons against Power Five teams, the results have been pretty atrocious, including Nebraska here in Fresno two years ago.
So if you're asking me how this game is going to go, it's going to be a pretty routine Nebraska win. I don't think it will be anything like when Fresno State came to Lincoln a few years ago when Derek Carr was a sophomore and gave the Huskers a decent game. It's definitely not the best way for Fresno State to open.
"I think it's a tough road. It's going to be one of those games where if they don't get blown out, probably some people will feel pretty good about that."
Overall 2016 win-loss expectations
Warszawski: "I think the ceiling on this team is somewhere between 4-8 and 6-6. You look at the non-con part of their schedule, Nebraska withstanding, is not as tough as it was last year when they had Ole Miss, Utah and BYU.
"I think gradual improvement is probably the most you can expect out of this team, so somewhere between 4-8 and 6-6 is probably where this team will end up.
"It's one of those years where they're just going to have to scratch and claw to improve just a little bit each week."