OL Valen Erickson explains his commitment to Nebraska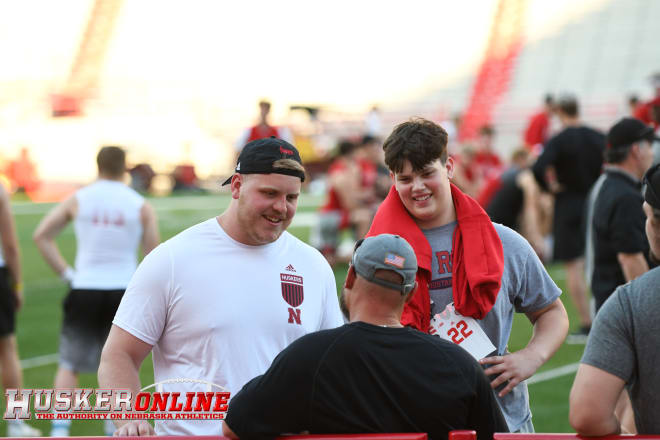 The Nebraska football team started fall practice today and they got some additional news with a commitment of one of their top overall targets in Illinois offensive lineman Valen Erickson.
The 6-foot-6, 300-pound Erickson wanted to get his college decision out of the way before he started practice for his senior campaign.
"It just felt right and I have been wanting to do it for a while and I have been waiting," Erickson said. "I just always knew it was the place I wanted to be."
The Chicago (Ill.) St. Rita product grew up in Florida before moving to Illinois, so he had followed Scott Frost and his staff when they were at Central Florida.
"Honestly, it was the people inside the building," Erickson said. "It was everybody on the staff. I know everybody on the staff, the defense coaches and everybody. They just reach out to me and it's just a different feeling with them.
"I talk the most with Frost, and (Greg) Austin, (Matt) Lubick, as well as (Mario) Verduzco and all those guys. It's been crazy contact with all of them nonstop."
The Husker coaches told Erickson he will start off in the interior of their offensive line, with the potential to play any of the positions.
"They see me as a hybrid guy, but I will start out at offensive guard and then see what works out," Erickson said. "I'm fine with that. My technique is very high, and just like my explosiveness and athleticism are my strengths."
For those of you wondering about the origin of his first name, he explained:
"I think it's of Viking origin, and another thing is my father looks exactly like the actor Val Kilmer," Erickson explained.
Erickson took an unofficial visit to Lincoln for the spring game, as well as an official visit in June. He developed a comfort level with everything he saw and experienced on those two trips.
"Honestly, I just feel it's going to be a program that's going to be very successful," Erickson stated. "I love the Trev Alberts hire because he's totally behind Coach Frost."
Erickson actually got to speak with Nebraska's new athletic director before committing.
"Yes, it was just a conversation about his input with the program and everything," Erickson share.
By process of elimination, Erickson chose Nebraska over a couple SEC programs.
"It ultimately came down to Nebraska and Mizzou, they were my final two," Erickson stated. "It kind of started out where it was between Nebraska, Missouri and Tennessee, and then I eliminated Tennessee. Then, I eliminated everyone else."
Erickson said that he is all done with the recruiting process and will only be taking future visits to see Nebraska play at home and on the road.
"I'm just excited. For sure I am going to be at a bunch of games. I'm actually going to be at Illinois for week zero."