Ohio State vs. Nebraska report card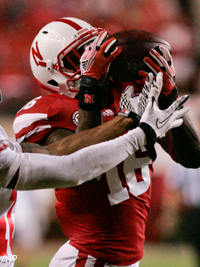 Nebraska pulled out a comeback for the ages in their first ever Big Ten Conference home game against Ohio State. The Huskers topped the Buckeyes 34-27, coming back from a 27-6 third quarter deficit.
The 21 point comeback was the largest in school history, as NU heads into their bye week 5-1. Here is Saturday's final report card grade out.
Rushing offense: A-
Nebraska had just 37 rushing yards on 19 carries at halftime, but the Huskers exploded for 195 rushing yards on 32 carries to fuel a second half comeback. Running back
Rex Burkhead
was once again a workhorse, finishing with 119 yards on 26 carries. At halftime Burkhead had just 10 yards on 11 carries. Quarterback
Taylor Martinez
was also effective on the ground and finished with 102 yards on 17 carries. Martinez did an excellent job of finding seams in the Buckeye defense and coming up with some clutch runs in the second half. I thought the offensive line wore down Ohio State's front seven and you really have to tip your hat to them as well.
Passing offense: B+
Martinez had the one interception before halftime which allowed Ohio State to kick a field goal and go up 20-6. Other than that Martinez had a very complete game throwing the football. He finished 16-of-22 for 191 yards and made some unbelievable plays in the second half. The poise he showed on the touchdown pass the Burkhead and his ability to hit the check down man was huge. You didn't see any panic from Martinez tonight. Considering the heat he was under this week, you really couldn't have asked for a better performance from him in the passing game.
Rushing defense: D
This was the biggest disappointment for Nebraska on Saturday. Everybody knew Ohio State was going to run the football, but NU still had a hard time slowing them down. The Buckeyes ran for 243 yards on the ground no 41 carries. The game obviously changed when quarterback
Braxton Miller
went down with an ankle injury. Miller was absolutely killing the Blackshirts, as he averaged 9.1 yard a carry and finished with 91 yards rushing. Running back
Carlos Hyde
added 101 yards, including a 63 yards touchdown that made the game 17-3. However, once Miller went down NU's run defense stepped up and got the job done. The game turned when
Lavonte David
took the ball away from Miller, which fueled NU's 21 point comeback.
Passing defense: B-
The decision to move
Stanley Jean-Baptiste
from receiver to corner makes
Bo Pelini
look like a genius right now. It almost reminds you of when they moved Cody Glenn from running back to linebacker. Jean-Baptiste's interception was the play that set up NU's game winning touchdown drive.
Joe Bauserman
was a dreadful 1-of-10, while Miller finished 5-of-8 passing for 95 yards. The only big play NU gave up in the passing game was the 32 yard screen pass to
Jake Stoneburner
, which was a very well designed play by the Buckeyes.
Special teams: A-
The only thing you can be critical about on special teams was
Brett Maher
struggled a little with his punting, but every other aspect was perfect. Maher hit two field goals from 50 and 34 yards and NU limited
Jordan Hall
in the return game, as he didn't have a single punt return and his long kickoff return was only 29 yards. Meanwhile
Ameer Abdullah
provided a spark on kickoffs, as his 35 yard kickoff return in the first half helped NU get a field goal on their opening drive to match the Buckeyes first score of the game.