Ohio State postgame nuggets
Here is a full rundown of what Nebraska head coach Scott Frost and his players had to say following their 52-17 loss at No. 5 Ohio State on Saturday…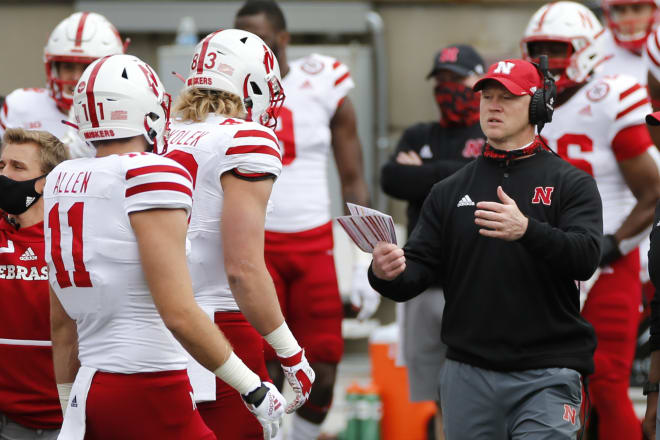 Head coach Scott Frost
***Frost said there were "a lot of good things" he saw from his team in the loss, and it was a handful of "self-inflicted" mistakes that led to the game getting out of hand. Frost said penalties, turnovers, and third-down defense were the biggest culprits.
***Frost added that he thought Nebraska hung in better physically against Ohio State than it did last year and was "proud of how the kids fought."
***Frost took the blame for the delay of game penalty on the first play of drive at the end of the second quarter when Ohio State had just gone up 17-14.
***Frost said he had "no idea" on whether the targeting penalties on Nebraska would be reviewed by the Big Ten this week and declined to comment much further. He said it looked to him like Deontai Williams' penalty wasn't targeting, but he called Cam Taylor-Britt's "a dumb play" regardless of intent.
Frost said he hoped "we can have some discussion about that. We'll see how it goes."
***Frost said the defense played hard and played well, but it also gave up a lot of yards. Frost said part of that was how good Ohio State is on offense, but NU had to get more stops.
***Frost said he's been telling everyone that Adrian Martinez and Luke McCaffrey were two of Nebraska's best players, and that certainly played out today. Frost said those guys couldn't turn the ball over like they did, especially if they're going to run that much.
***Frost said he thought his team responded well when OSU came at them early in the game, and he still saw some good things in that regard after that late first-half collapse.
***Frost said new offensive coordinator Matt Lubick had "made us better." He said the Huskers "stopped ourselves a lot today," but "when we played clean, we moved the ball well."
***Frost said NU needed to be able to push the ball down the field better in the passing game. He said OSU showed how that element could change a game and added that Nebraska had "a ways to go to be that kind of a threat, to hit a home run in the passing game."
***Frost said the young wide receivers were getting better, "there's no doubt about it." He said he liked how the tight ends got more involved in the passing game, and young wideouts gained valuable game reps at the end.
***Frost said he had no new information yet on tight end Jack Stoll's injury.
***Frost said Nebraska had "probably the hardest assignment in the league" for its Week 1 matchup, and now the Huskers had to face the defending Big Ten West champion in Week 2. Frost thought his squad definitely matched up better vs. Ohio State this time, and he hoped that continued vs. Wisconsin next week.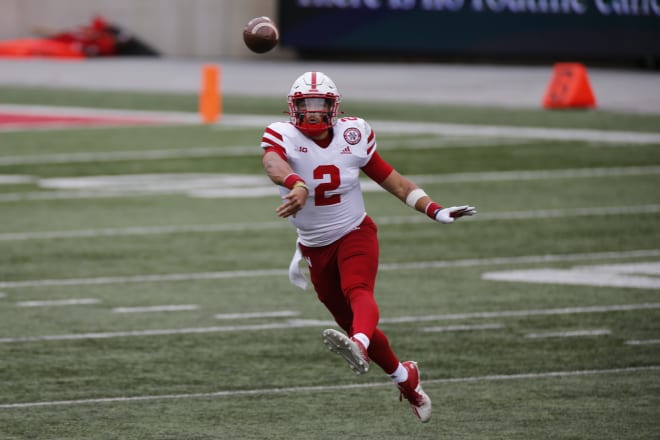 Junior quarterback Adrian Martinez
***Martinez said his immediate takeaway from the loss was that they couldn't shoot themselves in the foot with mistakes like they did today, especially against a team like Ohio State. He put that on his shoulders first and foremost.
***Martinez said he expected McCaffrey to continue to stay involved in the offense going forward.
***Martinez said Nebraska came out aggressive to start the game, but in the second half, they just made too many mistakes. He said the team's energy was great the whole day.
***Martinez agreed with Frost by saying another step for the offense was pushing the ball more downfield in the passing game.
***Martinez said rotating with McCaffrey didn't affect his rhythm in the game "at all."
***Martinez said playing in an empty stadium was "initially a little weird" but he didn't really notice it much once the game got going. If anything, it was the "in-between moments" in the action where it stood out the most.
Senior linebacker Collin Miller 
***Miller said the tackling was good vs. Ohio State and guys were "rallying to the ball," but they needed to create more turnovers and not beat themselves with penalties.
***Miller said he felt Nebraska competed "1,000 percent" better against Ohio State compared to last year. He said the way the majority of that first half went showed how much they'd closed the gap.
***Miller said Ohio State was a team that was never going to beat itself and had a quarterback in Justin Fields who would be a first-round pick in the NFL soon.
***Miller said there were points today where last year's team would've hung their heads and given up. He said that never happened on Saturday.
***Miller said the empty stadium wasn't much of an issue once the game kicked off. He said it's the same way with fans a lot of times because you're so locked into each play.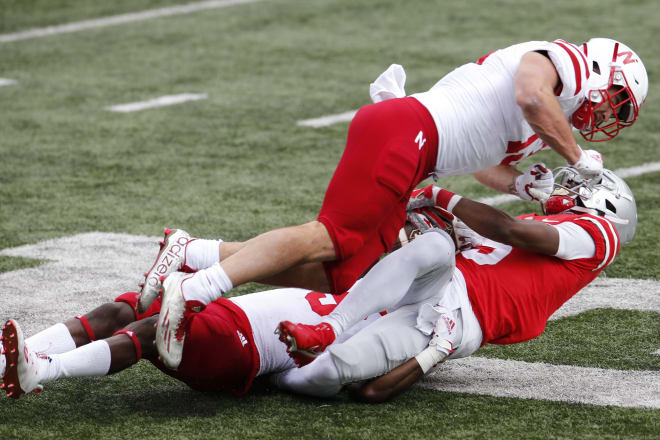 Senior linebacker JoJo Domann
***Domann said the defense did some good things, "but we have to get off the field on third down and had too many silly penalties. We've got a lot to correct for next week."
***Domann said Nebraska had already turned the page to Wisconsin and was focused on getting better next week.
***Domann said the balance of playing physically while also being careful about targeting penalties came down to being smart about how they hit. "It's tough when bullets are flying, but we're football players and we can do that."
***Domann said the Huskers were "sticking to the script" regardless of today's outcome, and there was a lot to be encouraged about despite the loss.
***Domann he felt really good about the way the defense set the edge in the run defense, especially against a team like Ohio State.
Senior offensive lineman Matt Farniok
***Farniok said McCaffrey "brought a good spark" to the offense, especially with how he and Martinez complimented themselves in their roles.
***On evaluating the offensive line, Farniok said there were some "mistakes that cannot happen against a team like that, and we absolutely left some points on the field." Farniok said those things could only be fixed by more reps and better focus on every snap.
***Farniok said the offense had to "find a way to attack" and answer when it had a chance like it did at the end of the first half.
***Farniok said redshirt freshman right tackle Bryce Benhart played "really well" in his first start and looked very confident and comfortable.
***Farniok said the running game was "decent" but they needed to do a better job of holding onto the football. He said the o-line created the "right type of movement" but they can't give the ball away like that.
***Farniok said center Cam Jurgens "did a really good job" and showed how much he'd improved since last year.