Ohio State postgame nuggets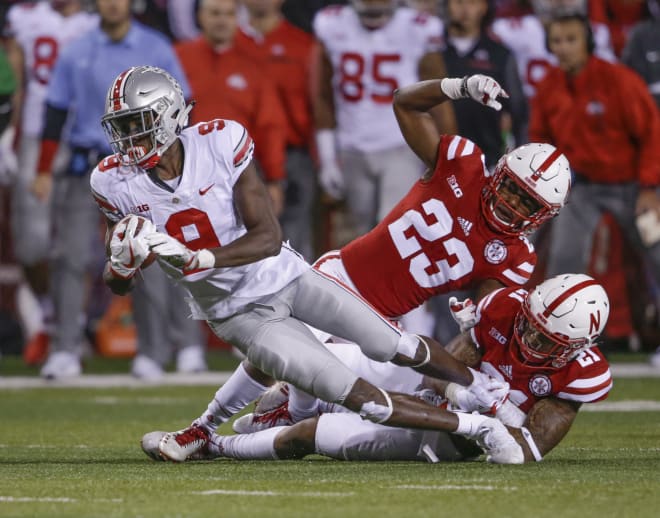 Here are some quick notes to pass along from Nebraska's postgame press conference following its 56-14 loss to No. 9 Ohio State on Saturday night…
***Head coach Mike Riley opened his press conference by saying there wasn't "a lot of anything happy, good to say about that one." He called it a very disappointing loss.
***Riley said Ohio State had everything going offensively, and there's a reason he calls the Buckeyes "the standard" of the Big Ten, and they showed it tonight.
***Riley said NU played without three of its top safeties in the game, which he said wasn't an excuse but was part of the reason the defense was so poor.
***Riley said not everyone wants to hear it, but they're looking forward to using the bye week as "a reboot" for the team going into the final five games.
***Riley said he didn't really see guys not having enough fight in the loss, it was more just being out-played and out-coached. "We really just had a hard time obviously keeping up with what they were doing with the totality of their offense."
***Riley said a game like this really paints the picture of how far away Nebraska is from "doing what you want to do" as a program. "That's the realism of it. It's a measuring stick."
***Riley said he would rely on the "trust" within the team to keep up the psyche of the team after a loss like this.
***Riley said there are some players who have gotten better despite not playing that much in the games yet. He said the staff would take a harder look at some of those players during the bye week.
***Riley said Joshua Kalu re-injured his hamstring during the game and they're not sure what his status is going forward.
***Riley said it would be a balance of practice and rest during the bye week, focusing on positional and individual areas to get better. They will have three days of practice (Tuesday, Wednesday, and Thursday), five days of meetings, a couple days of lifting.
***Riley said they decided after Tuesday's practice that they would move Dicaprio Bootle to safety with Antonio Reed and Aaron Williams out. He said they wanted a guy more used to playing man-to-man on the field as opposed to starting Kieron Williams or Marquel Dismuke.
***Riley didn't want to call this a "rebuilding year" despite how bad things have gotten, saying there's always building in every season within a team.
***Riley said he was obviously more optimistic about what this season would be going into the year, but now the focus had to be keeping up the team's confidence and not totally give up on the season.
***Riley was asked if he thought he would have enough time at Nebraska to build the program he wants to build, and he said he doesn't really think about that. It's not his decision, so he's going to keep working as if he's building NU for the long term.
***Senior captain and fullback Luke McNitt said "you never want to see Nebraska football like that", but insisted that the program was headed in the right direction, even if the fans didn't see it that way.
***McNitt said it's easy to quit when you fall behind like that, but he was proud of the way the Huskers kept fighting until the end.
***McNitt said "I don't think it was a lack of effort at all", instead crediting Ohio State for playing a great game.
***McNitt said his role as a captain would be to encourage guys to come back to work next week like it was the first day of fall camp.
***Linebacker Mohamed Barry said this was "the perfect time" for the bye week. "We need this in every phase."
***Quarterback Tanner Lee said his message to the team now was "all of our energy is going to the next game." He said it was important to rest up and recharge during the bye week.
***Lee said he appreciated the fans that stuck it out until the end of the game, and it hurts as much as anything that they couldn't play well for those fans.
***Linebacker Chris Weber said he has "tons of faith in the guys we have in that locker room." He said this was a resilient team and would be able bounce back and finish this season strong.