NUs Mount Rushmore: Offensive guard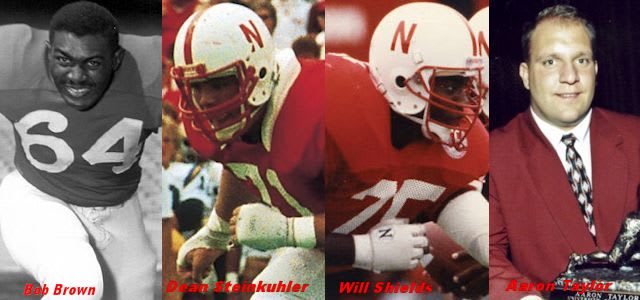 Over the next few weeks of summer HuskerOnline.com will introduce a new feature called "Mount Rushmore Nebraska."
Similar to the legendary Mount Rushmore monument in South Dakota, HOL will recognize the "four faces" for each position in Husker program history. These are the four players Nebraska would choose to put on a monument for each position.
As you can imagine, narrowing it down to four players at each position is not an easy task. We also wanted to make sure that all eras in the program's history were included in this, so you will see players from as early as the 1920's included in our Mount Rushmore lists.
Today we continue the series with HOL's Mount Rushmore for the offensive guard position.
Bob Brown - 1961-1963
It can be argued that no player in school history mixed collegiate and pro success as well as Brown did. He was a critical component of the 1963 team that won NU's first Big Eight championship. A bulldozer at offensive guard, Brown also played linebacker and, after garnering first-team All-American honors in 1963, was elected into the College Football Hall of Fame in 1993. Brown (No. 64) and linebacker Tom Novak (No. 60) are the only Huskers to have their numbers permanently retired at Nebraska.
But Brown's career didn't stop once he left Lincoln. The No. 2 overall pick in the 1964 draft, Brown won the Rookie of the Year and started 110 games over the next 10 seasons. He made the Pro Bowl six times and was named a first-team All-Pro five. The NFL included him on its 1960's All-Decade Team, then he was inducted into the Pro Football Hall of Fame in 2004.
Dean Steinkuhler - 1981-1983
Steinkuhler's finest season was in 1983, when he helped pave the way for Nebraska's "Scoring Explosion" offense. He won both the Lombardi and Outland trophies that season and capped the year off by scoring on one of Nebraska's most famed plays ever, when he scooped up Turner Gill's intentional fumble for a 19-yard touchdown in the 1984 Orange Bowl, the first ever "Fumblerooski."
Steinkuhler was taken with the second overall pick in the 1984 draft by the Houston Oilers. He played eight seasons in Houston before retiring in 1991. His sons Ty and Baker also played football at Nebraska and were valuable members of their respective teams.
Will Shields - 1989-1992
Though Shields never won a title at Nebraska himself, he paved the way for the championship squads that would arrive just a few years after he graduated. An all-conference honoree in three straight years, Shields helped Nebraska win the national rushing title in three of his four seasons. Just the second offensive lineman in school history to start as a freshman (nine starts in 1989), Smith was a consensus All-American and won the Outland Trophy as a senior in 1992.
As brilliant as his college career was, Shields was even better in the NFL. Selected in the third round of the 1993 draft by the Kansas City Chiefs, Shields never missed a game in his 14-year career. He went to the Pro Bowl 12 times and made the All-Pro team seven times, including five straight (2002-2006). Already a member of the College Football Hall of Fame, it's only a matter of time until Shields is inducted into the professional hall as well.
Aaron Taylor - 1994-1997
Taylor could have been included at either guard or center for this exercise, as he is the only Husker lineman to earn All-American honors at two positions (center in 1996, left guard in 1997). Nebraska went 49-2 over his career, winning three national titles. Taylor saved his best work for his senior year, when he helped the Huskers lead the nation in scoring, rushing offense and total offense en route to the national championship. He posted a then school record 137 pancake blocks and won the Outland Trophy in his final season.
A member of Sports Illustrated's NCAA Football All-Century team, Taylor played just one season in the NFL, splitting 1998 between the Indianapolis Colts and Chicago Bears.

Just missed the cut
Brendan Stai - 1991-1994: Stai combined with Zach Weigert to form an incredible tandem on the right side in 1994, when Stai took home first-team All-American and All-Big Eight honors. After winning the national title his senior year, Stai went on to play eight seasons in the NFL, starting 96 games. He's currently a football intern for the team.
Russ Hochstein - 1997-2000: A two-time All-Big 12 selection and a first-team All-American in 2000, Hochstein piled up 346 pancakes in his career, including 23 against Notre Dame in 2000, tying a then-Nebraska's single-game record. Hochstein went on to play 13 years in the NFL, winning three Super Bowl titles with the New England Patriots.
Toniu Fonoti - 1999-2001: Had Fonoti not left a year early, he would have a shot to be higher on this list. In his three seasons in Lincoln, Fonoti was a two-time All-Big 12 selection and was a first-team All-American and Outland Semifinalist in 2001. He has the school record for pancakes in a game (32 vs. Texas Tech, 2001), season (201) and career 379), though Nebraska has not always kept those statistics.