NUs Mount Rushmore: Defensive tackle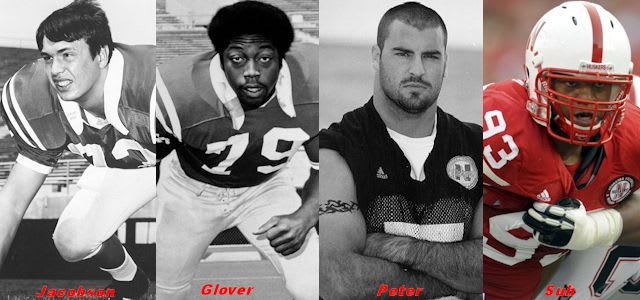 Over the next few weeks of summer HuskerOnline.com will introduce a new feature called "Mount Rushmore Nebraska."
Similar to the legendary Mount Rushmore monument in South Dakota, HOL will recognize the "four faces" for each position in Husker program history. These are the four players Nebraska would choose to put on a monument for each position.
As you can imagine, narrowing it down to four players at each position is not an easy task. We also wanted to make sure that all eras in the program's history were included in this, so you will see players from as early as the 1920's included in our Mount Rushmore lists.
Today we continue the series with HOL's Mount Rushmore for the defensive tackle position.
Larry Jacobson - 1969-1971
A two-time national champion, Jacobson won Nebraska's first Outland Trophy in 1971. During that senior campaign, he piled up 73 tackles, including 12 for loss, as he garnered both All-Big Eight and All-American honors. Jacobson played a critical role on NU's defense, which finished second nationally in rush defense (85.9 yards per game), fifth in total defense (202.9) and third in scoring defense (8.2).
Jacobson was one of three Huskers selected in the first round of the 1972 draft. He played three seasons with the New York Giants before a broken leg essentially ended his career.
Rich Glover - 1970-1972
Glover teamed with Jacobson to form one of the most intimidating interior defensive line tandems in college football history. A key contributor on NU's 1970 and 1971 national championship teams, Glover was a consensus All-American in each of his final two seasons and finished third in the Heisman voting in 1972. He posted 100 tackles in his senior season, winning the Outland Trophy and Lombardi award. But his most impactful performance might have come a year earlier, when he finished with 22 tackles to help the Huskers beat Oklahoma in the "Game of the Century." Glover was inducted into the College Football Hall of Fame in 1995.
A third-round pick of the Giants, Glover played two years (1973 and 1975) in the NFL.
Jason Peter - 1994-1997
One of the winningest players in program history, Peter won three national titles and four bowl games while posting a career 49-2 record during his time in Lincoln. He started each of his final three seasons, culminating with a stellar senior campaign that brought him both All-Big 12 and All-American honors. Peter had 15 tackles for loss and 7.0 sacks that season as the Huskers finished fifth nationally in total defense.
The No. 14 overall pick in the 1998 draft, Peter had a successful four-year career with the Carolina Panthers (186 tackles, 17.5 sacks) before a neck injury forced him to retire in 2001.
Ndamukong Suh - 2006-2009
There have been few seasons in school history as dominant as Suh's in 2009. A consensus All-American and Heisman Trophy finalist, Suh was named the Associated Press College Player of the Year and won the Nagurski, Bednarik and Lombardi awards after finishing with 85 tackles (24 for loss), 12 sacks, three blocked kicks, 10 pass breakups and an interception. His complete demolition of Texas in the Big 12 Championship Game (12 tackles, seven for loss, 4.5 sacks) nearly willed the Huskers to a conference title and got him a trip to New York for the Heisman Trophy ceremony. The first defensive lineman to lead Nebraska in tackles in consecutive seasons, Suh finished his career with 215 tackles (57 for loss), 24 sacks, six blocked kicks, 15 pass breakups and four interceptions.
His success continued in the NFL after the Detroit Lions made him the second overall selection in the 2010 draft. He took home Rookie of the Year honors that season and has made three Pro Bowls and four All-Pro selections (three first team, one second team). Suh is widely acknowledged as one of the league's most disruptive defensive linemen.

Just missed the cut
Wayne Meylan - 1965-1967: Meylan set the tone for NU's great tradition with defensive tackles. He was twice a consensus first-team All-American, winning the Big Eight Conference Player of the Year award both times, and left Nebraska as the school leader for tackles in a season (119) and a career (238). Meylan also blocked three punts, returning two for scores. He played for three seasons in the NFL.
Mike Fultz - 1974-1976: Fultz made two All-Big Eight first teams and was a first-team All-American in 1976. The Lincoln native had 186 career tackles, 29 of which went for a loss. He played four seasons in the NFL after being selected in the second round by the New Orleans Saints.
Jim Skow - 1983-1985: Skow's first two seasons were solid, but he exploded as a senior, racking up 25 tackles for loss and 15 sacks, which is still the NU record by a defensive tackle for one season. Those stats helped him take home All-American honors. Skow played seven seasons in the NFL and finished his career with 24 sacks.
Danny Noonan - 1984-1986: An All-American and All-Big Eight selection his senior year, Noonan finished his career with 126 tackles, including 33 for loss, and 24 sacks. The Dallas Cowboys made him the No. 12 overall pick in the 1985 draft and played seven years in the NFL, starting 41 games and collecting 16 sacks.
Christian Peter - 1992-1995: Christian never received the accolades of brother Jason, but he was a very productive player in his own right. A first-team All-Big Eight pick in 1995, Peter's best statistical campaign actually came a year earlier when he finished second on the team with 71 tackles (14 for loss) and 7.0 sacks. He played six seasons in the NFL.