NU shuts down in second half, falls 41-21 to UCLA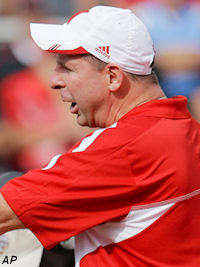 The old cliche "A Tale of Two Halves" wouldn't even begin to describe the second half collapse that happened to Nebraska against on Saturday.
After jumping out to a 21-3 in the second quarter, the Huskers (2-1) completely fell apart on both sides of the football, as the No. 16 Bruins (2-0) exploded back with 31 unanswered points to run away with a 41-21 victory in front of a stunned Memorial Stadium record crowd of more than 91,000.
"For some reason, we didn't show up in the second half. We had a number of opportunities to move the sticks, to take the momentum back, to at least gain some momentum to stop what was going, and we didn't do it. The pendulum started to go the other way, and we needed to make a play. We continuously had opportunities to make plays and didn't make them. I thought special teams-wise, we killed ourselves the whole game. The field position at times hurt us, but at the end of the day, we just didn't execute well enough to win the football game and played a horrendous second half. You could talk about it all day, but that's what it came down to."
The Bruins got on the board on their next drive with a 43-yard field goal by Kaim Fairbairn to make it 7-3 with 7:13 left in the first quarter, but the majority of the half belonged to the Huskers from there on. Nebraska quickly responded on its ensuing possession with a dominant 17-play, 92-yard drive that took up more than 6:30 and punched it in with another 14-yard scoring strike from Martinez to Enunwa to push the lead to 14-3 at the end of the quarter. The play was Enunwa's fifth touchdown in nine catches on the season.
After another three-and-out by NU's offense, the Bruins came right back and took their first lead of the day on a pretty 28-yard touchdown pass down the left sideline from Hundley to Shaquell Evans, putting UCLA up 24-21. UCLA then scored again on its next possession with a 12-yard touchdown pass to fullback Philip Ruhl and completely erased any momentum the Huskers had built up through the first two quarters.
When all was said and done, UCLA had scored 28 unanswered points and out-gained the Huskers 157-40 in the third quarter alone, making a game that once looked to be an NU blowout turn completely in the other direction. The 28 points were also the most ever allowed by Nebraska in one quarter inside Memorial Stadium.
"I think in the second half I kind of got the sense that we needed to try and hold onto the lead," Martinez said. "I think we were trying to, but we should have just gone out there and tried to just blow them out."
That would prove to be the final nail in the coffin for NU, as Fairbairn added one last field goal in the closing minutes to give the game its final score, 41-21.
The Huskers will try and get back on track next week when they play host to South Dakota State for a 2:30 p.m. kickoff.
"I just told our team they can't worry about what's happening on the outside," Pelini said. "We know what we're capable of as a football team. You have to stick together in times like this. I've said it over the first three weeks. My goal, always, is to win every football game. But we have to stay with the process of where we are as a football team and what we have to do to get better. We can't worry about what people are saying outside. It's gonna be negative. By the fans, by the media, by everybody.
"In times like this, we have to stick together. They only people that can fix it is us and that's a challenge we have. If we worry about what people are saying on the outside, then things are going to go a bad way."

[rl]