Notes: Injuries continue to plague defensive line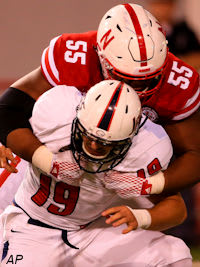 Click
Here
to view this video.
[rl]In the midst of playing the best game of his collegiate career,
Kevin Maurice
barely even noticed when he suffered an injury that could very well sideline him for the next month.
While earning his first career start and racking up a career-high eight tackles last week against Illinois, the junior defensive tackle endured a stress fracture in his foot, which he played through the rest of the game. Head coach
Mike Riley
said that after further medical evaluation, Maurice would have to wear a protective boot on his foot for at least the next four weeks, further depleting an already banged up defensive tackle rotation.
"He couldn't even tell me for sure when he did it (during the game)," Riley said on Monday. "He didn't know. It just bothered him after the game and they looked at it."
Maurice now joins fellow defensive tackles
Vincent Valentine
and
Kevin Williams
on the injury list going into this week's home game with Wisconsin, leaving the Huskers suddenly very thin at a position that was one of their deepest groups going into the season.
Riley has essentially already ruled out Williams (hand) for a second straight game on Saturday, but is holding out hope that Valentine - who also missed the Illinois game with an ankle injury - will be able to return in some capacity against the Badgers. The Huskers only practiced in helmets, jerseys and shorts on Monday, so his status won't be known until later in the week.
"We had an optimistic report on him last night, so we'll see how he does," Riley said. "This is going to be a deal where he hasn't done much in a while, so as he goes through practice we'll have a better idea."
Whether Valentine plays or not, Riley said the Huskers would have to get creative with their defensive line rotations because of the injury situation. Some of that could include moving defensive end
Greg McMullen
inside to tackle, which he did a handful of times vs. Illinois, or pulling true freshman
Carlos Davis
out of his redshirt - though Riley called the least favorable option.
Defensive coordinator
Mark Banker
said the No. 1 option at defensive tackle this week would be moving McMullen inside if Valentine can't play. Junior
Maliek Collins
added that he expected redshirt freshman
Mick Stoltenberg
to play quite a bit as well.
"The Greg McMullen idea is real," Riley said. "Greg is smart and has that kind of size where he can be effective in there. With getting Jack (Gangwish) back and the way Freedom (Akinmoladun) has been playing, we'll have to look at that."
Quick hits
***Like Riley said, defensive line coach
Hank Hughes
made it seem as if pulling Davis out of his redshirt was the very last resort for helping the defensive tackle depth. At this point it seems as if that is not happening.
***Banker also the coaching staff was "not going to hold our breath" about linebacker
Josh Banderas
(groin) returning this week. Banker said right now they're preparing as if walk-on
Chris Weber
will make his third start in a row.
***Once Banderas does return, Banker said there was little chance either he or Weber would move outside, saying both players are inside linebackers. Banker said they tried to play
Dedrick Young
at both inside and outside linebacker against Southern Miss and it did not work out well.
***Collins said he played every defensive snap against Illinois. Banker said Collins' big game allowed Nebraska to rush with just four linemen and still get solid pressure, which made life much easier for the rest of the defense, especially the secondary.
***Banker said Wisconsin runs a variation of one offensive play 70 percent of the time, "and they do it well." He said they expect a heavy dose of power running and play-action passes from the Badgers.
***Banker said he was obviously disappointed to see Maurice get injured after his breakout game, saying Maurice "absolutely played his ass off" vs. the Illini.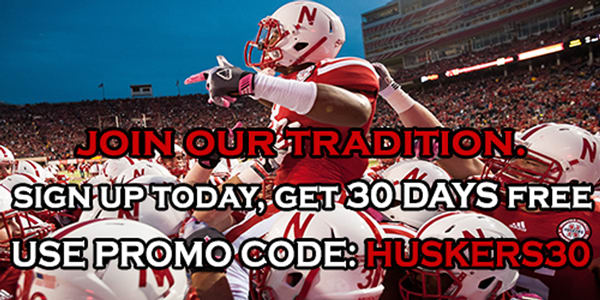 Click
Here
to view this Link.
[rl]