Notebook: Why did Kalu's move to safety happen?
Before Nebraska broke off for spring break on Mar. 16, a significant personnel move was made in the secondary.
New defensive coordinator Bob Diaco moved senior cornerback Joshua Kalu from corner to safety. When asked about the move on Tuesday, Diaco said it's all about getting the best 11 players on the field.
"It looks like Josh and some others need to maybe take a look at another position to see just how many good players we can get on the field at one time," Diaco said.
Said safeties coach Bob Elliott:
"It's an effort to put the four best guys on field in the secondary. That's really all it is. So it has to do with Kalu, but it also has to do with Lamar (Jackson). If Lamar is one of the best four and Kalu is one of the best four – and we don't know that for sure but it's starting to look that way – then they need to be able to play and play together.
"So that was the original thought, we're looking to put the four best guys together on the field."
The move also will give the Huskers a lot of versatility with how they rotate personnel on and off the field.
"Our field safety has to go out there and cover the slot and that gives us a real advantage I think," Elliott said. "With a corner type covering the slot receiver, that is good for us. We don't necessarily have to put the nickel in to play then on third down."
Everything obviously remains fluid with the situation, but it appears Kalu's move will be a permanent one.
Cornerbacks coach Donté Williams said everybody on the defensive staff is on board.
"It was pretty much a meeting of the minds," Williams said. "Coach Diaco, Coach Elliott, myself, Coach (Mike) Riley; It was pretty much a collection of things looking at the players making sure we make sure we get the best players on the field. It's not to say it's all done right now.
"We are just trying different things to see what works and gels as a unit, and try to get the best guys on the field together."
- Sean Callahan
Defensive transition progressing by the day
While Nebraska's players took last week off as a chance to regroup and recharge over spring break, Diaco took the opportunity to review all that had gone on during his first two weeks on the job.

Diaco and his defensive staff were definitely faced with a tough task this offseason in transitioning from a 4-3 base defense to Diaco's 3-4 scheme, and while a lot of work remains to be done, Diaco said he's been pleased with the progress thus far.
"I feel like we're putting another coat of paint on, and that's exciting," Diaco said. "Every coach, myself mostly, got better today, tried to get better. Every player is improving.
"Not that we all love every role that we have, and not that every player loves every role that they're going to be asked to play, but if you're getting better and improving, how could you be upset, and how could you not feel like you're moving forward as a team?"
Diaco added that this spring has included a bit of experimentation in terms of trying out some players at different positions to see if they can find better fits.
Along with moving Kalu to safety, Diaco said they've shuffled a few other players to new roles, though he wouldn't specify on who or what those were.
Diaco said not to put too much stock in spring position moves, but noted that all of the change they've tried thus far have been met with open arms by the players.
"I believe that we're building depth, and I can see that where we have a very responsible group that wants to serve," Diaco said. "So they're willing to move around and shuffle around. They're not getting too excited about looking at different spots.
"They're gaining a lot of understanding of the fundamentals necessary to play in our structure. So that's been very pleasing."
- Robin Washut
Ferguson rejoins the mix at outside linebacker
For the first time this spring, Tyrin Ferguson was back in action for Tuesday's practice.

The sophomore linebacker had missed the first two weeks of spring ball while recovering from a knee scope operation.
Though he hasn't even practiced with pads on yet, the New Orleans native has already made a strong impression on his coaches. Ferguson is starting out at outside linebacker, a position at which Diaco said he could potentially thrive.
"Tyrin rejoined the group today," Diaco said. "We put him outside to look at him in space. He's an athletic, fast player, and it looks like he's got some aptitude there."
Ferguson opted to redshirt last season but was still able to split his practice reps between the scout team and varsity defense.
As a true freshman in 2015, the former Edna Karr (N.O.) standout saw action in 10 games primarily on special teams, finishing with five total tackles.
- Robin Washut
Parrella a big fan of Raiders' move to Las Vegas
The NFL voted 31-1 on Monday to move allow the Oakland Raiders to move to Las Vegas.

Current Nebraska defensive line coach John Parrella played for Oakland from 2002-04 and finished his career with the Raiders.
When asked about the Raiders move on Tuesday, he was all for it.
"Nice. I love it," Parrella said. "I mean the one thing I truly appreciated when Al Davis was alive was his willingness to be different and be that rebellious team. I always liked that about him. He was always good to me and good to my family and now Mark (Davis) is doing a great job. I wish those guys the best.
"I'm fired up to see them play. I'm not a big Vegas guy, but I love the Raiders. It's going to be awesome. I wish it was next year. I've got to wait 3 years. I mean come on, it's only $1.9 billion."
-Sean Callahan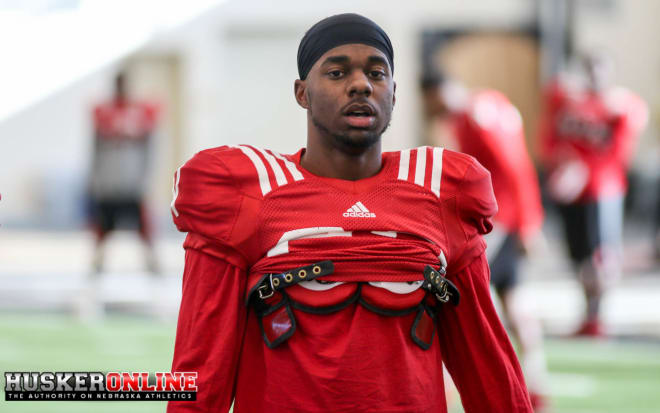 Quick hits
***Williams said with Kalu moving to safety, the No. 2 cornerbacks were Eric Lee and DiCaprio Bootle. Williams said Bootle was a guy who has "wow" moments but then also has times where he shows he still has a long way to go.
***Parrella said two guys who have emerged up front after the three starters were Peyton Newell and Khalil Davis.
***Diaco said he coaches the punters the same way he does the linebackers, which he said was a bit of a shock to the punters at first. But they have embraced the change in coaching style and have done well this spring.
***Linebacker Chris Weber said he likes being coached by both Diaco and linebackers coach Trent Bray, saying it's great to get two different teachers to help learn the new defense.
***Weber said he and Dedrick Young are responsible for making the pre-snap defensive adjustments, so not only do they need to know their assignments as well as the other three linebacker spots, but also what the secondary needs to do.
***Tuesday marked the final "acclimation practice" for freshman wide receiver Keyshawn Johnson Jr., who was officially cleared to practice the Tuesday before spring break after recovering from an illness stemming from an appendectomy in December. Johnson will be able to suit up in pads for the first time as a Husker on Thursday.
***Defensive end AJ Natter continues to sit out with an undisclosed injury. Natter sat out the entire week before spring break as well.
***Nebraska added five new walk-ons to the roster who made their practice debuts on Tuesday:
No. 42 Derek Zimmerman, WR/P, Jr (Adams Freeman)
No. 41 Jose Marquez, DB, Fr.
No. 40 Brandon Robbins, WR, Fr. (Bellevue East)
No. 90 Jackson Walker, P, Jr.
No. 38 Damion Jackson, LB, Fr.
***Despite taking a 12-day break from practice, it appeared the Huskers came back on Tuesday ready to work.
"The energy was great," sophomore safety JoJo Domann said. "Guys were flying around. The offense was good and our defense is getting better. It was fun to get back on the field with all these guys."