Notebook: Riley announces Spring Game format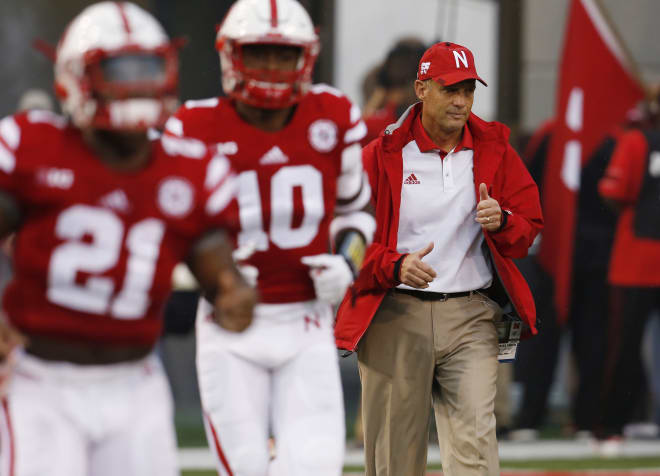 Nebraska wrapped up its 14th and final practice on Thursday before making its unofficial 2017 debut during Saturday's annual Red-White Spring Game.
It seems as if every year the game has a different look to it, and head coach Mike Riley broke down how this spring's edition will look for the more than 70,000 fans expected to be in attendance.
Riley said the coaching staff would meet on Friday and essentially draft two teams that will play against each other. The first half will be timed and officiated like a real game, while the second half will feature two 15-minute quarters with a running clock.
"All the time restraints, TV timeouts, all that stuff," Riley said. "So kind of a normal, regular time of the game and officiated like that."
Maybe the biggest wrinkles will come on special teams. Riley said they would utilize some unique formats for the kicking and return units, but the goal was to get every specialist on the roster a chance to get at least one or two plays in at their respective positions.
On kickoffs, Riley said NU would just have the kicker and the returners on the field, and hope to do about 4-5 punts with the full teams but no live returns. They will also kick field goals and extra points as normal.
"We want to look for touchbacks or where we might place the ball (on kickoffs) - the 25, 30, 35, depending on the placement of the kick," Riley said. "We want to give those (return) guys a chance to catch the ball, make choices of what they're going to do.
"Then with the punts, we want to get Caleb (Lightbourn) four or five punts with the group in here. There won't be any live return on it, but we want the punting done."
The last noteworthy item for the spring game is that, as expected, the quarterbacks would not be live for contact.
"It is not live on the quarterback," Riley said. "The officials will make a decision on the sack or not, which is always interesting. Somebody will argue. That's just a given."
- Robin Washut
Langsdorf: Decisions on QBs coming 'as soon as we can'
When Nebraska takes the Memorial Stadium field on Saturday, there's no doubt that all eyes will be on the quarterback position.
One of the biggest storylines all spring, the competition for the starting job between junior Tanner Lee and redshirt freshman Patrick O'Brien continues to wage on entering the Red-White game.
Last Saturday Riley gave his thoughts on the position and said he'd like to make a decision on a starter sooner than later after the Spring Game wraps up. On Thursday, offensive coordinator Danny Langsdorf echoed those sentiments.
"As soon as we can," Langsdorf said when asked when the staff wanted to name a starter. "I think taking that next week and really evaluating the entire spring, just having a lot of meetings and talks about where we're at and where we need to be.
"I don't have a date, but we're going to get going on that as soon as we can. The discussions have already begun. We don't want to have it necessarily drag out forever, but I can't give you a day, either. It's a decision that we want to make soon and just get going with it."
Langsdorf did say they would most likely decide on the quarterback depth chart before the start of fall camp in August at the latest. That means that the Spring Game could be the final opportunity for Lee and O'Brien to put a strong performance on film, this time in front of 70,000-plus fans.
Langsdorf said he wasn't going to put any additional value on the Spring Game than any other practice thus far, but noted he would be keeping an eye on how his quarterbacks operated the offense on a big stage for the first time.
"It's going to be a deal where there will be a bunch of people in the stands, and that will be different," Langsdorf said. "Making sure that we have a lot of poise and don't get too caught up in all the hype of the day. So that'll be different for them.
"But in terms of the evaluation, it'll be heavily graded and looked at like all of our practices have been. So it's an important practice, but it's anything way different in terms of the whole entire spring and how we've evaluated them."
- Robin Washut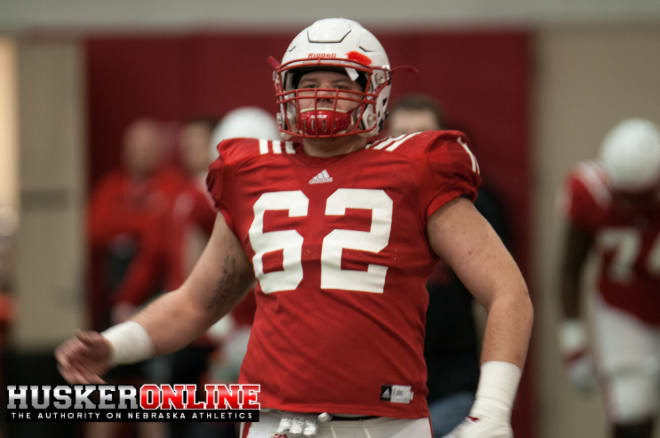 Conrad embracing move to center
As junior offensive lineman Cole Conrad looks at his move to center, he'll be the first to tell you he wasn't all that surprised.

Center was the lone spot on the team where NU really didn't have any experienced players returning, and he knew it could be a good fit for him in the long run.
"It wasn't a shock really," Conrad said. "It was just one of those things that if it helps the team out, I'm all for it.
"I definitely am getting more comfortable at center. So yeah, it's a good fit for me."
Also, with David Knevel and Nick Gates seemingly locked in as the top tackles, moving to center probably gives Conrad his best opportunity to be a starter.
"As a competitor and a football player you want to be that guy and you want to start," Conrad said. "However, at the end of the day whatever helps the team being best at winning ball games, that's what I want to do."
- Sean Callahan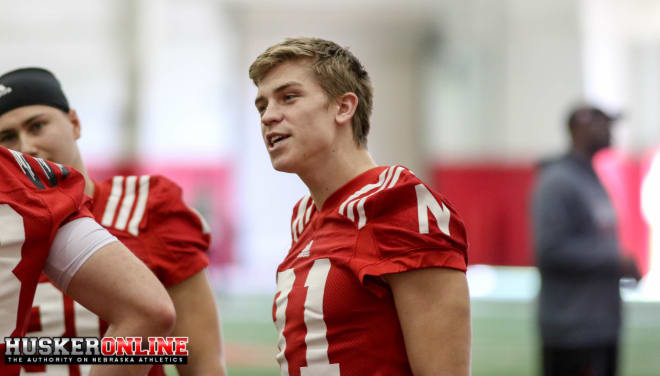 Young hopes to finish spring with a bang
The last few years we've seen an in-state walk-on receiver make a move for playing time during the spring. First it was Brandon Reilly from Lincoln Southwest, and last year it was Bryan Reimers from Lincoln East.

In 2017, it appears sophomore Cozad native Conor Young is poised to be the next in-state walk-on receiver to get a serious look for playing time.
"When you see guys like Brandon Reilly who worked their butt off, and then we he got his chance he took advantage of it," Young said. "The same thing with (Reimers), he kept working and doing the right thing.
"When you get a chance, you have to be ready to take advantage of it. That's really what I'm looking to do. When I get a chance, I want to step up and show them I'm a guy they count on."
Young will get no better chance to prove himself than on Saturday during the Red-White game in front of over 70,000 fans.
"It's an opportunity to showcase yourself and show you can do it on a little bit bigger of a stage and do everything we've worked on for all spring," Young said. "Just try to bring it together for one more good practice before we go into the summer."
- Sean Callahan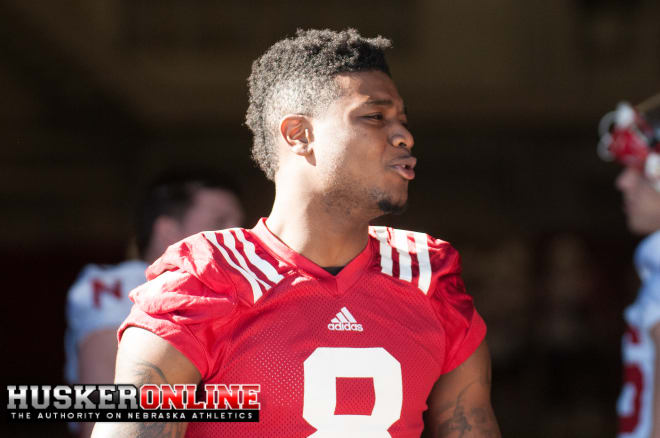 Quick hits
***Receiver Stanley Morgan (neck) and safety Aaron Williams (unknown) both wore green non-contact jerseys on Tuesday, but Reimers (knee) was a full-participant after wearing a green jersey on Tuesday.
Langsdorf said Morgan's status for the spring game was still to be determined, but Reimers should be good to go.
***Langsdorf said the thing he was most pleased with from last Saturday's second spring scrimmage was the offense's efficiency on first downs the entire day.
He said they were "50/50" on third downs and missed some big plays for touchdowns and first downs at times, but the offense did a good job of keeping drives on schedule on first down.
***Langsdorf said there were "six or seven" offensive linemen all battling for starting jobs across the offensive line. Along with the competition at center, Langsdorf said Boe Wilson has really been pushing Tanner Farmer at right guard.
***Knevel said since the end of last season he's been preparing to make the most out of his final year as a Husker in 2017. One big change he's made has been in his strength and conditioning. He said he's been focusing far more on "fundamental strength" as opposed to just lifting to get big and strong.
***2018 Rivals100 cornerback Brendan Radley-Hiles and 2018 Rivals250 wide receiver Joshua Moore out of Bradenton (Fla.) IMG Academy and Rivals250 wide receiver Manuel Allen out of Corona (Calif.) Centennial both took in Nebraska's practice inside Memorial Stadium on Thursday.
All three prospects began their unofficial visits today and will be in Lincoln through the spring game weekend.