Notebook: Quarterbacks shine in first spring practice
Nebraska officially kicked off its 2017 season on Saturday with its first practice of the spring, and as expected, all eyes were on the quarterbacks.
With the competition between junior Tanner Lee and redshirt freshman Patrick O'Brien now fully underway, head coach Mike Riley said he was extremely pleased with how far along both quarterbacks were on Day One.
"I think that's probably the thing that might have stood out the most in our initial first day," Riley said. "It was pretty well defined coverage-wise of what they were going to see, so nothing surprised them today necessarily.
"But I think just in general handling it, I'm thinking - I'm hopeful, because I want to continue it - that the work we did with Patrick and Tanner on every Sunday during the season, which was pretty extensive… I wanted to see how it would play out today, what that meant to them the first day of spring practice…
"What we saw was pretty comfortable guys. They made some plays, they made mostly right reads, they were fairly efficient in how it all looked. So I think it worked."
As Riley hinted during his pre-spring press conference, the Huskers actually held a coin toss to determine whether Lee or O'Brien would take the first snaps with the top offense to start practice.
O'Brien ended up winning the toss, and Riley said going forward they would just rotate each day between Lee and O'Brien for the first snaps.
Regardless of when they took the field, Riley said both QBs hit the ground running with their overall execution.
"I thought the quarterbacks operated pretty confidently with what we were doing," Riley said. "Sometimes it can be a lot sloppier than that on the first day, and I thought it was pretty good. I thought it was pretty clean, and the operation of everything was pretty good. It was a good start."
It wasn't just Lee and O'Brien who raised some eyebrows with their play under center on Saturday. Riley said true freshman Tristan Gebbia also impressed in his first collegiate practice.
While Gebbia - who's listed at 6-3, 180 - still needs to add quite a bit of muscle to his frame, Riley said from a pure quarterbacking standpoint the former four-star prospect more than held his own.
"He's got a great release," Riley said. "He's a football junkie. None of this stuff surprises him. He loves it. He loves to talk about Cover 2, all that stuff. It is very good."
- Robin Washut
Diaco's energy steals the show on Day 1
Without a doubt the overall energy level of new defensive coordinator Bob Diaco really jumped out in spring practice No. 1.
Diaco was full of energy running around the field and making sure guys were playing with maximum effort on Saturday.
"I think his enthusiasm was a lot like the (job) interview," Riley said. "That was not surprising to me. I've seen him also talk to the team since he's been here, and I'm serious basically about our first meeting in the interview process - it was very enthusiastic.

"He has an enthusiasm in his teaching that is contagious. I knew his resume and I knew what he accomplished, but the thing that was really exciting to me was the interview and how he basically talked football. What you saw today was not a surprise to me, and I believe that's who he is."
It was also fun for players to get a chance to work on the field with their new defensive coordinator for the first time.
"He's animated and he's hands on," senior linebacker Chris Weber said of Diaco. "He's going to let you know when you did a wrong play and he's going to let you know when you made a good play. I really like that."
-Sean Callahan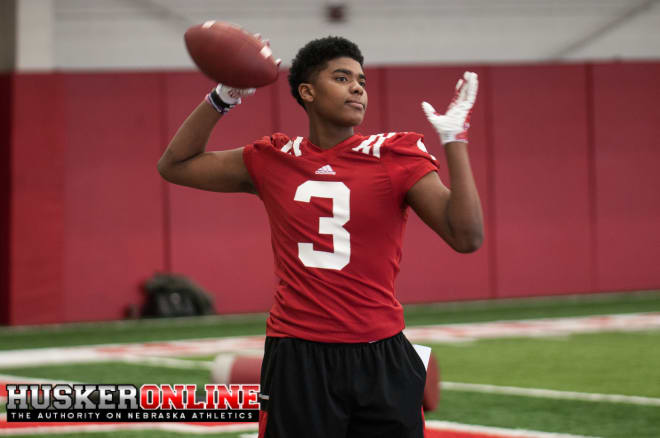 Johnson Jr. out due to worrisome illness
There was only one new injury note to report from Saturday's opening practice, and it had to do with a relatively concerning health situation for freshman wide receiver Keyshawn Johnson Jr.
The former four-star prospect was in attendance but did not practice, and afterwards Riley said Johnson has been dealing with side affects from an appendectomy he underwent just before Christmas.
Riley said Johnson has suffered several setbacks in his recovery since the surgery over the past couple of months, and he still wasn't recovering well enough after arriving in Lincoln for the start of the spring semester.
The good news was Riley said they don't expect Johnson to be out significantly longer, and are even holding out hope that he could return to action sometime after spring break.
However, given the seriousness of the situation, Riley said the Huskers are going to be extremely careful in how they handle brining Johnson back.
"He is getting better," Riley said. "We expect him to be fine eventually… We were very worried about him. Still are a little bit, but he has gotten a lot better.
"He is running now. I'm hopeful he can get a little work in, but we're not going to push it."
- Robin Washut
Quick hits 
***Riley, who has plenty of experience coaching a 3-4 base defense, said he was fully confident Nebraska would have enough time to fully install its new system by the start of the season.
***As expected, wide receivers coach Keith Williams was at practice and coaching as usual on Saturday. Williams was sentenced to 30 days of house arrest following his DUI conviction last summer.
***Other injury news included linebacker Collin Miller, who was out and on crutches with a toe injury, and linebacker Tyrin Ferguson was at practice but also sat out.
***A large group of in-state recruits and high school coached watched Saturday's opening spring practice, as NU also held their first Junior Day in recruiting.
***Nebraska will take the field for spring practice No. 2 on Tuesday. They will have a total of six practices before taking a break from March 17 to March 28.