Notebook: Quarterback race wide open entering spring ball
When Nebraska officially kicks off the start of spring practices on Saturday, it will begin one of the program's most anticipated position battles in some time.
Following the departure of its top two quarterbacks from last season, including four-year starter Tommy Armstrong, the Huskers will be ushering in a new era under center this season.
As of now it appears to be a toss up between junior transfer Tanner Lee and redshirt freshman Patrick O'Brien as to whom will be NU's starter come the season opener. Head coach Mike Riley said it would be a wide-open and daily competition for the job beginning this spring and on through fall camp.
"Our job is to create opportunity, to make sure they get repetitions and get coached in practice," Riley said. "That's what we have to present for them. Who's first string right now? OK, somebody's got to line up first. But the competition, the growth, the production - that will tell the tale down the road."
Riley said it would literally be a coin toss as to who would be the first quarterback out with the top offensive unit in Saturday's opening spring practice. The Huskers will flip a coin before each practice to see whether Lee or O'Brien takes the first reps, but Riley said it would be a near 50/50 workload all spring.
The Huskers will also be able to get their newcomers, true freshman Tristan Gebbia and junior college transfer Andrew Bunch, a lot of work, as the goal is to get each quarterback as many reps as possible leading into the season.
As for the competition for the starting role, Riley said he's used a similar "coin flip" strategy in the past back at Oregon State when Sean Mannion and Cody Vaz were battling for the No. 1 spot heading into the 2013 season. It ended up that Mannion wasn't officially named the starter until about a week before the first game.
Riley said it might not play out quite as long in this case, but stressed that he's in no rush to select a starter with so much competition left to play out.
"I'm probably going to do it later rather than sooner, because I'm not really worried about it," Riley said. "My biggest concern right now is making sure they both get a chance to compete and play. There will be a lot of questions you will ask me right at the end of spring ball like who's the starting quarterback…
"I don't think there's any urgency to it right now. I'm not going to worry about that part. I just want to make sure they get repetitions and have a chance to get better and get prepared for the season. Then at some point we'll make that announcement."
- Robin Washut
Coaches, players ready for major shift on defense
Nebraska will also be undergoing an massive transition on the defensive side of the ball, as new defensive coordinator Bob Diaco officially takes over along with two new defensive assistants in Donté Williams and Bob Eilliott.
Along with new coaching changes, the Huskers will also being transitioning from a 4-3 base defense to Diaco's 3-4 scheme.
Riley said he really likes the way things look at this point entering spring ball, but admitted it will take time for the players - especially those on the defensive line and at linebacker - to fully make the adjustment.
Not only will it be a significant learning process for the players, but also for coaches like defensive line coach John Parrella and linebackers coach Trent Bray.
"The dynamics have changed in our rooms a little bit," Riley said. "The initial stage, we have to be professionals here. We have a job to do, everybody understands that. We have to be open to there's going to be a new person we're going to work with.
"The dynamics that I've seen so far have been outstanding. Some of those guys that have to be the biggest adjusters are here. Let's be blunt about it: Trent Bray, he's got a new coordinator. John Parrella has a new coordinator. Are they professional enough to handle this change and trust what's going on? They have actually embraced it."
- Robin Washut
Despite so much transition, Riley expects big things in 2017
Given the amount of transition about to take place on both sides of the football this offseason, Riley was asked during his pre-spring press conference on Wednesday whether fans should prepare themselves for a potential rebuilding year in 2017.
Riley quickly and assertively said that wouldn't be the case at all.
While a lot of work will have to be done for the Huskers to be clicking on all cylinders by the first game, Riley said he didn't make all of the changes on defense and recruit the way they have at quarterback expecting his team to take a step back in Year Three.
"I didn't do any of this thinking that we're doing to have a setback," Riley said. "I'm doing it hopefully to get better. So I'm not looking for any of that. What happens naturally when you lose a quarterback to graduation is you've got to be prepared, and if you're not, then it's on you. That's the way it always will be.
"When you change defenses, I didn't do that to start over in development. It's going to take some extra work. There is some transition in learning. But we're doing this in the picture to be better in 2017…
"This spring practice, they're always very important… But this one kind of carries a little bit more juice for sure. It's going to be exciting It's going to be fun to see this thing take shape."
- Robin Washut
Williams gets 30 days house arrest, will likely coach this spring
Nebraska got some news concerning the status of one of its assistant coaches shortly after Wednesday's press conference.
The Lancaster County court announced that NU receivers coach Keith Williams, who was convicted for his third DUI last August, has been approved to serve the 30-day jail term of his sentence on house arrest.
The term will begin on Thursday and run through April 1, and he will also serve three years of probation along with a fine of $1,000. He is also not permitted to consume alcohol or frequenting any bars while on probation.
Williams will be allowed to leave his home for work, educational and medicinal purposes, meaning he will be allowed to coach during Nebraska's 15 spring practices.
"Keith's deal right now, we are, as probably you all are, waiting to see exactly what's going to take place," Riley said. "We'll comply with whatever that is, obviously. We don't have any choice in that.
"We will adjust to whatever happens with that. We'll find out more probably in the next 24 hours what that means to us on Saturday. So besides that I really don't have anymore information."
- Robin Washut
Riley calls Elliott a 'gem' of a hire
Because of the timing of when Riley made the hire of safeties coach Bob Elliott, he has yet to make any real public statements about the addition.
On Wednesday Riley called Elliott a "gem" of a hire, and he even receiving a glowing recommendation about him from former Texas head coach Mack Brown.
"Two things entered into Bob Elliott getting hired. One of them was experience," Riley said. "If I was to put down a goal of what we were looking for, it was an experienced secondary guy… A guy that has been around the block and seen a lot of stuff was part of it. The other part was can we help Bob Diaco in this transition? (Elliott) fit both of those really well.
"I got a great call from Mack Brown about Bobby Elliott. He'd coached with him a little bit and tried to hire him at Texas when he was a coordinator at Kansas State. I think we got a gem here. This guy is really, really been around the block with lots of football, seen it all. I love that. I think he's a terrific guy. I think he'll be great with our players. His demeanor, his character, his class, it'll fit Nebraska really, really well. This is a good get."
-Sean Callahan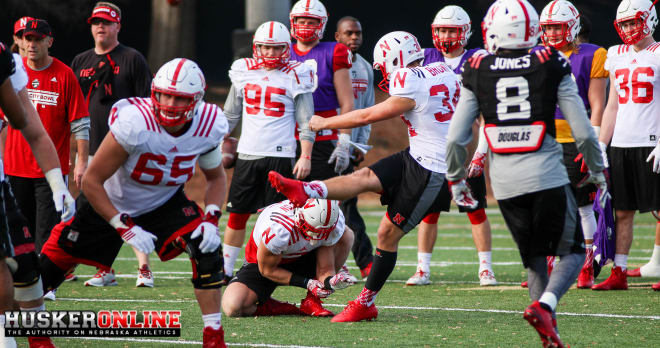 Special teams coaching duties still up in the air
One of the big questions that still remains up in the air is how specifically will the coaching staff divide up the special teams coaching duties with Bruce Reed no longer on staff?
Senior fullback/tight end Luke McNitt said he doesn't expect it to be much different than the bowl game.
"All the coaches during the bowl game kind of split it up [the responsibility of coaching special teams]," McNitt said. "There is Nick Smith, he's a GA here and he's been kind of taking the role for that right now. I'm not sure what their plan is going forward, but I have a lot of confidence in Nick and the rest of the staff that they will do what is best for the team."
It will also be a big change for a guy like senior wide receiver De'Mornay Pierson-El, who's served as Nebraska's primary punt return specialist for the better part of the last three seasons.
"It's never a plus when you lose a coach, but we were all comfortable and kind of knew (Reed's) scheme with him being here," Pierson-El said. "I think one of the GA's (Smith) who was under him is taking it over now.
"I have been watching film with him and talking to him. At this point I don't know who it's going to be. The first day is when I pretty much find out who is like really taking on the responsibility, but I know during the season it was GA's and certain position coaches. So we'll see on the first day."
-Sean Callahan
Quick hits
***Riley said redshirt freshman Collin Miller hurt his toe on Tuesday "and I'm worried about it." Miller, who has been working at inside linebacker, is questionable for spring ball.
***Sophomore linebacker Tyrin Ferguson had his knee scoped and will be limited for most of the spring, Riley said.
***Riley said that senior tight end Connor Ketter is dealing with a "back issue" and is questionable at best for the spring. Riley said he's just hoping Ketter will be healthy for the start of the season.
***Riley said senior David Knevel will be the No. 1 right tackle to start spring ball, but added that Knevel and junior Cole Conrad were very close on the depth chart.
***Defensive back Eli Sullivan (knee) is out for the spring.