Notebook: NU may look towards Darlington at holder spot
As Nebraska gets ready to open up fall camp on Thursday, one of the big positions they still need to fill is the holder spot.
The holder position was occupied by the late Sam Foltz for the last three seasons, as he held for both kickers Patrick Smith (2013) and Drew Brown (2014-15). NU will look at several different options at holder this August, including back-up kicker Spencer Lindsay.
Head coach Mike Riley said freshman punter Caleb Lightbourn is also an option, but they'd rather not overwhelm with too much if he does win the starting job.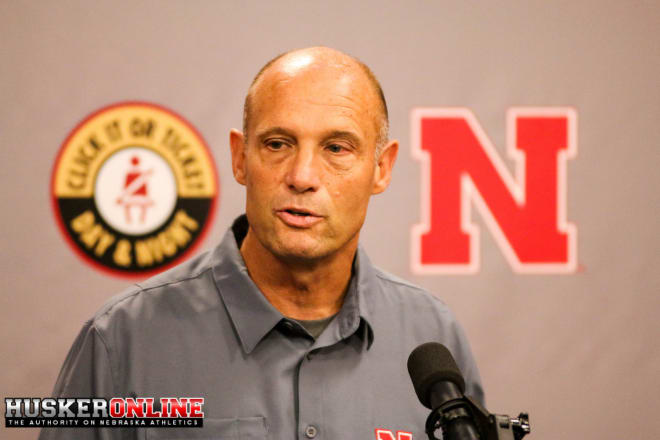 However, another name that has emerged is former quarterback and now wide receiver Zack Darlington.
The sophomore from Florida was a holder in high school, and also somebody on the team very close to Foltz.
Nothing has been decided at this point, but there's no question the intangibles Darlington brings to the table make him an intriguing candidate to move into the holder spot.
"(Darlington) held in high school, so he obviously has some experience at it," Brown said. "He obviously is a good athlete, so if we were ever to have a fake or something, he'd be a perfect guy for it. He reached out to me. I didn't even have to go to him.
"He said: 'Hey I want to do it. I want to have a chance to do it.' I said: 'If you want to do it, hop on board.' We need as many guys as we can get, and I'm glad we have guys like that on our team."
Things are still a work in progress, but getting the holder position figured out will no doubt be a priority for NU this August.
"We went in the indoor and did some work this morning," Brown said. "The (new holders) look fine. We definitely have some work to do, but we definitely have somewhere to start…
"We obviously didn't plan for something like this, so we have to be able to come up with something quick.
"Something that's the most comfortable for me and for Jordan (Ober) and obviously for the coaches too. They don't want to send somebody out there they're not ok with. It's just going to be about getting reps in fall camp as much as we can and preparing to the best of our ability."
- Sean Callahan
Pierson-El fully cleared for return
For the first time since last Halloween, Nebraska will take the field with one of its most electric weapons in wide receiver/punt returner De'Mornay Pierson-El.
After nine months of aggressive rehab from a gruesome knee injury he suffered last season at Purdue on Oct. 31, Pierson-El has been fully cleared to participate in all drills when the Huskers open fall camp on Thursday.
"When I say he's cleared, that means basically he's been through all those drills and tests, and the doctors are the ones at the end who say he's cleared to go 100 percent," Riley said. "So now it's just a matter of practicing him correctly. By being cleared, he hasn't really done much for a long time, so it's not like we may give him the workload of every other receiver on the team.
"We have not been given any limitations necessarily except just watch the reps, so we'll do that."
An offseason foot injury sidelined Pierson-El all of non-conference play, but the former All-American return man came back for the start of the Big Ten schedule and played in five games in 2015.
He caught 12 passes for 111 yards and a touchdown during his short stint in the lineup, and was just starting to come into his own as a receiver before his injury at Purdue.
Riley said that while the staff will have to cautious with easing Pierson-El back into the mix, he can't help but get excited over having one of his most explosive playmakers back in action.
"Being able to look at him and incorporate him into all those thoughts I had a year ago today about him, that would be exciting," Riley said.
- Robin Washut
Huskers still evaluating 2016 captains
In Riley's first season at Nebraska, he made it a point to establish his team captains right away during the summer to help provide strong player leadership during the offseason.
This year, he's changing his approach up a bit.
The Huskers have yet to name their captains for 2016 or even disclose how they plan to handle the captain duties this season. Riley said he purposefully delayed doing it in order to try and bring some new voices up the leadership ranks.
"We didn't elect captains because I didn't want to limit that leadership in the summer time," Riley said. "For me, whether it's right or wrong last year or this year, I'm not sure. But after seeing this team for a year and seeing them for an offseason, we didn't want to limit whoever might step up and be that guy.
"Sometimes when you designate those captains early - for us, that's what we've always done - but sometimes other guys kind of take a step back. I just didn't want to do that."
Riley said he would continue to discuss the captain situation with his coaches and also get some player input, especially from an upcoming meeting with the seniors.
Unfortunately, Nebraska will be without one of the prime candidates to potentially earn a captain title in Foltz. Riley was asked if he thought Foltz would have been among the players named captain, and he responded, "I would say that he would."
- Robin Washut
Lightbourn, Armstrong to compete for starting punter job
Riley wanted to wait as long as he could before addressing the football aspects that would result from Foltz's death, but the time came on Wednesday.
Nebraska not only lost one of its best team leaders, it also lost one of the best punters in college football. Now, it looks like the punting duties will be turned over to either a walk-on redshirt freshman or a true freshman who have never played in a single college game.
The two candidates for the job are Lightbourn and Isaac Armstrong. Lightbourn would appear to be the frontrunner seeing how he's on scholarship and was recruited to be Foltz's eventual successor. However, Riley said it would an open competition to start fall camp.
"We're going to start it off with a competition," Riley said. "We would like to make a decision pretty soon about who that is, but we want to kind of open it up right at the start (of fall camp)."
As Riley mentioned, the competition might not go on too long since Lightbourn is a right-footed punter and Armstrong - a transfer from Nebraska-Kearney - is left-footed. The foot a punter uses impacts how the punt team lines up and blocks after the snap.
- Robin Washut
Riley sees some freshmen making immediate impacts
There's a lot left to be determined between now and the season opener on Sept. 3, but as things currently stand Riley wouldn't be surprised if a handful of true freshmen make immediate impacts for Nebraska this season.
Though he wouldn't name any players specifically, Riley said he and his staff have evaluated their newest group of players over the course of the summer and have identified five or six freshmen who see playing time in 2016.
"After looking at our team and looking at some of these guys in the offseason program and who they are, what they do, putting all those thoughts together, we came up with five or six names that we want to push into this thing and see how they do in the first two weeks," Riley said.
"We'll look at this hard for a couple weeks before we decide on the whole redshirt factor."
Riley did hint at one true freshman who might be included in that group. In talking about NU's running backs, Riley raved about how well Tre Bryant was progressing and said the St. Louis native could definitely have a role on special teams if not earn a spot in the backfield rotation.
"We've got a freshman, Tre Bryant, who's been impressive," Riley said. "He's been here since June, and the testing and work that he's done, possibly his ability with his size might make an impact on special teams. So if he does that … all of a sudden you've got to start looking at Tre and then pushing him in that tailback and see if he can win a spot in the backfield."
- Robin Washut
Nebraska's weight room warrior
Every off-season a new name emerges based on what they accomplished in the weight room over the spring and summer.
As the Huskers get ready to open up fall camp, a player to keep tabs on is junior fullback Luke McNitt.
Senior linebacker Josh Banderas said McNitt is probably NU's strongest pound-for-pound guy in the weight room, boasting a team best 400 pound hang clean from the ground.
To put it in perspective, Banderas himself hang cleans 350 pounds.If Banderas were a betting man, he said the Kearney native would be a good stock to invest in.
"He's that athletic good build and he's stronger than an ox," Banderas said of McNitt. "He's got athleticism and he's strong and he's not scared to run into you. He's versatile. That's a guy to watch this year. He's going to make some moves."
- Sean Callahan
Gaglianone impressed with Nebraska's setup
After the funeral of Foltz, Brown said that Wisconsin kicker Rafael Gaglianone spent the day in Lincoln with him on Saturday and checked out everything NU had to offer.
Gaglianone will wear No. 27 this year for the Badgers in honor of Foltz, and was with Foltz and Brown at the kicking camp in Wisconsin.
"We didn't kick, I just took him around and kind of showed him the stuff that we had to provide here," Brown said of his time with Gaglianone. "Obviously he stood on the 36-yard line where he hit his game winning kick.
"He was just telling me how both his kicks were identical, but somehow that second one went in. I just kind of showed him what we had to offer here and he said it was unbelievable and unlike anything he'd ever seen."
- Sean Callahan
Quick hits
***The only injury reports Riley had to pass along were freshman tight end Jack Stoll (wrist), sophomore defensive back Nolan Graham (knee), and redshirt freshman linebacker Jacob Weinmaster (back). All three players will be left off the initial 105-man roster but will be with the team rehabbing until the start of the fall semester.
***Other than those three, Riley said every other player on the 105 was healthy and has been cleared to practice. He also said no players had left the program for any reason over the offseason.
***Included in the 105 will be true freshman J.D. Spielman, who suffered a knee injury in the spring while playing lacrosse.
***In talking about the defensive line rotation, Riley said he was excited about the potential of senior Kevin Maurice, sophomore Mick Stoltenberg, and redshirt freshmen Khalil and Carlos Davis. After that, Riley included senior Logan Rath and sophomore Peyton Newell in a group of six defensive tackles that he said were "all viable."
***On the offensive line, Riley said a guy like Corey Whitaker may not be in the starting group right now, but he's really close. Riley also mentioned Jalin Barnett as a guy who is right there.
***At linebacker, Riley said Banderas is the starting MIKE, but Chris Weber will fight him for the job. He also said Luke Gifford has had a great offseason and will push for snaps at outside linebacker.
***It was a busy off-season for senior defensive end Ross Dzuris. The Plattsmouth native got married last month, and to his knowledge is the only married player on the Husker Football team. Dzuris laughed when asked who the best dancer was at his wedding reception.
"I think the guys that cut loose (at the reception) would like to keep that to themselves," Dzuris joked. "I don't think there were any good dancers. "It was a great time and a lot of my teammates came out. It was fun."