Notebook: NU taking a committee approach on special teams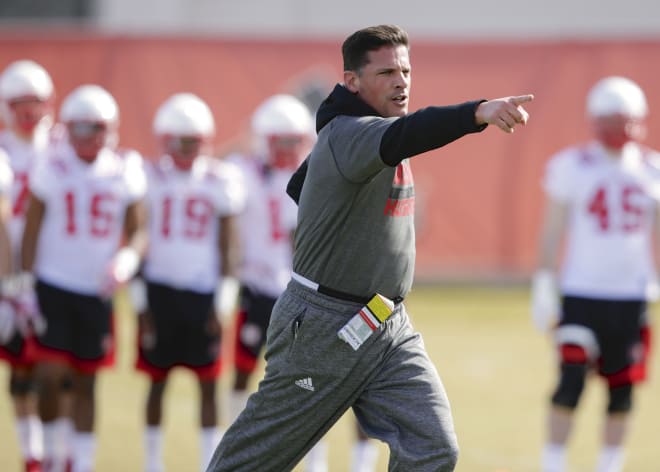 Nebraska made a major change following the 2016 season when head coach Mike Riley decided to part ways with longtime special teams coach Bruce Read.
Rather than find someone to replace Read in a full-time role, Riley instead has opted to handle special teams with a committee approach.
Following the Huskers' practice on Saturday, Riley said it's been a full-staff effort through the first week of spring ball in regards to coaching the special teams in practice.
"Just about everybody has a part," Riley said, adding that things have been going well enough through one week that he doesn't expect to name another full-time special teams coach.
Some examples Riley gave included the punt team, where linebackers Trent Bray is overseeing the group with safeties coach Bob Elliott and graduate assistant/tight ends coach Tavita Thompson assisting him.
Defensive line coach John Parella is primarily in charge of the field goal block team, while offensive line coach Mike Cavanaugh is running the interior protection on the field goal team and running backs coach Reggie Davis is handling the outside protection.
Maybe the most interesting assignment is with new defensive coordinator Bob Diaco. Not only is Diaco working on installing a completely new defense this offseason, he actually came to Riley to volunteer to coach the team's punters.
"Bob came to me right off the bat and he wanted to be the punter coach," Riley said. "I said, 'Go at it.' I think he's really good."
Diaco has plenty of experience in the game's third element, as he served as special teams coach from 1999-2004 while working as an assistant at Western Illinois, Eastern Michigan, and Western Michigan.
From 2006-08, he was the special teams coordinator at Virginia.
Riley said Diaco will have an especially important role in helping get more consistency out of sophomore punter Caleb Lightbourn, who had a very up-and-down freshman campaign last season.
"I think that what we're trying to do as a staff with Caleb is working with a talented person to make him more consistent," Riley said. "At the end of the day or at the end of the season, (specialists) are all basically going to be identified as to their consistency. That's where Caleb has got to make a big jump."
- Robin Washut
Top-heavy receiving corps still establishing depth
When it comes to Nebraska's wide receiving corps, the good news is it's loaded at the top with two veterans poised to have their best seasons yet in Stanley Morgan and De'Mornay Pierson-El.
After those two, however, is a room full of unknowns.
The Huskers will be counting on a number of young and unproven wide outs to step up and help fill a major void left after the departures of Jordan Westerkamp, Brandon Reilly, and Alonzo Moore.
As things stand after the first week of spring practices, Riley said the position still has a long way to go.
"We don't have enough depth that can play in the games," Riley said. "We have a few guys that can…
"Stanley and De'Mornay both look at the top of their game to me. Stanley really, really looks good and confident, and he's like the veteran player out here. De'Mornay, he's physically the best I've seen him since I've been here. That's a good picture."
It doesn't help that two early-enrollee true freshmen who are expected to be immediate factors in the receiver rotation aren't able to do much of anything right now.
Keyshawn Johnson Jr. has yet to practice as he's still recovering from side effects from an appendectomy he had in December.
Jaevon McQuitty has been able to do some work during individual periods, but Riley said he would not be able to participate in any contact all spring as he rehabs from offseason shoulder injury.
"There's a couple guys graduate early so they can get here and go to spring ball, and they're already on the shelf," Riley said. "It will be a bonus for them to have been around a little bit and to have learned, but it would've been great to have Keyshawn and McQuitty practicing.
"I don't think they graduated early to come here and watch spring ball."
- Robin Washut
Walk-on RB Mazour earns lofty praise from Riley
One of the running backs that's quietly having a nice spring so far is sophomore walk-on Wyatt Mazour.
Riley praised the Albion (Neb.) Boone Central product following Saturday's practice.
"I like him a lot," Riley said. "It was unfortunate he missed so much time (last year) with that head injury. I was really pushing him forward. I thought at one point in the year before he got hurt that I was going to put him out there on the kickoff return.
"He's got some stuff, he really does. If he can stay healthy and keep practicing, he will find a niche with this team. He will do some stuff. I'm excited about him."
Riley even made a lofty comparison when talking about who reminded him of Mazour.
"The way I kind of look at it is the tailback position has a lot of numbers, so everybody is competing to be the guys to get into the games," Riley said. "I think (Mazour) can get into that list, I really do.
"He's a really versatile athlete, tough and extremely quick. He's one of those guys with that low center of gravity that's hard to tackle and find. I think he's a good football player.
He's Danny Woodhead. That's what I keep thinking when I watch Wyatt."
-Sean Callahan
Quick hits
***Nebraska spent a good potion of practice doing full contact scrimmage situations. Riley said so far it's been a "mixed bag of results" with the good-on-good work, which he said was a good thing.
***Saturday was Tanner Lee's turn to get the first reps of practice, and Riley said Lee and Patrick O'Brien both had a very good day and really a very good week. Riley said NU got about 48 plays of team work in on Saturday, and both QBs impressed.
"The quarterbacks look good today," Riley said. "They've looked good the whole time. It's been a really good week watching them kind of assimilate what we're doing. We had about 48 plays of team today, and that's really, really good for them. I thought that their time in those periods were great."
***Linebacker Luke Gifford had a large cast on his left hand but still fully practiced. Riley said Gifford broke a bone in his hand on Thursday and would continue to practice with the cast all spring.
***Riley said his goals for the first half of spring ball were to get a lot of basic situational work in and have everyone on the same page with each of those. He also wants to get pretty much all of the special teams in place before spring break.
***Riley said linebacker Marcus Newby was not at practice Saturday because he and his significant other just had a baby on Friday night.
***Riley said his ideal number for offensive line depth is 10 guys, but he's never had that many in his time as a head coach. However, Riley said Nebraska might be close this season with the group they have up front.
***2018 offensive lineman Will Farniok, 2018 linebacker Zach Schlager and were in attendance for Saturday's practice.
***Wayne State head coach Dan McLaughlin, a former NU graduate assistant, took in practice as well.