Notebook: NU 2-0 in get-through games, ready for Oregon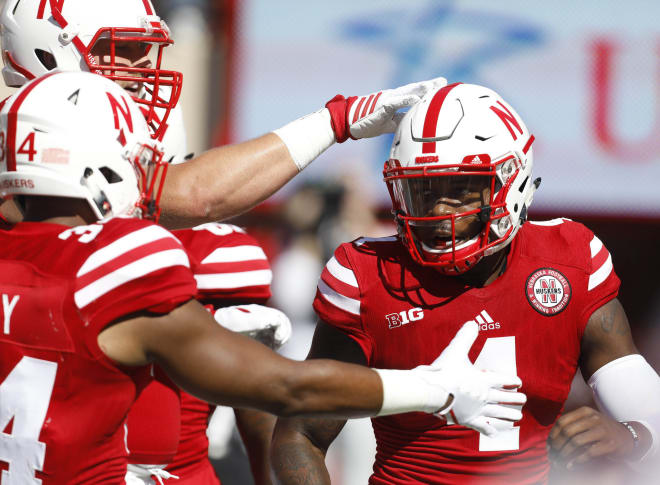 When Nebraska's schedule was released, most fans glanced over the first two games against Fresno State and Wyoming and honed in on the Sept. 17 matchup with Oregon. But before the Huskers could get to the Ducks, they had to get by a pair of less talented but feisty sqauds.
It wasn't always pretty, but that mission was accomplished. After a 52-17 win over Wyoming, NU starts truly preparing for Oregon, and the players understand the gravity of this game.
"They're a top program in the entire nation," receiver Jordan Westerkamp said. "This will be our first big test and we have to take them extremely serious. They're going to be ready to play. If we can get a win against Oregon, that would be huge for our program. On the national level, beating a team like that should propel us forward a lot in people's minds."
The Huskers were by no means overlooking Fresno State and Wyoming, and the latter provided a bit of a scare by pulling within a touchdown late in the third quarter. But Nebraska scored 28 unanswered points behind a slew of turnovers to stave off the upset.
Next up is No. 24 Oregon, which doesn't look as strong as previous seasons but will easily be NU's toughest nonconference test.
"All games matter, and this is a big week for us coming up," Tommy Armstrong said. "It's going to be hectic. There are going to be a lot of eyes on us and how we handle the situation. Like we always tell each other, we just have to make sure we stay focused and let the outside things just be there. We can control what happens in this facility."
"If we want to be one of those elite teams and be one of the best in the Big Ten, we have to get better each day," safety Nathan Gerry added. "It doesn't matter who we're playing. We've got to keep being aggressive. We can't sit back."
Armstrong sets career passing touchdown mark
Armstrong had one of the better games of his career, throwing for 377 yards and three touchdowns. The final scoring toss was the 57th of his career, breaking Taylor Martinez's school record.
When asked about setting the new mark, Armstrong was quick to push aside any praise and give credit to his receivers, who racked up plenty of yards after the catch.
"It means a lot, but I couldn't do it without those guys," Armstrong said. "They did a great job today of just making plays. It just shows how much those guys are working for extra yards.
"(The record) doesn't really do any justice for me. It just shows how much they work their tails off to help me out."
The record-breaking toss was a nine-yard strike to Westerkamp, his second touchdown of the game.
"It's awesome," Westerkamp said. "He's worked so hard since he's been here, so it's fantastic to see that happen to a friend."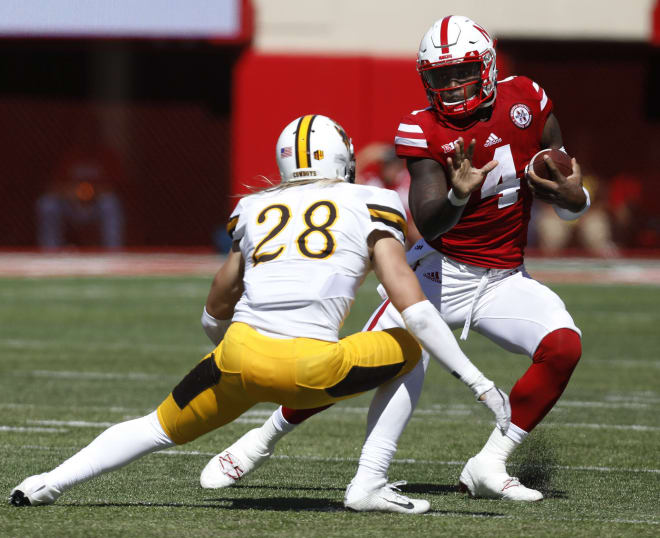 Cowboys bottle up Nebraska's ground game
After a dominant week one performance that saw the Huskers roll up 292 rushing yards, NU wasn't able to get much going on the ground against Wyoming. It finished with just 170 yards on 43 carries (3.2 average) and didn't have a run longer than 12 yards.
Devine Ozigbo (49 yards, 2.9 average), Terrell Newby (20 yards, 5.0 average) and Tommy Armstrong (12 yards, 1.0 average) were mostly bottled up as the Huskers were mostly unable to get untracked.
"They were throwing the kitchen sink up there," Mike Riley said. "We were seeing a lot of different stuff and we weren't doing a good job of picking it up. Therefore, we were getting some really negative runs."
Nebraska's longest run in the first two games was a 24-yarder by Alonzo Moore in the opener. The Huskers' backs have just two carries of more than 15 yards this year.
Riley was surprised by failed fake punt
Much of Memorial Stadium was shocked when punter Caleb Lightbourn took off on Nebraska's first punt attempt of the second half. The true freshman paused for a few seconds then took off, ultimately gaining just four yards (the Huskers needed 10) and turning the ball over on downs.
Riley was just as surprised as anyone in the stands.
"(Special teams coordinator) Bruce (Read) actually had a good scouting report on them, that they would at times basically not rush anybody and try to double so many guys on the line of scrimmage," Riley said. "When we recognized that was happening, we told him that when he knew that was happening, that would allow him to hold the ball a little bit and punt until we get our guys down there.
"I never did really want to know what he was thinking yet. I thought I would let that play today."
Quick hits
***Gerry said he didn't mean to taunt the Wyoming defender when he handed him the ball after his first interception. Gerry said he was just excited and confused the player with an official. He received an unsportsmanlike conduct penalty.
***Drew Brown made his lone field goal attempt, giving him 12 consecutive conversions.
***Moore had a career-high 109 yards on three catches.
***With Mick Stoltenberg sidelined, defensive tackle Carlos Davis made his first career start. Davis had five tackles.