Notebook: Lee ready for the spotlight as Husker QB
CHICAGO - From the moment Tanner Lee got off the airplane in Lincoln for his official visit last summer, he knew there was something entirely different about Nebraska than anything he had ever experienced.
Though he hadn't even seen the campus, let alone commit to the Huskers yet, Lee found himself stopping to pose for photos with Nebraska fans in the Lincoln airport. Needless to say, things haven't slowed down one bit since then.
Between his play this spring and then the rave national reviews he earned while competing at the Manning Passing Academy this summer, the hype surround the Destrehan, La., native has skyrocketed leading into his first season as a Husker.

The pressure is mounting by the day on Lee to live up to the lofty expectations already set for him despite having never taken a snap at NU, but he said he's more than ready for all that his new role entails.

"I'm think I'm aware of what comes with playing the position, especially about playing quarterback at Nebraska," Lee said. "The most passionate fans you're going to come across are from Nebraska, so it's been a lot of fun. But I've just been focusing on my job and focusing on the locker room and just letting everything else take care of itself."
Head coach Mike Riley had nothing but praise for what Lee has done since joining the program, especially the poise and maturity he's shown both on and off the field. Riley said the way Lee was instantly able to connect with and win over his teammates so quickly played a huge role in helping him establish himself as a leader.
"I guess you really don't know until the lights come on," Riley said. "I've got a lot of faith that this is going to be OK with this guy. He's appeared to be a pretty cool customer right from the beginning. There's never been any drama with Tanner. Everything has been pretty much what you see is what you get day to day to day.
"Never really overly high or overly low, always consistent. He's been impressive that way… He's got that poise that is so critical to playing that spot."
Lee said he made it a point to watch and learn from former four-year starting quarterback Tommy Armstrong during his year off last season, observing both the good and the bad that Armstrong had to deal with as one of the team's most prominent faces.
One of the best pieces of advice Lee said he gained from Armstrong was to block out as much as the outside noise as possible and stay focused on the team and what he could control.
That's why Lee knew it was so important to make an instant connection with his new Husker teammates, because in order to earn the trust of a leader, you have to earn the respect as a leader.
"Making that transition, I knew I needed to get in right away and start making relationships," Lee said. "You're coming into a locker room with guys who have been together for four or five years, and you kind of need to find a way to gel and mesh with all of them.
"I learned in the past how to interact with guys from different backgrounds and different states and different cultures, so that helped. Then just consistent, honest, everyday work, I think people saw that. I wasn't trying to do anything different than what I know how to do."
Offensive line must improve, but it will need help
One of the biggest concerns facing Nebraska coming out of spring ball was the inconsistent play of the offensive line.
After a rough ending to the 2016 season, the o-line struggled through the spring despite returning five players with starting experience and a few up-and-coming underclassmen.
Riley said he was confident the unit would be fine by the time this season rolled around, especially because he and NU's staff plan on doing all they can to help the offensive line succeed.
"We also need to protect the offensive line," Riley said. "We have to be very smart with the approach. To go in and say we're going to go drop-back pass 45 times a game and put that burden on the offensive line to block every stunt, rush and blitz known to man - which is what happens when you don't have a mobile quarterback, you're going to see the kitchen sink.
"So to think that you're just going to go drop-back pass and everything's going to be good because you have a good quarterback and some receivers, you are wrong."
The main way Riley wants to help the o-line is by utilizing the screen and draw game more than ever, something he's wanted to do since he took over in Lincoln but hasn't had the personnel to maximize it.
He pointed to one season at Oregon State where the Beavers were struggling mightily to protect the quarterback, and finally the staff made it the No. 1 goal to not allow any more sacks.
By leaning heavily on screens and quick passes, OSU ended up thriving to the point where it set the Pac-12 season passing record and had roughly 25 percent of those yards come from screens.
"I loved it," Riley said. "I loved watching the tape. It's a great weapon, and we have not become that team that is as proficient running screens as we want to be, so we have to continue to work on it. When you get that going, you help the offensive line."
That being said, Riley expects the veteran group to help themselves by improving their own play, which he said might be more vital than anything else for Nebraska's offense this season.
"My expectations are that this group will play well, and frankly, they need to," Riley said. "We need to run the ball and we need to protect the quarterback… It's going to be a focal point (this fall). Heck, it's the focal point of our success."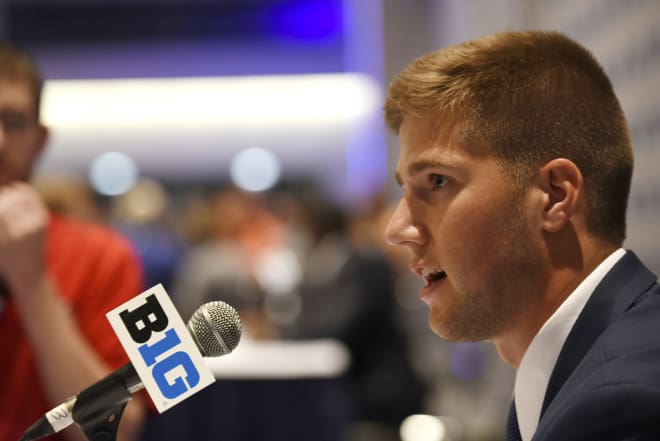 Weber became instant fit in 3-4 defense
Chris Weber was far from a heralded recruit when he joined Nebraska as an instate walk-on in the 2013 class.
Five years later, the Elkhorn, Neb., native was one of three Huskers chosen to represent the team at Big Ten Media Days and is now regarded as one of the most important pieces on NU's defense heading into this season.
Weber showed his ability during the handful of opportunities he got when healthy the past two seasons, but since Nebraska's move to a 3-4 defense, he has thrived as much as any linebacker in adjusting to the transition.
A three-time Big Ten Distinguished Scholar who carries a 3.9 GPA in Nutrition Science, neither Weber's teammates nor coaches were surprised with how easily he picked up to the new defensive scheme.
"Chris is probably one of the smartest guys on the team, probably one of the smartest guys I ever met in my age group right now," junior safety Aaron Williams said. "He's going to be a doctor and he's got a 3.9 GPA. That speaks a lot about him. He's very detailed and he's very serious about his work."
Riley said Weber has emerged as one of the clear leaders on defense since the end of last season, and he's put himself in position to have a breakout senior campaign given the role of the lead inside linebacker in the 3-4.
"I think that this has been a great thing for Chris Weber," Riley said. "I think that Chris's emergence as a player, his emergence as a well-respected guy on our team … he's a really good fit for what we're doing now.
"He's physically a good fit, mentally a good fit. In making a tough transition, we'll need smart guys like Chris to be in there kind of leading the way."

Lindsey set to make immediate impact 
A four-star prospect who was ranked the No. 9 wide receiver in the country, Tyjon Lindsey was already regarded as the centerpiece of Nebraska's 2017 recruiting class.
But after what he showed in just his first few summer workouts since arriving on campus, there is little question that the Huskers want Lindsey to make an immediate impact as a true freshman.
"From what I know about and what I saw from Tyjon Lindsey in the offseason program with his ability, we've got to push him and coach him hard and try in every way to get him comfortable to play," Riley said. "Whatever that means with packaging and parts of that, we've got to get Tyjon involved in some fashion."
Given that NU enters the year with six other scholarship receivers on its roster, Lindsey is bound to see time on offense right away.
Looking a little further down the road, the 5-foot-9, 160-pound native of Corona, Calif., could also be De'Mornay Pierson-El's successor at punt returner.
"Tyjon Lindsey's a natural," Riley said. "He can go back there right now today and catch punts like he's been doing it forever."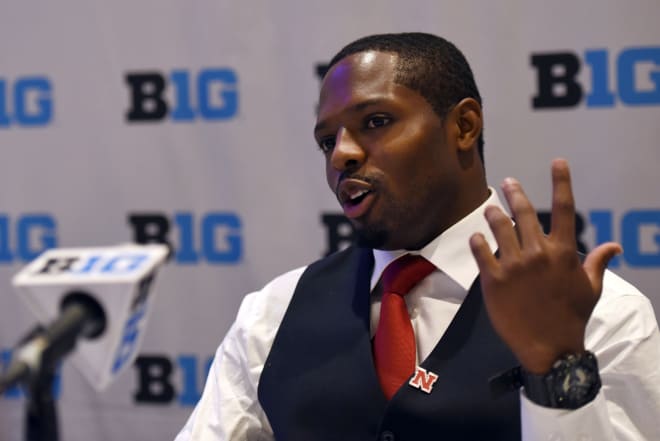 Opportunity knocks for Lee at cornerback
As Nebraska continues to debate what to do to fill the void left by senior cornerback Chris Jones' knee injury, one player who could stand to benefit from the situation more than anyone is sophomore Eric Lee.
After emerging as the Huskers' No. 1 nickel back coming out of the spring, Lee now has a chance to be elevated to a starting cornerback spot opposite sophomore Lamar Jackson should NU decide to keep senior Joshua Kalu at safety.
Williams enrolled early with Lee in the spring of 2015, and he's seen the former four-star flip a switch in his play this offseason after struggling to find his place the past two years.
"His growth as a player has been tremendous," Williams said. "He's always had the skill set, but now his mind is there. E-Lee, the only one who can stop him is himself. I think he's getting ready. He knows he's going to step his game up, so I know he's getting ready for it."