Notebook: Lee, O'Brien embracing competition
One of the biggest storylines of Nebraska's entire offseason has been the competition between junior Tanner Lee and redshirt freshman Patrick O'Brien for the title of next starting quarterback.
Through the first three spring practices, there appears to be little separation between the two thus far.
Offensive coordinator Danny Langsdorf said after Thursday's practice that Lee and O'Brien were essentially neck-and-neck right now, and have been splitting reps literally down the middle this spring.
"Overall I'm impressed with the competition," Langsdorf said. "We flipped a coin and we've alternated daily, so they've had even looks and even reps with different people, and they're very, very close. If you look at the grades and the completion percentage and all that, it's really similar."
Lee and O'Brien met with reporters for the first time as Huskers after Thursday's practice, and they agreed that while it would likely be an intense competition over the spring and on into fall camp, the battle would only make them both better as a result.
"I think it's good for both guys to have competition," Lee said. "For us to come out and try to have the best days that we can everyday and learn the offense best, it's going to be good for everyone involved."
Entering spring ball many assumed Lee, a transfer from Tulane, had the upper hand given his two years of starting experience with the Green Wave. Lee wasn't shy about how he sees himself in Nebraska's offense.
"I think I'm a good fit, a real good fit," Lee said. "It's a big reason why I came here. I could see myself playing here and being successful in this offense… If you look at the past quarterbacks that Coach Langs has had, I think we have similar skill sets - tall, drop-back guys who can make throws. I just think I fit that mold."
O'Brien may have yet to take his first live college snap, but he's been on campus for a full calendar year after enrolling early in 2016. He said the experience he gained working on both NU's scout team and with the regular offense last season helped him immensely in his development.
O'Brien also said he's definitely not afraid of a little competition. Back when he initially committed to Nebraska, the Huskers already had a four-star quarterback commit in Terry Wilson - who eventually signed at Oregon - so having to earn his role was nothing he wasn't already expecting.
"You're going to come to college and there's going to be competition everywhere you go," O'Brien said. "Guys are going to be coming in and out wherever, so you've just got to be the best quarterback you can be and just worry about yourself almost and just try to get better every single day."
Langsdorf said he charts every single rep of every practice and keeps a running score for all his quarterbacks, which will go a long way in ultimately deciding the starter.
While multiple factors will go into that decision, Langsdorf said one aspect will carry more weight than anything else when all is said and done.
"Accuracy," Langsdorf said. "Being able to complete balls. That's the No. 1 thing. When we have a play that we're going to throw the ball on, and we have a receiver and the protection's good, we have to be able to complete the ball. That's going to be the biggest factor in winning the job."
- Robin Washut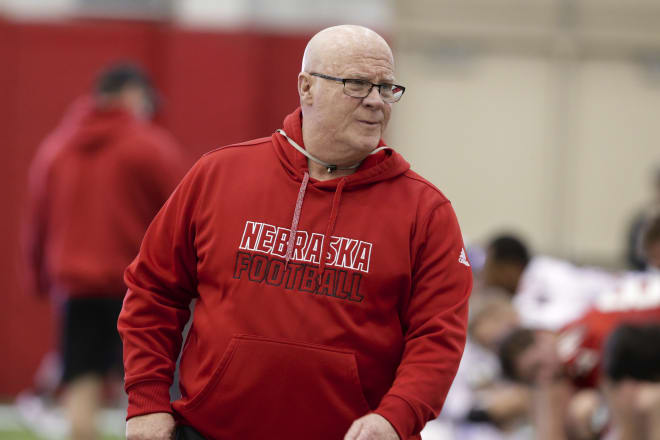 Cavanaugh gives early take on center and right tackle competition 
One of the more intriguing battles on the offensive line this spring will be at center between sophomore Michael Decker and redshirt freshman John Raridon.
Offensive line coach Mike Cavanaugh gave some early thoughts on the battle following Thursday's practice.
"They are pretty similar, but Raridon has a lot to learn and Decker has a little more experience," Cavanaugh said.
A year ago Decker was a guy that fell out of the mix when all the injuries hit NU's offensive line. This spring, Cavanaugh said he's come ready to work.
"(Decker) is all in," Cavanaugh said. "He's excited about this opportunity. I think he's matured, so that's the big part of it."
As for the right tackle spot, Cavanaugh said both senior David Knevel and junior Cole Conrad continue to battle. Cavanaugh added he feels Knevel had a big off-season.
"(Knevel) needed to have a great year in the weight room and I think he's done that," Cavanaugh said. "Him and Cole (Conrad) are still going to battle it out there (at right tackle). I'd like to have a good battle at the right tackle spot."
-Sean Callahan
Running back battle still wide open
Somewhat overshadowed by the battle at quarterback this spring has been the competition for Nebraska's new starting running back.
After losing leading rusher Terrell Newby to graduation, the Huskers are hoping that one player among the trio of Devine Ozigbo, Tre Bryant and Mikale Wilbon will emerge as the clearcut No. 1 back by the time the first game rolls around in the fall.
"That's a pretty even group," Langsdorf said. "We're trying to have one of those guys break away. We like them for different reasons, but we want a guy that will be kind of an all-around player and will kind of break away from the pack. That's what we're looking for."
While no one has jumped out from the others just yet, Langsdorf the group as a whole has definitely improved from the experience all three gained in their playing time last season.
"With the amount of reps those guys have gotten kind of throughout the season, I think they're a lot more comfortable," Langsdorf said. "I think we're better in protection with them already. I think we're better with our footwork in running the ball.
"I think they're hitting the holes faster and not dancing as much. I think that's all probably a comfort level in what they're doing."
- Robin Washut
Hoppes, tight ends hoping to prove themselves this spring 
Nebraska has some big shoes to fill at the tight end position this spring, and one of the players who appears to be in a great spot to earn playing time is senior walk-on Tyler Hoppes.
The Wayne State transfer has been taking the reps this spring as the No. 1 guy.
"I feel like I can bring a good passing catching threat with my pass catching abilities," Hoppes said. "I just need to improve on my blocking so I can be that all-around tight end."
In general, Hoppes said the tight ends need to earn the trust of the coaching staff this spring so they can get on the field.
"We are kind of thin at tight end, but we are hoping to get some two and three tight end packages in there," Hoppes said. "We've got to prove ourselves first."
-Sean Callahan
Quick hits
**Lee said he's been waiting a full year for this opportunity, and he learned a lot from his experience last season. While he worked with the scout team in practice, Lee said he did everything he could to learn from Tommy Armstrong and Ryker Fyfe during game weeks and in film sessions.
***Langsdorf said Stanley Morgan has been looking really good at receiver, and added that guys like J.D. Spielman, Keyan Williams, Bryan Reimers, and Gabe Rahn have also stood out this spring.
***In general, Cavanuagh said he's seen a lot of off-season improvment from his younger offensive lineman.
"Some of the younger guys have improved athletically," Cavanaugh said. "I think (Matt) Farniok is moving better and Jalin Barnett seems to be moving better, and that was important that they improved in that area."
***Cavanaugh gave a little insight on Thursday on what type of plays Nebraska has been working on as their "identity runs."
"We've been working on outside zone and inside zone just went in," Cavanaugh said. "The zone game is going to be a big deal for us."
***Cavanaugh wasn't tipping his hand on any of the position battles on the o-line, but did said Tanner Farmer has looked really good physically this spring.
***Hoppes said when NU goes into a heavy three-tight end set, Luke McNitt is being used as the third H-back tight end.
***Cavanaugh said Christian Gaylord got nicked up during Thursday's practice, and Conrad had to move out to play some left tackle in his absence.
***2018 commit Cameron Jurgens of Beatrice was in attendance with his coaches on Thursday.