Notebook: Huskers shake things up in second major scrimmage
Next week's annual Red-White Spring Game may be regarded as the highlight of spring practices each year, but as far as Nebraska's coaching staff is concerned, Saturday may have been the most important day of them all.
For the second time this spring the Huskers held a major scrimmage, this time going into Memorial Stadium for the first time and running more than 100 plays on the afternoon.
Head coach Mike Riley said the focus was primarily on situational work, as NU put its offense and defense in a variety of downs and distances at nearly every part of the field.
"What we did today, really, I thought it was exciting," Riley said. "We got a lot of football today… That was pretty competitive, situational. It was good."
While there was little actual tackling to the ground in the scrimmage, Riley said one thing that stood out as much as anything was the improvement of the running game. In fact, he said he's seen the offense get noticeably better running the ball over the past couple practices.
"When we went live scrimmaging today, it was better," Riley said. "We've made a little bit of progress. Frankly, just up until what I thought was a few days ago, there wasn't a really good identity as to what I would say, 'Wow, we're good at this play.' But I thought in the last two practices in particular, that has changed in my mind."
As usual, much of the focus was on the play of the quarterbacks. Saturday was Patrick O'Brien's turn to start with the first-team offense, and both he and Tanner Lee once again impressed with the work they did.
Riley said he's been able to gather a pretty good opinion of where the competition for the starting quarterback job was at this point, but said he's not telling anyone about it until after the spring game at the earliest.
"Yes I have those thoughts that I'm just going to keep tight for a week or so," Riley said. "I'm not predicting any announcement, but I think you would agree that where we are in spring ball with three practices left, one of them being the spring game, let's just play this thing out and let the kids play like it is.
"They're both on an edge. They both know it's competition, they both know they're getting even-steven turns, they're both going with the ones and twos. That sounds good to me. I like that."
- Robin Washut
Conrad to center, Raridon to guard in latest OL moves
Maybe the biggest shakeups of the day came along the offensive line, as Cole Conrad was the No. 1 center and split reps with Michael Decker.
As a result of Conrad, who started the last five games of last season at right tackle, moving inside to center, John Raridon moved over to left guard and shared No. 2 reps with Jalin Barnett.
Riley said the idea behind the moves was an effort to get the five best offensive linemen on the field together, regardless of previous positions.
"What we do is we continually look and evaluate not only positions - who's first-string left tackle, the backup - we also have a conversation of who are the five best football players," Riley said.
"If we think there is a situation like that where we might be missing the next best player after four - and that's what we did with Cole, we created that competition, because Cole might be in the top five. He might not be the starting right tackle, but he might be in the top five starting offensive linemen."
Just like the quarterbacks did to start the spring, Riley said Conrad and Decker and then Raridon and Barnett all flipped a coin to see who would get the first round of snaps. They will continue to alternate the rest of the spring.
"We've got some competition at center going, and we have some competition at guard," Riley said. "We moved Cole Conrad into the center position with Decker, so they're rotating like our quarterbacks do. They actually flipped a coin for the start.
"Then Raridon is playing left guard, so him and Jalin Barnett are rotating and flipping a coin for who's going to be the (No. 2) left guard. So there's some real competition throughout that unit, really."
- Robin Washut
Finally some separation at running back?
Part of the recent improvement in Nebraska's running game has to do with the progress both Tre Bryant and Mikale Wilbon have made at the running back position this spring.
In fact, Riley said the way things stand following Saturday's practice, it's currently a two-horse race between Bryant and Wilbon for the starting job, with Devine Ozigbo now the odd man out.
"I think that competition between those two guys is really close right now," Riley said. "Devine's doing well too, but I think that those other two, it's pretty close."
Bryant was the first running back out with the top offense on Saturday. Riley said the sophomore from St. Louis, Mo., has come a long way since making his debut as a true freshman last season.
More than anything, his experience last year has helped his confidence grow to where it's starting to catch up with his natural talent.
"Tre's a good example of a guy who has grown," Riley said, "and he shows that growth just in how he carries himself and the confidence he has in what he's doing."
- Robin Washut
Riley clarifies role of new staff addition Booker
Nebraska added a new member to its coaching staff last month when former Notre Dame assistant Scott Booker joined on as a special teams consultant.
For the first time since the hire was announced, Riley gave his thoughts on the addition and what exactly Booker's role would be after spending the past seven years with the Fighting Irish.
"Special teams consultant is a guy that basically can consult our coaches on special teams, and obviously he can view practice and then give our coaching staff basically pointers about what can be done better," Riley said.
"It can be like a company calling in an expert in some part of that company that might be able to help them put things together differently or better. So he's an advisor. He cannot be necessarily directly instructing on the field to our players. That's the line that's drawn there. He can talk to our coaches and he can educate our coaches, and that's it basically."
- Robin Washut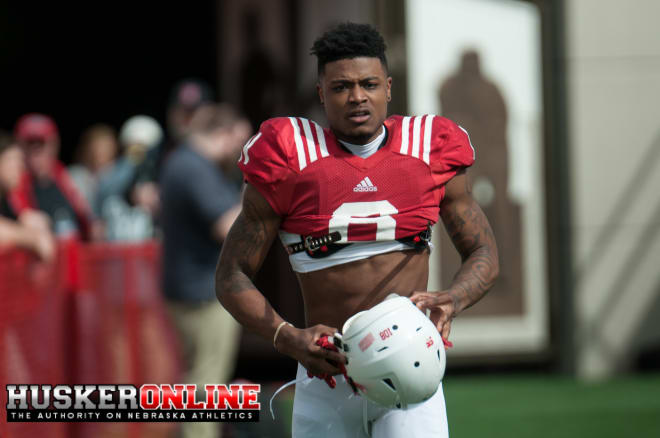 Quick hits
***As for the offensive line as whole, Riley said he an the staff needed to be "concerned", "thoughtful", and "excited" about continuing the growth of a "talented and experienced group" this offseason. Riley said the o-line needed to regain some of the confidence and toughness that was missing at the end of last season.
***Wide receiver Stanley Morgan Jr. participated in the first part of practice but did not play in the scrimmage, as Riley said he decided to hold Morgan out as he recovers from a soft tissue injury in his neck.
Riley said he expected Morgan to return to full work as early as Tuesday's practice.
***Safety JoJo Domann (ACL) was obviously out but was not on crutches like he was on Thursday. He still had a large brace on his left knee. Riley said he didn't even want to think about losing Domann, as he not only was going to be in the mix at safety but was also slated to be a starter on four special teams units.
***Some good injury news was that both receiver Bryan Reimers (knee bruise) and safety Kieron Williams (undisclosed) were both back at practice after sitting out on Thursday.
***It's still early, but Riley said he wasn't sure how they would handle the Red-White Spring Game format next week. He said they might do a point system where the offense plays the defense and the defense can score, but they could also do a two-team format.
***Towards the end of practice Nebraska held a pretty intense tackling drill between the offense and defense, and things heated up to the point for a fight broke out. Riley said it was two freshmen who started the tussle, but rather than have teammates quickly step in and break it up, some jumped in and escalated things further.
Riley stopped practice and made everyone take a knee, and he laid into the team about the lack of leadership and discipline in that situation. He added that fights in practice are by no means out of the norm, it was a good teaching moment that will hopefully change how the team reacts in the future.
***Nebraska hosted a couple of notable offensive line recruits for Saturday's practice in three-star 2018 Sioux Falls (S.D.) Washington center Will Farniok and four-star 2019 Chatham (Ill.) Glenwood guard William Putnam.