Notebook: Huskers ramp up intensity with first scrimmage
Nebraska's spring got kicked up a few notches on Saturday afternoon, as the Huskers held their first major scrimmage inside the Hawks Championship Center.
In all NU ran about 70 plays between all four strings on offense and defense, and head coach Mike Riley said likely every player on the roster got at least one scrimmage rep on the day.
"I loved the enthusiasm for the work…" Riley said. "I thought it was a very productive practice day and good that we got to scrimmage and finish plays."
Nebraska started the day with about an hour of regular practice format, then closed with an extensive scrimmage session.
In all, the first-team offense had one scoring drive for a Drew Brown field goal and the lone touchdown came from a mixture of the second- and third-teamers on an Austin Rose touchdown run.
Outside of that, however, the scrimmage was dominated by the defense. Along with only allowing two scores, the defenses forced two turnovers when linebacker Mohamed Barry picked off Patrick O'Brien and then forced a Rose fumble.
Riley said the performance was exactly why he's been so excited about the transition to a 3-4 defense under new coordinator Bob Diaco this season.
"I thought it was a good indicator of overall what you have to do to win," Riley said. "No matter what happens, you force a field goal even if there's a drive, and then you don't give up the big, big hits. We tried.
"We a big play-action (pass) and a big post (route) that was close but not complete, and that's the kind of thing that you have to be in good position to make those plays. It has to be an emphasis and a mindset, and I think (Diaco) is all over that…
"There's an energy right now with our defense that's exciting."
- Robin Washut
QB competition continues, but is a decision on a starter coming?
While points came at a premium, Riley said he was overall happy with the play of his quarterbacks in the scrimmage.
Tanner Lee led the first-team offense to a field goal on the first drive of the day, and O'Brien had a solid outing prior to his one big mistake on the interception.
Even true freshman Tristan Gebbia had an impressive showing.
"I thought Gebbia had a pretty darn good day for his first scrimmage in college," Riley said.
Riley said Lee impressed by rebounding from some early mistakes and getting first downs with big time throws under pressure. He noted Lee's ability to see the play and get the ball out of his hands was maybe his best attribute as a quarterback.
For O'Brien, Riley said even though the late interception somewhat "clouds" his overall day, O'Brien's poise for only being a redshirt freshman has really been impressive.
Riley was asked if he'd seen any separation yet from the top two candidates for the starting job in Lee and O'Brien. As always, Riley made sure to keep things very close to the vest.
"Even if I did, I don't want to say right now," Riley said. "I think it's not necessary. I really like what both of these guys are doing. We need them both to be ready to start and play.
"The way we are alternating their work is very, very well done by Coach (Danny) Langsdorf. They're getting almost identical turns, and we don't have too many where it's all watered down, either… I hope to continue it like this on into fall camp."
However, Riley hinted that an announcement on the starter could be coming before the start of fall camp.
"I don't mean that I won't say who the starting quarterback is," he said. "I don't think we'll wait that long. I don't even want to really think about that right now. I'm really happy with both guys."
- Robin Washut
Linebacker depth shines in scrimmage 
As the defense stole the show in the first spring scrimmage, Nebraska's linebackers may have been the most impressive unit of all.
The first group of Dedrick Young, Chris Weber, Luke Gifford, and Alex Davis more than held its own, but the other units with guys like Barry, Avery Roberts, and Tyrin Ferguson seemed to make one highlight play after another.
"We've got solid people that are in those positions as starters right now, and that next group is very exciting athletically," Riley said. "You stand them up right here and it's a great looking group of guys. So what we have to do is continue to grow them and coach them and get them game ready.
"But all those guys are eager, excited about their opportunity, excited about playing, made some plays today to build some confidence. They're really getting coached, and they're taking it. I'm excited about that group."
Barry may have been the MVP of the scrimmage, but the youngest member of the unit in Roberts was almost just as good.
Riley declined to comment on the potential redshirt statuses of any of Nebraska's true freshmen for this season, but admitted that Roberts has been making a very strong push to have an immediate impact in 2017.
"It's going to be hard not to play him," Riley said. "Right now today I would say that. He's kind of one of those guys that reminds me of what Dedrick was like when he came in: just smart, kind of poised, pretty quiet, but very tough.
"He's listening and paying attention. Without overstating it, it looks like it's going to be hard to hold him out."
- Robin Washut
Hannon moving on as graduate transfer
Riley capped off his post-practice press conference by announcing the first departure of the spring.
Senior offensive lineman Zach Hannon is set to graduate this spring and will leave the program as a graduate transfer to another school.
The 6-foot-5, 320-pound native of Kansas City, Mo., played in 15 games during his four years in Lincoln, with 13 coming as a redshirt freshman on special teams.
Riley said Hannon was moving on for personal/family reasons, and has decided on his next school. Riley declined to say what school it was since the transfer isn't yet official.
"I'm all for him doing it for the reasons that he's doing it for," Riley said. "We're actually excited for his apparent opportunity that he has out there, both to play and to be closer to his family."
- Robin Washut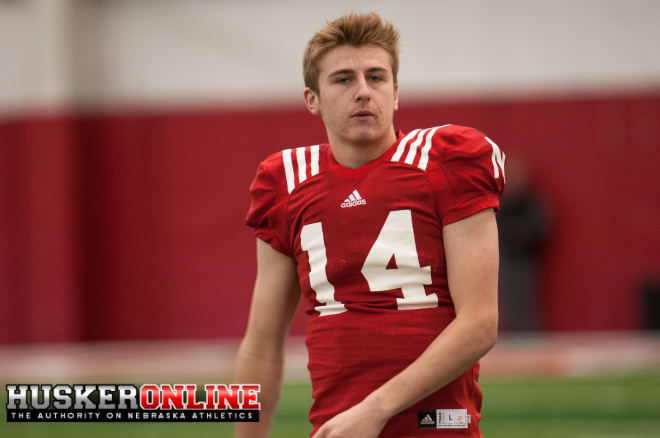 Quick hits
***Riley said Gebbia was notorious for being the last player to leave the film room, saying he even showed Gebbia "the secret passageways" out of the stadium for after they lock the doors at the stadium.
***Tight end Tyler Hoppes, who sat out of Thursday's practice with an illness, was back in action on Saturday. He had a big day on Saturday, as did the rest of the tight ends. In fact, Riley said he didn't remember a practice since he's been at Nebraska where the tight ends were targeted so much in the passing game.
***Running back Devine Ozigbo, who had been seeing his reps decrease over the past few practices due to some unspecified injuries, had a much bigger workload on Saturday. Ozigbo got significant reps with the first- and second-team offenses.
***Riley said Eric Lee hadn't emerged until this spring, and was now in a great position to lock up a spot as a No. 2 cornerback this season. Riley said Lee was a perfect example of guys who are thriving with the change under Diaco.
***Punter Caleb Lightbourn was getting some reps at place kicker on Saturday. Brown is NU's lone scholarship kicker on the roster.
***AJ Natter remains out with an undisclosed injury.
***Saturday's practice was part of Nebraska's annual coaches clinic, as roughly 400 high school coaches from around the state were able to take in practice.