Notebook: Husker QBs impressing in a unique way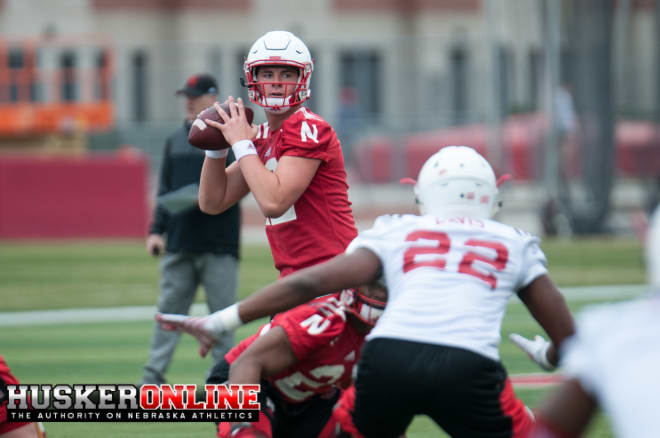 Nebraska held its eighth practice of the spring on Thursday afternoon, and through the course of the spring so far, one thing in particular has impressed offensive coordinator Danny Langsdorf about his quarterbacks.
It's also something that might not be first on some people's list when it comes to evaluating a tight competition between junior Tanner Lee and redshirt freshman Patrick O'Brien.
"I think checking the ball down has been really good," Langsdorf said. "You saw a third-down period today where they've got a lot of people in coverage and it's maybe a three-man rush, and the ball's getting out of their hands to a back and we're running for a first down, or at least getting a completion to be able to have a chance to do it rather than trying to throw it into coverage or an interception.
"So I think they're doing a good job with utilizing those check downs, and with that the completion percentage gets higher and the backs catch more balls."
While a more conservative and consistent approach in the passing game will almost certainly be welcomed with open arms by Nebraska fans, there could be a worry about falling into the type of offense the Huskers had in 2007 when there was arguably too much reliance on the check down.
That season, quarterback Sam Keller found running back Marlon Lucky for a school-record 75 completions.
"There's a fine line there between just getting back there and checking it down and turning down an open throw down the field, for sure," Langsdorf said. "But kind of in my history, the ones who do a nice job of looking downfield and getting into that check down, it's been really good.
"It's tough on the coverage. They've got everything covered downfield and you get the first down. You utilize the back more. I think it brings those linebackers tighter so you can throw it downfield later. So I think it works hand-in-hand, but it is a fine line between being too quick and being too late."
- Robin Washut
Bryant, Wilbon emerging from pack at running back
Before Nebraska went on spring break, head coach Mike Riley said he felt one running back was emerging from the pack midway through spring ball, but declined to specify who.
On Thursday, Langsdorf gave a name for who he's felt has been the frontrunner for the No. 1 spot at the position. He also said another back was making a strong push as well, while injuries have held a third a bit behind.
"I like what Tre Bryant's done," Langsdorf said. "I think he's had a good eight practices. I think Mikale Wilbon has shown some improvement running the ball and in pass protection.
"I think Devine (Ozigbo), he's been banged up here and there, so we haven't gotten as much work from him. But I think that group is good."
Langsdorf was asked specifically what injuries Ozigbo, who many projected as the potential starter entering the spring, was dealing with.
"He's just been a little nicked up with a couple different things, but nothing major," Langsdorf said. "He's just had a couple practices where he hasn't played the whole time, so he's just kind of been hit and miss, meaning he hasn't gotten as many reps."
Langsdorf noted that the staff is also making it a point to give guys like Austin Rose and Wyatt Mazour as many opportunities as they can to potentially find ways to factor them into the backfield rotation this season.
- Robin Washut
Evaluations set to ramp up to close out spring ball
Tuesday's practice earlier this week marked the final no-pads session Nebraska is required to hold this spring, meaning they will likely be fully suited up the rest of the way through the spring game.
Langsdorf said that marks the start of real evaluations for the coaching staff, as the dynamics of practice definitely change once the pads come on and the football starts getting real.
That means Langsdorf's impressions of the quarterbacks could be a bit different after seven more practices.
"The speed is a little bit better, the collisions are real, the rush is more real," Langsdorf said. "It's hard to simulate real football at a lot of positions (without pads), so you kind of have to live with it… Then the evaluations have to come with the pads on."
- Robin Washut
Snyder, Stoll making moves at tight end
After senior Tyler Hoppes, there's a lot of questions surrounding the tight end position on who will step in this season.

Senior Connor Ketter is out this spring with a back injury, so that's left the door wide open for sophomore Matt Snyder and redshirt freshman Jack Stoll.
Tight ends coach Tavita Thompson said on Thursday both players are having strong springs.
"For a young player, Jack, you really didn't know what he could do last year," Thompson said. "He spent most the year hurt, so you see him work out in the off-season, and he looked ok. He came out here and he and Matt have both kind of risen above my expectations.
"I'm excited for what they can do for us. Then obviously with Connor Ketter being out, that's not ideal, so when he's healthy it will be nice to see how he comes back in the fall. Between the three of them I'm a lot more confident in the Y position."
Another player Thompson said figures to factor in this season in more of a combo role is senior Luke McNitt. The Kearney native can play both fullback and tight end.
"A guy that talented it's hard to keep him off the field," Thompson said of McNitt. "He's so smart and he's played multiple positions throughout his football career.
"So to have him on the field in that H role and that F role with the ability to blend that position, he handles that well and he does a good job with all of it."
- Sean Callahan
Thompson and the 10th coach talk
Earlier this year Nebraska executive director of player personnel Billy Devaney said they are still waiting on the NCAA to pass the 10th assistant coach rule, but as of right now Thompson would be the guy they have earmarked for that position.

The problem is nobody knows when that rule will go into effect. It was originally thought it would pass by May, but now the speculation is it may not pass until January of 2018.
"I don't know what's going to happen," Thompson said. "I haven't heard anything. All I know is I've got to focus on the opportunity in front of me.
"Fortunately, I get to do what I love. It's all of the work, none of the pay, but I love my work. I love to be out here developing young players, I love football, I love the scheme – I love all of it. So at least I get to do what I love."
The other big thing the rule would allow Thompson to do is go out on the road to recruit. Right now he's only been able to hit the road during times when NU has had brief full-time coaching openings on their staff.
"Gosh it would be great to be on the road consistently," Thompson said. "Right now, recruiting from the desk is hard. It's tough, but fortunately I'm still able to create good relationships with recruits and athletes and just do what I can from the home front.
- Sean Callahan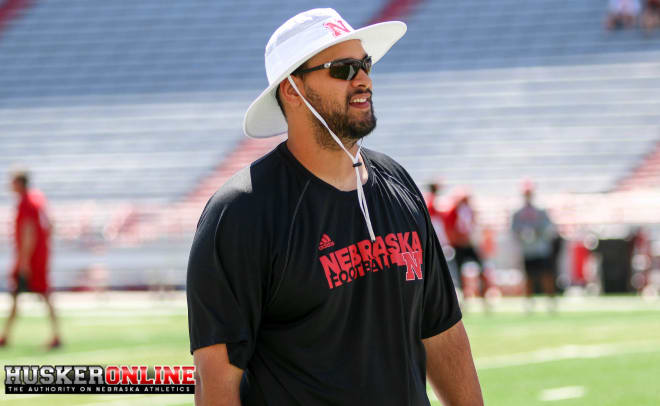 Quick hits
***Langsdorf said the biggest difference with Wilbon was just his overall confidence, as he's much more comfortable with the offense and has a much firmer grasp of his assignments. Langsdorf said Wilbon has always had the physical tools, but now he's matching it mentally.
***Michael Decker said he feels much more comfortable with the offense this spring compared to last year, and Langsdorf agreed, saying Decker has made some big strides recently and has a good command of making calls at the line. As a result, there's a lot more trust in Decker than ever.
***Thursday marked Keyshawn Johnson Jr.'s first full-pads practice as a Husker, and Langsdorf said it was great to get the freshman back on the field. Langsdorf noted he was impressed with how smart of a player Johnson was, especially for an early-enrollee playing in just his second practice.
***J.D. Spielman said before he came to Nebraska he had only played a total of two game snaps at wide receiver in high school. He credited receivers coach Keith Williams for his quick development at the position, and said he's tried to model his game after De'Mornay Pierson-El.
***Williams said Pierson-El looks better right now than he has at any point in his career, including before he suffered his first injury.
***David Knevel said that after he hurt his ankle in the Oregon game, he wasn't able to lift squats until after the Iowa game. Those limitations in the weight room really reduced his strength, which he said was why he fell out of the rotation at the end of the year.
***Snyder said he's as healthy and confident as he's been at NU. After elbow and MCL injuries, Snyder said he got up about 260 pounds, but now he's down to a comfortable 242.
***Hoppes sat out of Thursday's practice due to an illness.
***2018 Lincoln (Neb.) Southeast defensive tackle Bryson Williams was in attendance for Thursday's practice.