Notebook: First Friday Night Lights camp a success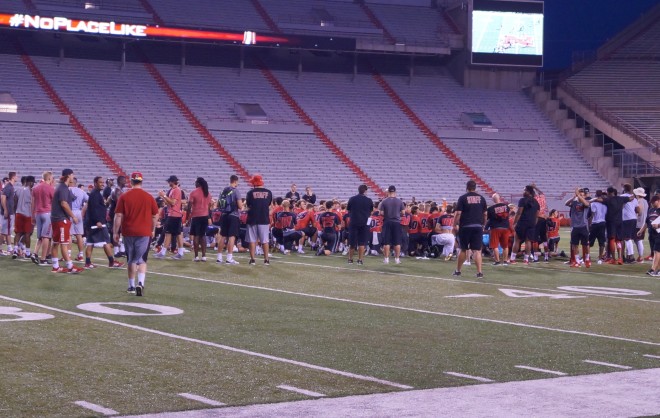 Nebraska kicked off the first of three Friday Night Lights camps on Friday night, hosting more than 150 prospects from the 2017, '18 and '19 classes inside Memorial Stadium.
Though temperatures reached 100 degrees in Lincoln earlier in the day, roughly 200 parents and fans still turned out to watch the event, which was opened up to the public. Those fans got to see a bevy of talent both from instate and from schools spanning from Hawaii to Arkansas.
No players at the camp came in holding Nebraska offers, but several took big steps in that direction with their play.
As far as the prospects from the state of Nebraska, several jumped out with strong showings in front of the entire NU coaching staff and numerous Husker players who were working the camp.
On offense, some of the main standouts were 2018 Bellevue West offensive lineman AJ Forbes, who came into the camp regarded as not only one of the best o-linemen in the state, but one of Nebraska's top overall juniors. Forbes, who lined up almost exclusively at right guard, measured in at 6-1.5, 298.
Another offensive lineman who performed well was 2017 Rudy Stofer of Kearney, who was being watched closely by NU's staff and could be a potential candidate for an offer down the road.
With the tight ends, Norris's Bryce Stai - the son of former Husker great Brenden Stai - had a strong showing, while 2017 Bellevue West running back Jaylin Bradley also impressed.
On defense, a trio of linebackers had big nights with 2017 Davon Wells-Ross of Omaha North and 2017 Millard North teammates Jack Begley and Blake Minden.
There were also a handful of players who traveled from out of state to attend the camp, including a few who raised some eyebrows with their performances. 2017 Seattle (Wash.) Garfield wide receiver Cameron McKinney stole the show with the fastest 40-yard dash times of the camp, clocking in with times of 4.31 and 4.40.
2018 Chandler (Ariz.) defensive back Bryce Jackson certainly made everyone take notice with his play, dominating the one-on-one portion to close out the camp. There was also 2018 Saybein Clark of Bishop Heelan (Iowa), who was one of the better running backs in attendance.
Nebraska will hold two more Friday Night Lights camps over the next two weeks on June 17 and 24, and both will also be open to the public.
The Huskers will also hold their Big Man Camp on Monday, featuring many of the top offensive and defensive linemen from around the region, and on Tuesday will hold their Skill Position Camp.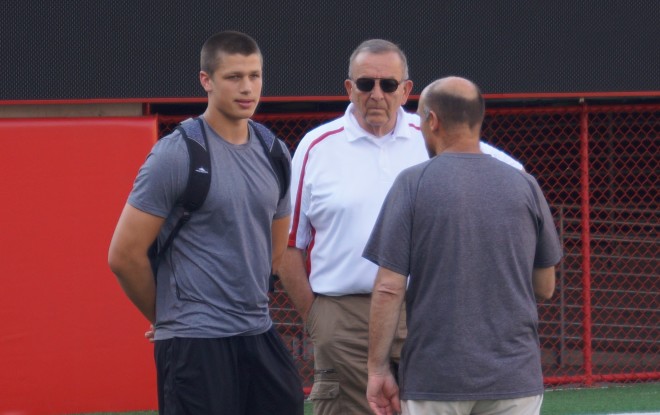 Washington tight end Otton takes in Husker camp
Maybe the prospect in attendance who was ranked highest on Nebraska's priority list wasn't even participating in Friday night's camp, as 2017 three-star Tumwater (Wash.) tight end Cade Otton watched from the sidelines as part of his unofficial visit this weekend.
The 6-foot-5, 225-pounder already holds an NU offer along with others BYU, Oregon State, Wyoming, Nevada and Hawaii and is getting interest from the likes of Oregon, Michigan, USC and Washington.
That's why it was no surprise that head coach Mike Riley, offensive coordinator Danny Langsdorf, and tight ends coach Tavita Thompson did their best to give Otton as warm of a welcome as possible before, during and after the camp.
Check here for HuskerOnline.com's full update on Otton's visit.
Quick hits
***One of the biggest surprises was 2018 Lincoln Southwest running back Braeden Hartwig. The 5-11, 190-pounder ran 40 times of 4.43 and 4.45 tonight, and that definitely caught the eye of NU's staff.
***Also there was 2017 McCook linebacker Zach Schlager, whose older brother Jake is safety at Colorado State.
***Lincoln Southeast senior tight end Sterling Smith, who also competed in the FNL camp last summer, was back again for a second straight year.
Thedford senior defensive back Jacey Nutter; Gothenburg junior linebacker Vincent Nichols; Alliance senior defensive back Brendan Brehmer; Gretna senior linebacker Josh Myers; Blair senior wide receiver Ethan Cox; Omaha Burke wide receiver Josh Baker; Broken Bow junior wide receiver Dylan Reynolds; and Cedar Bluffs senior tight end Trey Tenopir were other notable instate names in attendance.