Notebook: Diaco maintaining excitement, confidence
For the first time since his introductory press conference roughly six weeks ago, new defensive coordinator Bob Diaco met with reporters following Nebraska's second practice of the spring on Tuesday.
With two full practices and a lot more time to evaluate his new position, Diaco maintained the same unwavering optimism about the opportunity he's taking on with the Huskers.
"I'm excited," Diaco said. "The guys seem super, super excited to learn and work and get better. Everybody's just trying to learn. The information's stacked on them today, to they had to preserve through trying to slow the game down through the installation."
One of the big questions going into the offseason was how long it would take Nebraska's defense - the players and assistant coaches alike - to pick up on Diaco's scheme and adjust to going from a 4-3 base to a 3-4.
Diaco was asked from his previous coaching experience how long it's generally taken for his system to fully settle in with a new program. His answer was that there was no real clear answer.
"That's all relative to so many things, right?" Diaco said. "Relative to the personnel you have, relative to how it looks as it relates to your opponent. So I can't begin to prognosticate that. Everybody's trying hard. I'll tell you this: everybody's going to get better every day."
While the Huskers have yet to practice in full pads this spring, Diaco said he's been very pleased with the defensive players he's inheriting and thinks they will fit just fine in what he wants to run.
"The guys are surely physically adept at doing the jobs that we're going to ask them to do," he said. "There's enough brain power and fast action through diagnosis, that's not going to be a limitation.
"They look like they've got a lot of conditioning built up where they're going to be able to go hard, long. I'm pleased with the tangible skill of the defensive players. We can definitely get our work done."
As for the other major transition starting this spring, Diaco said he's made good progress in getting his defensive assistants all on the same page. The key, he said, was maintaining a constant open dialog.
"Clarity of communication," Diaco said. "If people don't know exactly what to do, they won't cut it loose. We spent a lot of time together. People weren't off collecting information on their own. We're in the room together, we're kicking the tires on things.
"I've been able to get a lot of really good ideas and information from the other staffers to help take this defense to another step."
Diaco said there are certainly some very specific aspects of his defense that his fellow coaches and players need to learn in order to execute the scheme effectively. However, one thing he prides himself on is always being open to new ideas that can help make the system even stronger.
"There's a lot of brain power in that room," Diaco said. "There's a lot of great thinkers, and we've already created some great ideas on even just little ways to say things that are catchy. So we're definitely coming together and taking this system to the next step."
- Robin Washut
Elliott eager to get back to coaching roots at Nebraska
One of the other new additions for Nebraska's defense this spring was the debut of new safeties coach Bob Elliott, who met with media on Tuesday for the first time since being hired last month.
Elliott raved about the opportunity Nebraska offers and the personnel he's taking over with the current Husker safeties. He also talked about the draw of reuniting with his longtime friend and colleague Diaco.
But what was as big of a draw for Elliott as anything was the chance to get back to what he's done the first two spring practices: be a coach on the field.
After nearly 40 years of coaching, Elliott was moved to the role of special assistant to head coach Brian Kelly during his final two seasons at Notre Dame in 2015-16.
While he said he has nothing but fond memories of his time with the Fighting Irish, Elliott said he feels back where he belongs at Nebraska.
"I always wanted to be on the field," Elliott said. "I always wanted to have that relationship with the players where you're working with them on a daily basis, responsible for them off the field, all those things. That's why I'm in coaching, and you miss that when you don't have that. So it was an easy decision to get back on the field."
Diaco, who was defensive coordinator at Notre Dame with Elliott on his staff in 2012-13, said it was obvious what Elliott brought to the table not only as a teacher for the players, but as an invaluable resource for the rest of the coaching staff.
"He's been doing this for over 40 years, so he's kind of an encyclopedia of knowledge," Diaco said. "Somebody that you can play devil's advocate with that has this wealth of experience to kind of balance the room and offset it so it's not so heavily tilted in one particular area."
At 63 years old and with a history of some recent health issues prior to coming to Lincoln, Elliott was asked if he was viewing the move to Nebraska as maybe the last ride of his coaching career.
Elliott made it clear that his finish line was still in the distant future.
"I'm not putting any limits on my future," Elliott said. "The way I feel right now, I could go for a long time. I would like this to be the last place, but we'll see how that goes. I'd like to be here for 10 years. I may have a cane and crutches by then or whatever, but I feel really good right now and I'd like to see what we can do."
- Robin Washut
Davis brothers will still take part in track 
It will be a busy spring for both Carlos and Kahlil Davis. Besides transitioning into the new 3-4 defense, the Kansas City duo will once again take part in outdoor track and field for the Huskers.
In fact, they are scheduled to throw at the PAC-12 vs. Big Ten Challenge on Mar. 24-25 in Tempe over spring break.
"We are focusing on football right now, but they have us signed up to go throw at Arizona State on spring break," Khalil Davis said. "Hopefully we can get a couple of (track) practices in so we can be ready to go for that."
The twins did not take part in any part of the indoor track season so they could get their bodies better prepared for spring practice.
They will only throw the discus, and the goal is to once again help the Huskers score points at the Big Ten Outdoor championships at Penn State on May 12-14.
"That's our goal and in high school that was my goal to help my team any way I can," Khalil Davis said. "That's what we want to do for Nebraska, and that's get as many points as possible. I have goals, but right now it's just to help my team out as much as I can."
-Sean Callahan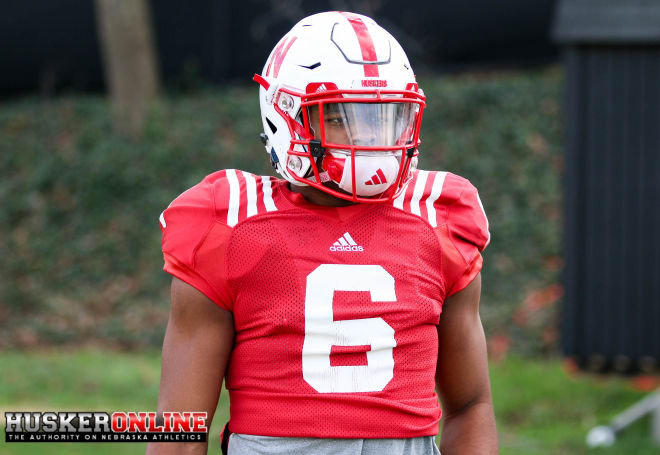 Lee and Anderson still very much in the mix
There was a lot made following head coach Mike Riley's opening spring press conference when he went through a pre-spring defensive depth chart that did not include sophomore defensive backs Avery Anderson and Eric Lee.
Cornerbacks coach Donte Williams said the two remain very much in the mix for playing time this spring, and people should not read into the fact their names weren't mentioned.
"Coach has 135 guys on the team, so sometimes you are going to miss one or two guys," Williams said. "Hopefully those guys can step up and make play after play after play, and then you'll never miss them again."
Williams said he actually as Lee No. 2 on his depth chart.
"Right now, (Lee) is battling and he's definitely going to play – I can tell you that," Williams said. "Everything he does, he's so smooth, he's smart and he picks things up. He's just a younger guy that hasn't got a chance or an opportunity.
"He's going to get an opportunity. When you play football you are one play away from being in. Right now, he's battling and he's right behind Chris Jones."
-Sean Callahan
Williams has high hopes for Jones and Kalu
There's no question Nebraska's secondary will be led this season by veterans like seniors Joshua Kalu and Chris Jones.
Williams said this spring he plans to continue to challenge them, but the two really feed off one another.
"They are leaders," Williams said of Kalu and Jones. "I think Kalu is a little bit more outspoken, where Chris is a little bit more lead by example.
"When Chris talks, everybody listens because he's just not talking for no reason. It's not a joke session. When he talks, he means business and is serious. Both those guys are leaders in our defense and on our team."
-Sean Callahan
Quick hits
***Carlos and Khalil Davis said the players weren't sure what to expect when Diaco took over, and they were pleasantly surprised when Diaco set the tone of expectations right away in the first practice. Because of their experience with defensive line coach John Parrella, the Davis's were already used to that type of fire and energy.
***Carlos Davis added that Diaco was "the definition of a defensive coordinator" who works with every position on the defense and not just primarily one group.
***Carlos Davis said he's weighing in at around 305 pounds, while Khalil Davis said he's around 295. Khalil said he feels very comfortable at nose guard, as he played the position in high school.
***Alex Davis said he's really excited about the move to outside linebacker from defensive end, though he admitted he misses his friends on the d-line during the position meetings.
***Williams said Lamar Jackson still needs to learn how to be a cornerback at an elite level. He said people forget Jackson was a quarterback and safety in high school and automatically expected him to be a starter at corner from Day 1. Williams said Jackson has all the skills to be great, but he still has work to do.

***With the change of defense schemes, Williams said it really hasn't been a big adjustment. He joked that he's had a different scheme or coordinator nearly every year he's played football his entire life.

"I've learned 25 different defenses and 25 different schemes," Williams joked. "To me, it's all about adapting. Everybody thinks when you coach it's about what you go out and tell the player. It's not. It's about the adjustments you make and the confidence you bring. This right here is just relaying the stuff you already know and making the adjustments to try and give Coach Diaco what he wants and what we need to produce."
***Having a veteran like Elliott in the secondary has been a nice counterbalance for a young coach like Williams.
"(EIliott) actually calms me down a little bit and makes me think level-headed," Williams joked. "It's like having your grandfather around you, but he probably acts younger than me. I'm more like the old grumpy guy and he's the young, energetic always positive guy. Where I want to go out here and go crazy, he keeps me level-headed."