Notebook: Defense thriving early, but much work left to be done
When the reports started rolling out after Saturday's first major scrimmage of the spring, the consensus was that Nebraska's defense dominated the day.
Between the forced turnovers, stuffed runs, and redzone stands, the Blackshirts did the bulk of the celebrating during a scrimmage session in front of more than 400 high school football coaches and reporters.
But for as much public praise as the defense got for its effort, the man whose opinion matters the most - new defensive coordinator Bob Diaco - wasn't quite as impressed.
"Yeah, we've got a long way to go," Diaco said. "So much to coach. We make our cut ups at the end to try to ring home all of the teaching, the good, the bad, and the ugly, basically, and there was a healthy amount on all those cut ups. So we've got a long way to go."
It wasn't as if Diaco wasn't pleased at all with the scrimmage. Rather than single out a few individuals who impressed, he credited the entire defense for its overall effort and intensity.
As much as anything, he said the poise his group showed in stepping up after giving up some yards and first downs maybe impressed him the most.
"Even on the first group with errors and mistakes, and the offense drives down and the ball's basically on the 10-yard line, and they (the defense) bow their backs and make a play," Diaco said.
"What a great moment, what a great learning opportunity about as long as the ball's on the field and we've got a place to stand, we've got a chance."
Tuesday was another big day for NU's defense, as it saw even more new installation in an already hefty learning process with transitioning to Diaco's system.
Diaco said he continues to be impressed with how his players after adjusted and processed all of the new information thus far.
"I'm excited," Diaco said. "The energy has been really strong. The guys are trying hard. Even on a day like today, we had the opportunity to install more defense, we had the opportunity to add a new critical situation.
"So a lot of moving parts happened today on what would be just a Tuesday on the back third of spring ball, but we got a lot done today. A lot of learning and a lot of good teaching."
- Robin Washut
Davis still adjusting to outside linebacker 
With the move to the 3-4 defense, one of the players that's arguably made the biggest adjustment is sophomore Alex Davis.
The last two seasons Davis has played defensive end in the 4-3, but now he's trying to learn the outside linebacker position. Diaco said on Tuesday the transition continues to be a work in progress.
"He is a coachable guy that's smart and he tries hard, but he's one of the guys who has such a long way to go," Diaco said. "A long way to go. It's all new. Everything is new."
However, even though he's got a long ways to go, Davis still feels like he's made great progress this spring.
"Picking up on how to drop back and just moving in space," Davis said when asked where he's come the furthest. "I feel natural moving in space, but knowing which angle to take I feel natural doing that now."
-Sean Callahan
Kalu still at safety, Anderson back at cornerback 
As Nebraska makes their way through the back end of spring practice, senior Joshua Kalu will continue to play safety.
Cornerbacks coach Donté Williams said it's something they are going to keep looking at going forward.
"It's not really about spring ball, it's about us making sure we beat Arkansas State," Williams said on the Kalu move to safety. "Every day we are just getting better. It's not saying that the move is final, I'm not saying it's still moving – it's just one of those things we are still looking at right now."
Another move Williams said they made in the secondary is with sophomore Avery Anderson. The Colorado native moved from safety to corner this past week.
"He's just a guy we are looking at seeing at a different position," Williams said of Anderson. "Just making sure we get the best guys on the field, because it's football. The 11 guys you start the game with, you are really, really lucky if you finish the game with that same 11."
-Sean Callahan
Kieron Williams still a factor in safety competition
One position group that has seen plenty of shakeups already this spring is at safety, where an already deep and talented group added another piece with Kalu's move.
As a result of the heated competition that has gone on the past 10 practices, senior Kieron Williams has seen his place in the rotation drop a bit.
In Saturday's scrimmage, Williams - who started nine games and led NU with five interceptions last season - was working primarily with the second-team unit.
While it would appear that Williams's stock might be falling heading into 2017, Diaco stressed not to take much of anything from spring depth charts.
"If we could not have a depth chart in the spring we would," Diaco said. "You'd have trouble organizing your practice because no one would know where to go or when to go on the field, but we'd like to now talk about that…
"But just in general, Kieron's doing just a wonderful job. He's been very coachable. He's trying to become a good teammate and get better, and he's going to be good enough not only mentally and intangibly, but also with his skill set to participate on defense for sure."
- Robin Washut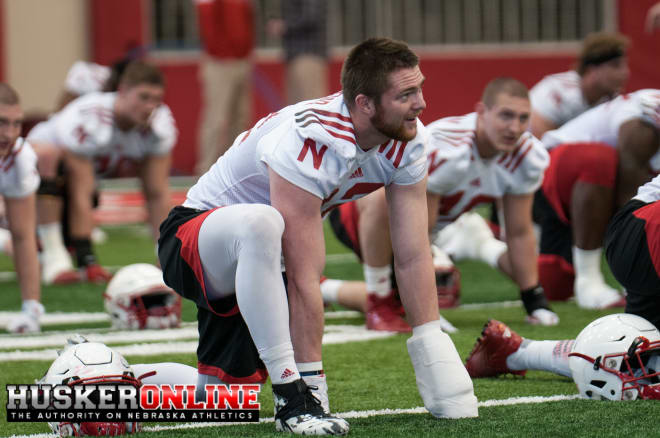 Quick hits
***When Donté Williams was asked to give his assessment of the scrimmage on Saturday, he said as a cornerbacks coach one thing obviously stood out.
"There were no deeps balls, so that's always a good thing," Williams said. "I just saw guys competing, so that's the biggest thing. I don't care if the scrimmage is 150 plays or 20. I just want to make sure I see guys competing the whole time, and that's what I saw."
***Diaco had some pretty hefty praise for linebacker Luke Gifford. Diaco said Gifford "possesses all of the tangible traits" to really thrive in this defense, and that his combination of work ethic and football IQ has Diaco anticipate Gifford "being an impactful player on defense this season."
***Gifford said he's up to 240 pounds and thinks the new 3-4 defense is a perfect fit for his skillset.
***Linebackers coach Trent Bray said it was a very tight battle between Gifford and Marcus Newby at outside linebacker.
***Mohamed Barry said he's current weighing 233 and feels as comfortable as ever in the new defense. He said Saturday's scrimmage was probably the best practice he's had at NU, and it was because he feels like he's just flying around on the field and playing fast.
***Bray said Barry got another interception on Tuesday, and that was a direct result of him just playing loose and fast on every snap.
***Bray said true freshman Avery Roberts reminded him of Dedrick Young when Young first arrived as an early enrollee for spring ball in 2015. Bray said both guys came in with a lot of talent, but their understanding of the game at such a young age is what really stands out.
***Receiver Keyshawn Johnson Jr. appeared to have tweaked his hamstring in Saturday's scrimmage, but he was suited up and practiced on Tuesday.
***Newby and defensive end Sedrick King did not suit up on Tuesday.