Final take: Two in-state kids carry Nebraska to an improbable victory
Norfolk's Lane McCallum and Wahoo's Noah Vedral both had dreams growing up of playing at Nebraska, but other opportunities took them down different roads.
McCallum chose a scholarship offer to kick at Air Force, while Vedral followed Scott Frost to Central Florida on a full ride and was the Knights No. 2 quarterback in 2017. When Frost came back to NU they both decided to walk-on not knowing what the future held.
Vedral earned a scholarship after one semester and was the No. 2 quarterback by mid-season last year when the NCAA ruled him immediately eligible. McCallum started his Husker career as a safety on the scout team.
Fast forward to Saturday against Northwestern, quarterback Adrian Martinez left the game hobbling and scholarship kicker Barrett Pickering has been out all season with an injury. Vedral and McCallum got their chance in Memorial Stadium, and both stepped up when called upon to win the game.
Vedral executed the offense down the field on a 6 play 42-yard drive that set up McCallum for the game-winning field goal to help the Huskers beat Northwestern 13-10. It was about as unpredictable of a Saturday as anyone could've drawn up. You had no Adrian Martinez, JD Spielman or Maurice Washington when it mattered.
"Noah (Vedral) made a couple of big plays," head coach Scott Frost said following Saturday's win. "Obviously, Lane (McCallum) is going to be the hero. Noah came in, Noah's been biding his time in our program for a long time. It's great to see him get his chance. I wish it wasn't under the circumstances it was under, but he made the most of it. I think [he] made a couple plays when we needed him to, and we'll see where we are going into next week. Hopefully, it's Adrian [Martinez]. If it isn't then Noah [will] be ready."
Vedral came in Saturday an operated the offense with confidence. In fact, you can argue he gave the Huskers a spark at times and ran with more decisiveness than Martinez.
This is why Vedral came back home to Nebraska. He very well might be starting at UCF right now, but he left his situation there to follow his dream and it paid off on Saturday.
"It's cool that it was just two Nebraska kids," Vedral said of him and McCallum. "I mean from here, raised here, weirdly enough we are both transfers which is a weird fact but it was super exciting. It's kind of one of those things that it doesn't really hit you who it is or what it means until afterward. But I was just super excited for Lane, but I was never really too worried about it."
Vedral and McCallum were both standout basketball players growing up together. They played on a lot of the same teams in the summer, so to finish off the game together was special.
"I think being a walk-on isn't easy, it may seem like that with the praise we get, and I think high schoolers have that sense that it's going to be pretty easy," McCallum said. "Once you step foot in here it's never easy and you have to earn everything you get. I think a moment like this pays off all the hard work I've put in."
It's also fitting that Vedral is the nephew of former Husker quarterback Matt Turman, who was called into action to bail Nebraska out of a quarterback jam in 1994 when Tommie Frazier and Brook Berringer went down with injuries in 1994.
"Thanks for the genes. I don't know," Vedral said laughing when asked what he'll tell his uncle Matt Turman the next time they talk. "It will be fun to talk to him though because we kind of get to compare stories now a little bit, so that will be fun."
And the only story that matters is Nebraska is 4-2 and heading out to Minnesota for one of the biggest home games in Minneapolis in years.
Now on to the breakdown...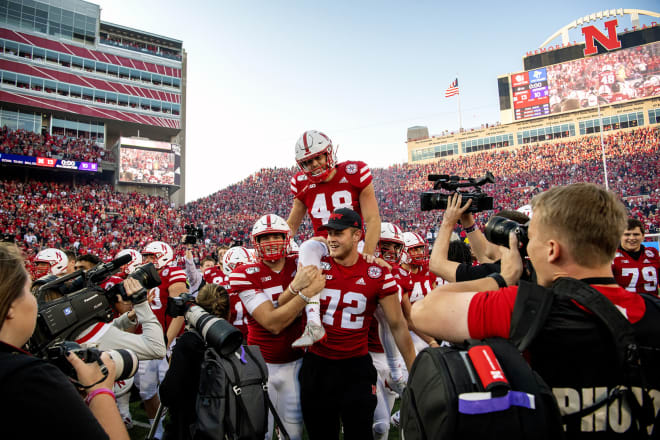 What I saw on Saturday 
***When Nebraska wins the coin toss, Frost typically takes the football. On Saturday the wind was much more important, and it paid off. Frost's early decision to take the wind vs. the ball helped the Huskers get off to an early lead and control field position.
***What a tough situation for Nebraska to be without Adrian Martinez, JD Spielman and Maurice Washington for a big chunk of this game on Saturday. Credit Noah Vedral and Wan'Dale Robinson for making plays when it mattered in the fourth quarter. This was about as tough of a situation as you are ever going to see the offense faced with.
***It was promising following the game that Frost said the injuries to both Spielman and Martinez don't look serious. The question is will they be healthy enough to get back for Minnesota on what's expected to be a cold night in Minneapolis.
***Running back Maurice Washington did not play Saturday in the first half for internal disciplinary reasons. However, even when Washington got in the game in the second half, he didn't look mentally dialed into the game. NU made the right call to limit his second-half touches.
***Darrion Daniels had a monster game. He handled the interior on Saturday and set the tone for the Blackshirts.
***We saw Nebraska match DiCaprio Bootle up with the slot on Saturday. They did a nice job of not letting Northwestern dictate the match-ups like a year ago when Flynn Nagel absolutely torched Aaron Williams in the slot for over 200 yards.
***On Wan'Dale Robinson's 42-yard touchdown there was a bad snap by center Cameron Jurgens, but Martinez still pulled it down and Robinson did the rest. He was also helped out by a great pull block from right tackle Matt Farniok who came all the way around to make the run happen.
***We saw running back Rahmir Johnson, wide receiver Jaron Woodyard and defensive end Casey Rogers all see their first significant snaps of the season on Saturday. Woodyard has not seen any time in NU's first five games, while Robinson benefited off the Khalil Davis suspension and an injury that sent Carlos Davis to the locker room before halftime.
***Nebraska tried to set up an option pass play where Martinez was going to look for Woodyard deep, but the Wildcat defense came in too fast to let the play develop.
***Both Garrett Nelson and Alex Davis had a hard time making the correct play on the zone read, which allowed Northwestern to get some of their bigger plays of the game on Saturday.
The final grade out
Rushing offense: C-
Take away Wan'Dale Robinson's 42-yard touchdown run, and Nebraska's other running backs had a combined 16 carries for 27 yards. They knew it was going to be tough sledding, and they were able to find enough with the one big play from Robinson and some consistent running from Vedral down the stretch. A couple of key penalties also hurt what they did on the ground.
Passing offense: B-
Nebraska went a combined 15-of-25 for 186 on Saturday, but most importantly they didn't throw an interception. It was a windy day on Saturday, Frost was very conservative with his calls in the passing game. They picked their spots to dial up big plays, and it paid off on when they chose to go to Robinson. He was the difference-maker in the game with seven catches for 123 yards to go along with his 44 yards rushing.
Rushing defense: B
The zone read gave Nebraska problems at times on Saturday, but they held Northwestern to 157 yards on 41 carries. It was not pretty at times, but they stepped up when it mattered. The Wildcats did not have a run longer than 12 yards. They earned everything they got.
Passing defense: B
Northwestern was 19-of-32 136 yards and they threw one interception. Their long pass play of the day was 23 yards. They did not try to go down the field. They played it safe with shorter underneath throws. The Wildcats were 5-of-16 on third down and Lamar Jackson came up with the biggest defensive play of the day.
Special teams: B
The 52-yard kick return Northwestern had set up their first scoring drive, and it turned a 10-0 game into 10-3. Lane McCallum also missed a field goal off the right upright, but he stepped up obviously when it mattered. Isaac Armstrong averaged 41.9 yards on 10 punts, and NU only allowed 3 total yards on punt returns. The 52-yard kick return hurt, but the heroics of McCallum bring the overall grade up a notch considering the context of the situation. Field position in the first half also affected the outcome and helped Nebraska win this game on Saturday.
Sean Callahan can be reached at sean@huskeronline.com and he can be heard each day at 6:45 am and 5:05 pm on Big Red Radio 1110 KFAB in Omaha during the football season. He can also be seen on KETV Channel 7 in Omaha during the fall and each week he appears on NET's Big Red Wrap-Tuesday's at 7 pm.